How To Elevate Your Casual Outfits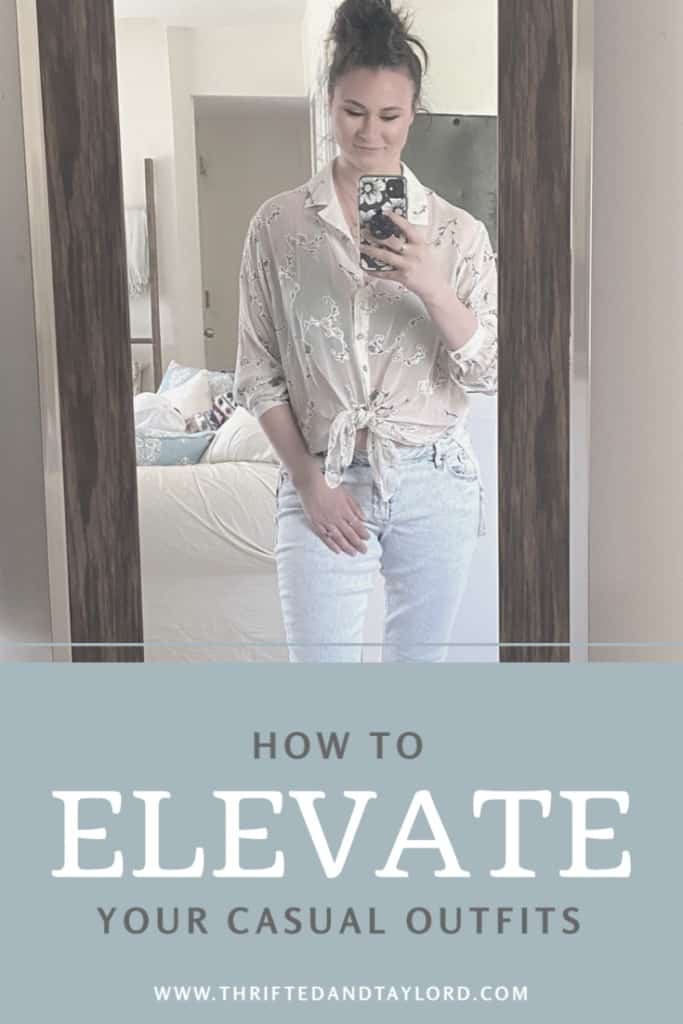 This post contains affiliate links for which I earn a small commission at no extra cost to you, should you purchase through them. Learn More.
I don't know about you, but I basically live in casual outfits. Sometimes, though, I kind of get sick of the same old thing and I like to change it up a bit. I'm going to share a few ways to elevate your casual outfits to give your favorite t-shirt and jeans look, a little more style. 
These are all pretty simple and most likely include items you already own. I have provided links to the items I'm using as examples in case you see something you love. 
My form of a casual outfit is most often a t-shirt and jeans, but I also love cotton pants as another comfortable bottom option and a variety of other comfortable top options. And in warmer weather, shorts. Mainly denim, but also bike shorts and sometimes cotton shorts too. 
Alright, let's get into these tips to elevate your casual outfits and find out exactly how you can easily add some style to your favorite comfortable look.
Elevate your casual outfits by...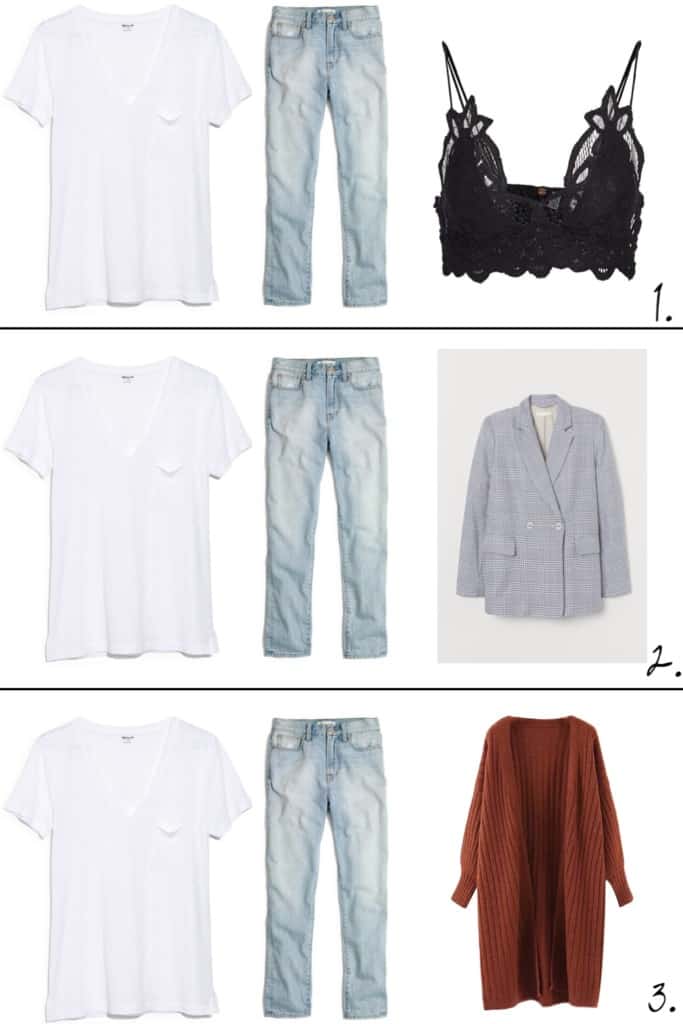 This first one is super simple, add a layer. I used the same t-shirt and jeans combo and made 3 different outfits. There are so many other options too. This one is a fast and easy way to switch things up. You can also try this with jean shorts too. Perfect for those transitional weather days. 
My usual go-to layers are a cardigan or a jacket such as a blazer or leather jacket. But I also like to toss on a kimono or denim shirt that I wear open sometimes too.
I also wear bralettes on the regular and love pairing it with an oversized t-shirt that slightly falls to the side or off the shoulder to let my lacy bralette peek out. This one from Free People is my number 1 fave, I have it in 3 colors!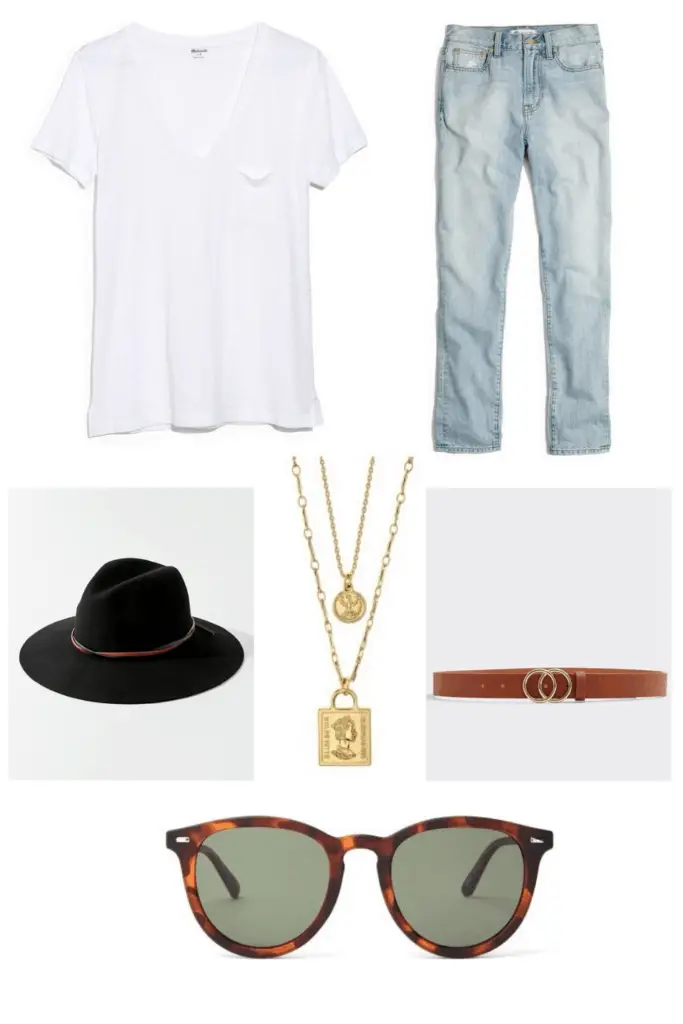 Next up is another quick and easy way to add some style, accessorize. This can also be paired with the first tip to really step up your outfit. You can add just 1 accessory, or add a few! Totally up to you. Some of my favorites to add are hats, necklaces, belts, and sunglasses.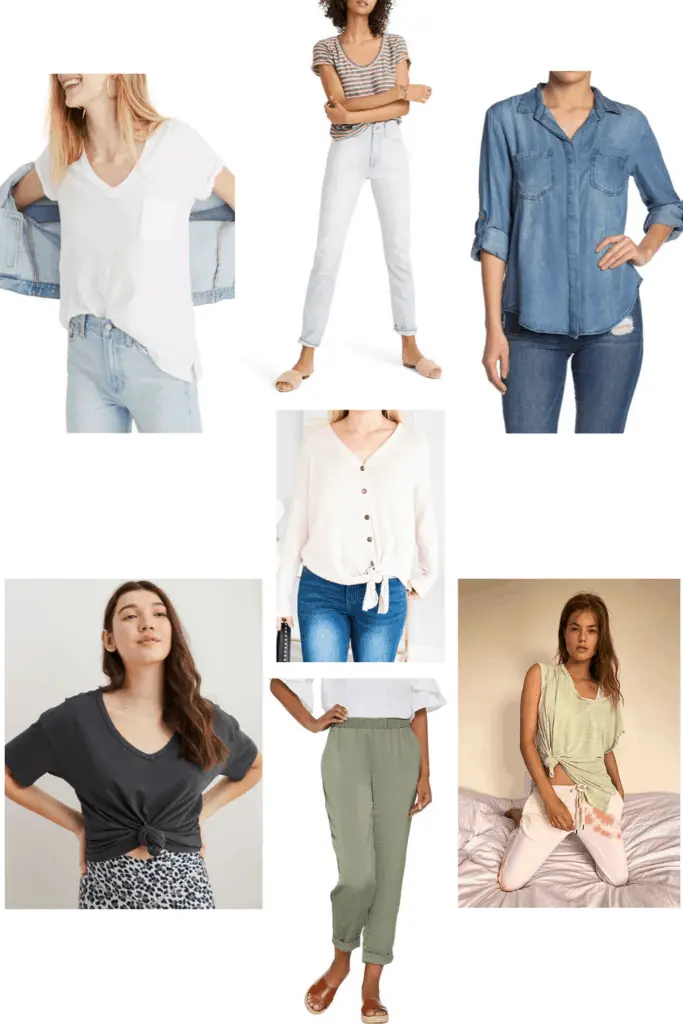 The third way to elevate your casual outfits is yet another trick you can pair with the first 2 tips. Add some styling to your clothing. Try tucking in your top a little or tying it up. This works well for both t-shirts and for button down tops. If you're wearing long sleeves, try rolling them up. Check out this post for even more ways to wear a button down shirt. 
You can roll the bottoms of your jeans or pants for a more relaxed look. Or like I mentioned earlier, try wearing a more oversized shirt slightly off your shoulder and let some pretty lace from your bra or bralette peek out.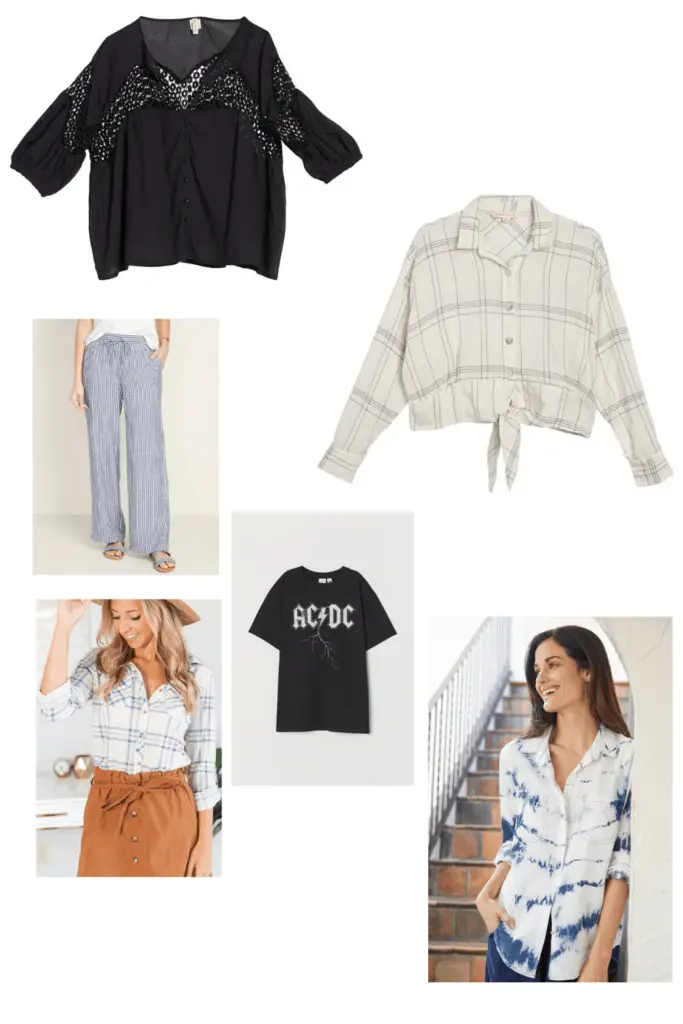 This next tip is to try adding some different varieties of your favorite types of comfortable clothing. Try adding in some graphic t-shirts along with your plain ones.
Add some colored or patterned tops to your button down selection such as this plaid top with a tie or if you want something simpler, this other plaid top is a great option. Some of my favorite prints are vertical stripes and floral prints, animal print is fun too!
I also think this tie dye top is really cool. Try some casual tops that have special details like this black top with crochet. Don't forget about your bottoms! You can mix those up too, like I mentioned I love cotton pants like these striped ones, paired with a more simple top.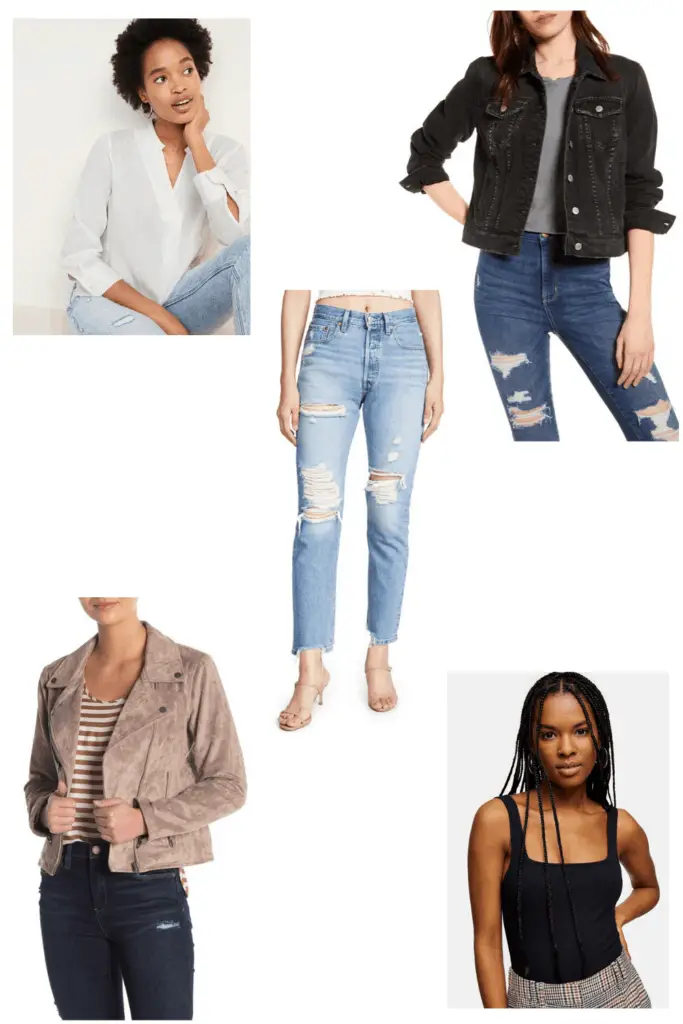 The last tip is a way to step up your look by adding some texture. Mix in some different types of materials for a variety of textures. My favorite way to do this is wearing distressed jeans and shorts. It gives an instant lift to your standard t-shirt and jeans outfit. You can also add some denim in the form of a jacket, a colored one like this black one would be cool!
I also love leather and suede jackets as a pop of texture, I go for the faux variety myself. You could also add leather or suede accessories if it's too warm to wear a jacket, for some added texture. A textured blazer is another great jacket option. If you want to add texture in the form of a top try something ribbed like this black bodysuit or something embroidered like this white top. 
Those are my tips and tricks to elevate your casual outfits to spice up your favorite t-shirt and jeans combo. Do you already do any of these? Which ones are you excited to try? Let me know in the comments below and I will see you next time ☺