How to Dress During Pregnancy Without Maternity Clothes | Spring Thrift Haul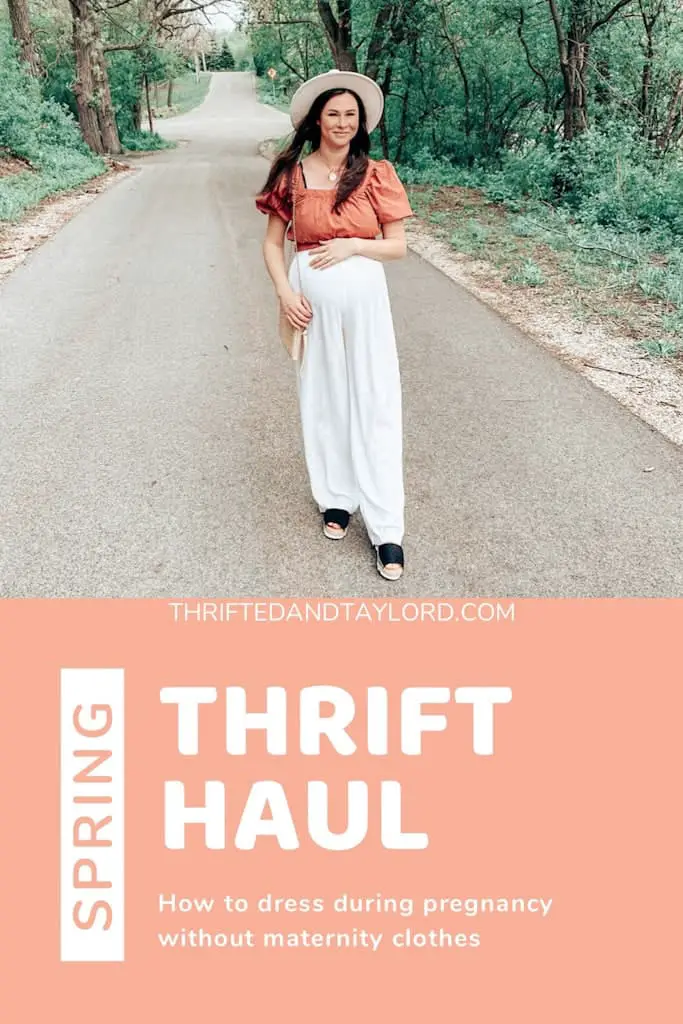 Hey Guys!
If you have ever shopped for maternity clothes, you might know the struggle. The cute stuff is expensive and the cheap stuff isn't always the most flattering. And it's actually pretty hard to find cute maternity clothes at the thrift store. So this spring thrift haul is all about how to dress during pregnancy without maternity clothes.
Now don't get me wrong, I do have some of the staples like some maternity jeans and shorts, and some maternity leggings but honestly that's about it. I have found that there are plenty of regular clothes you can wear while pregnant.
The difference between maternity and non-maternity clothing is mainly in the belly (obviously.) Maternity clothes have extra room in the belly area and typically have ruching on the sides to allow for more room as your belly grows. This is something that comes in handy for more form fitting clothes. 
But I'm here to show you the kinds of non-maternity pregnancy clothing you can wear to not only save you from having to buy a bunch of clothes you will only wear while pregnant, but also to still be able to dress trendy. Not that there isn't trendy maternity clothing, but it can be harder to find or as I mentioned, kind of expensive. 
So I have been on a few thrift trips over the last 2 months because I was just not having luck finding things. That happens. Sometimes the thrift gods shine down on you, and sometimes you walk out with nothing. But luckily I was able to find several great pieces over the course of these 2 months, especially on my most recent trip. 
I asked those of you who follow me on Instagram whether I should split this into 2 separate posts, or wait and do one big haul and the majority was to do 2. So here I am with part one of this spring thrift haul, pregnancy edition. Stay tuned next week for part 2.
Before I jump into the haul I just want to mention that my pregnancy brain got the best of me while prepping for photographing my outfits. I put my little one down for his nap and totally forgot some of my warmer weather shoes I had originally intended on using were in the closet in his room (insert face palm.) So I worked with what I had, shrug. 
They're still really cute outfits (in my opinion,) I just had to use some boots in place of my original shoe ideas for some of them. Which is fine. I totally wear boots in the spring on cooler days. Just figured I would give you a little chuckle.
Pregnancy brain, it's real. 
Ok let's check out these non-maternity wear thrifted outfits.
How to Dress During Pregnancy Without Maternity Clothes
1. Jumpsuits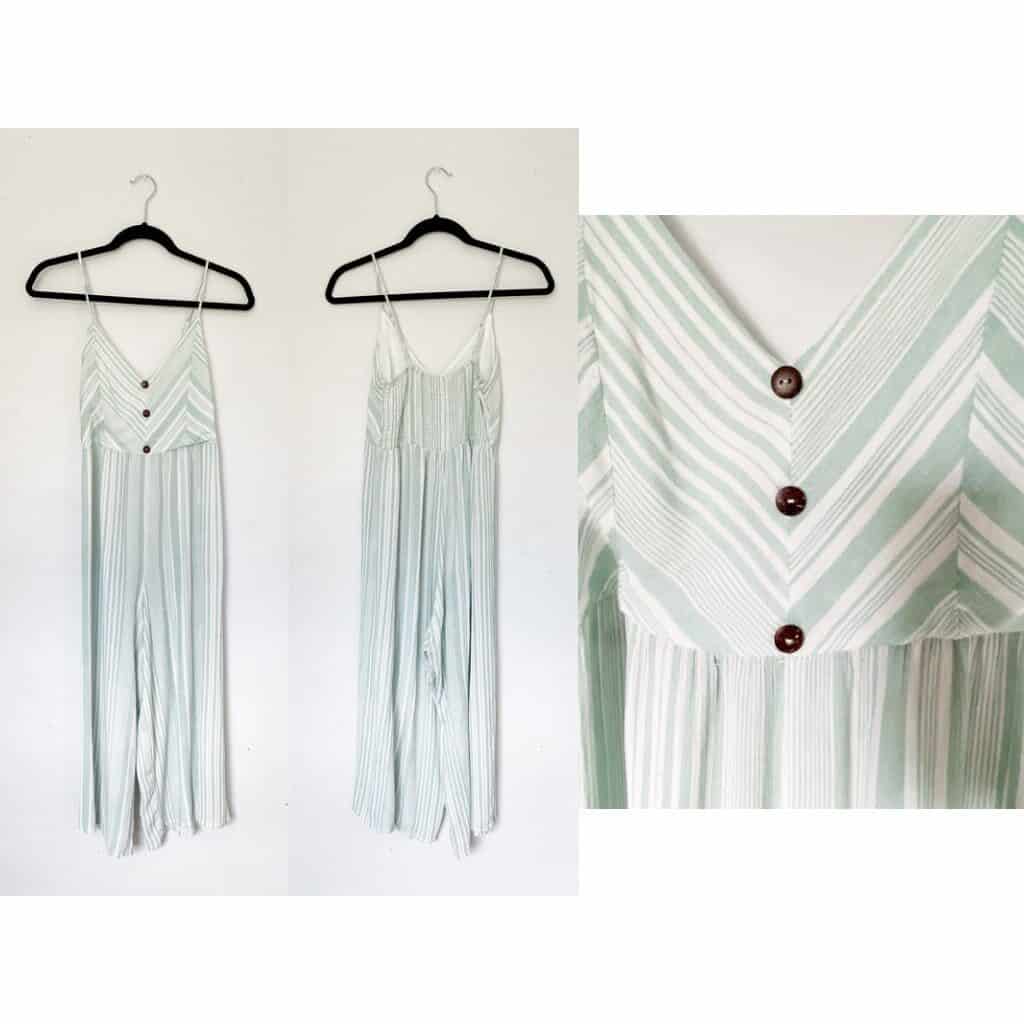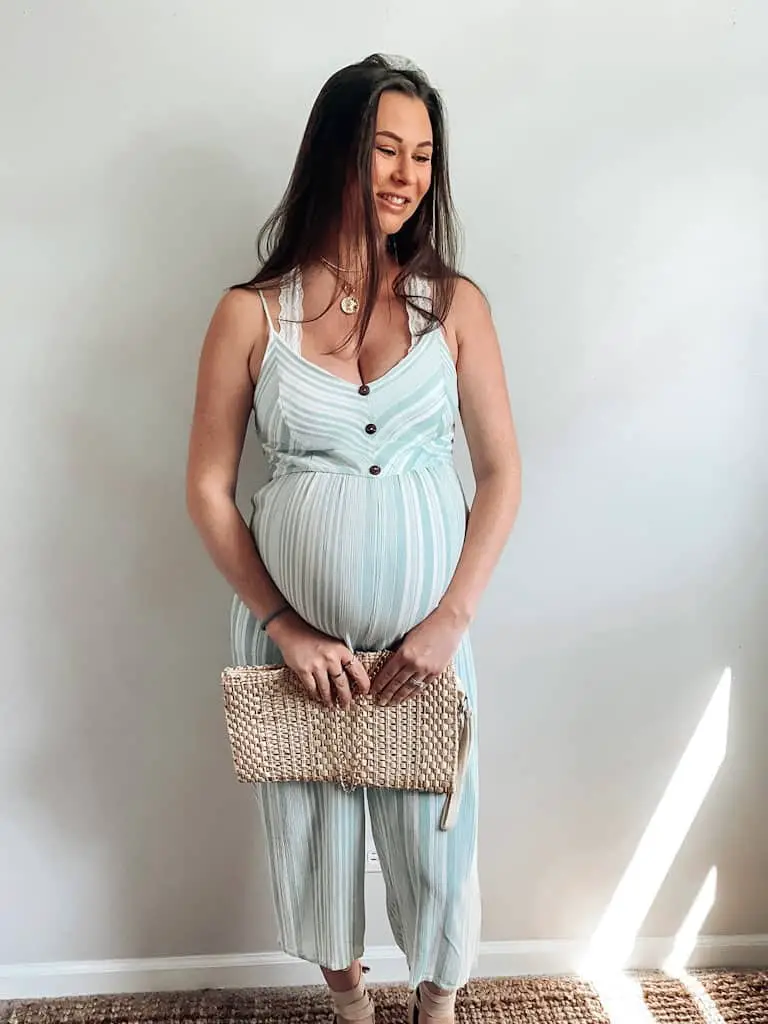 Jumpsuits are such a great non maternity, bump friendly piece of clothing. Especially ones that are more flowy and not super form fitting. So that is the first thing to keep an eye out for while thrifting. 
I love the green color of this striped jumpsuit and those cute little buttons. This jumpsuit was brand new with the original tags still attached (freaking love when that happens!) and was half off so it only cost me $5.50.
It is the brand Elsie & Zoey, which I'm not familiar with, but upon researching it appears to be a boutique brand with mid-range pricing so this was probably originally around $60-$70. So being that it was brand new and I got it for only $5.50, I'd say that's pretty awesome!
I paired this with a white lacy bralette, this cute little straw bag (which is also thrifted and I added the chain to it myself since it was originally just a clutch,) and some faux suede espadrilles. 
The necklaces I have on I wore for all of the outfits because these are honestly the ones I wear most often. They're from Uncommon James, the Baja Necklace is still available but the other one is sold out unfortunately, the Ready to Mingle Necklace is my other go to from this brand and as of now is still available.
2. Maxi Dresses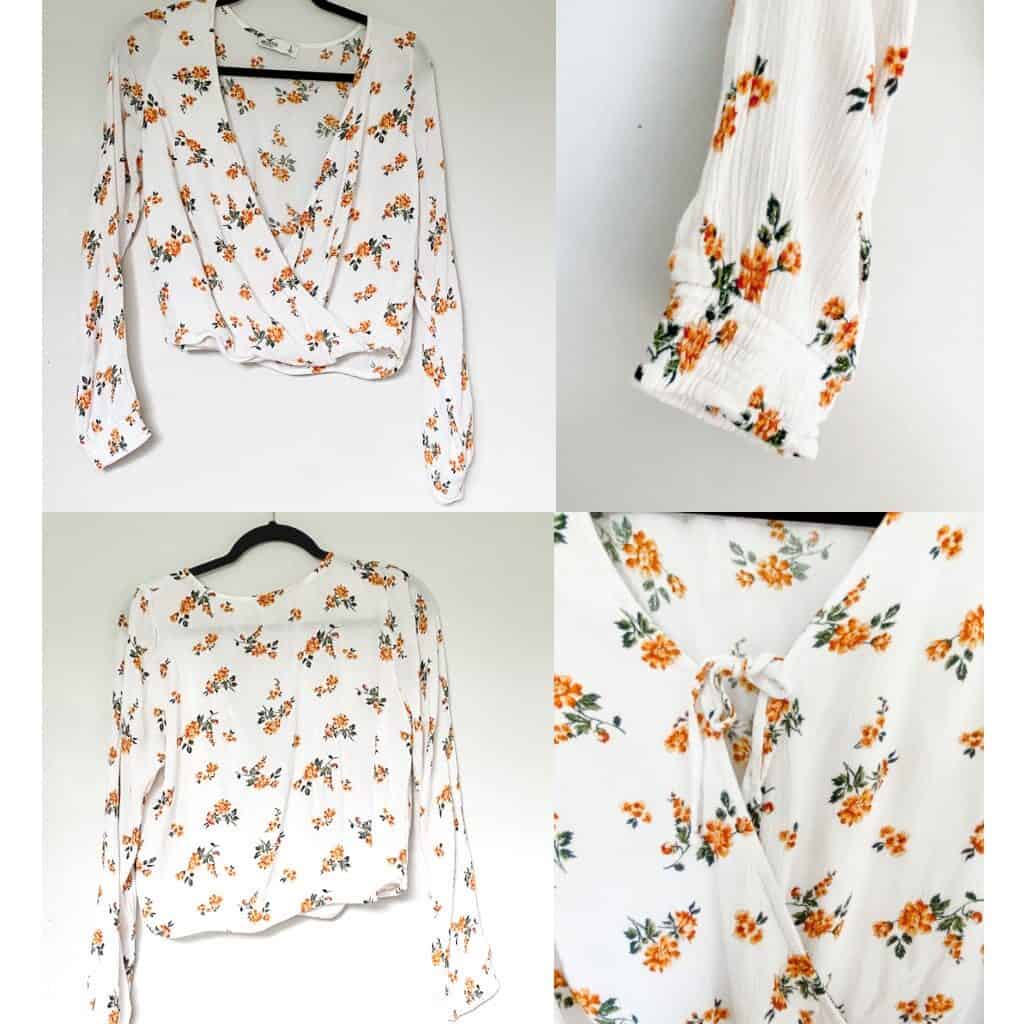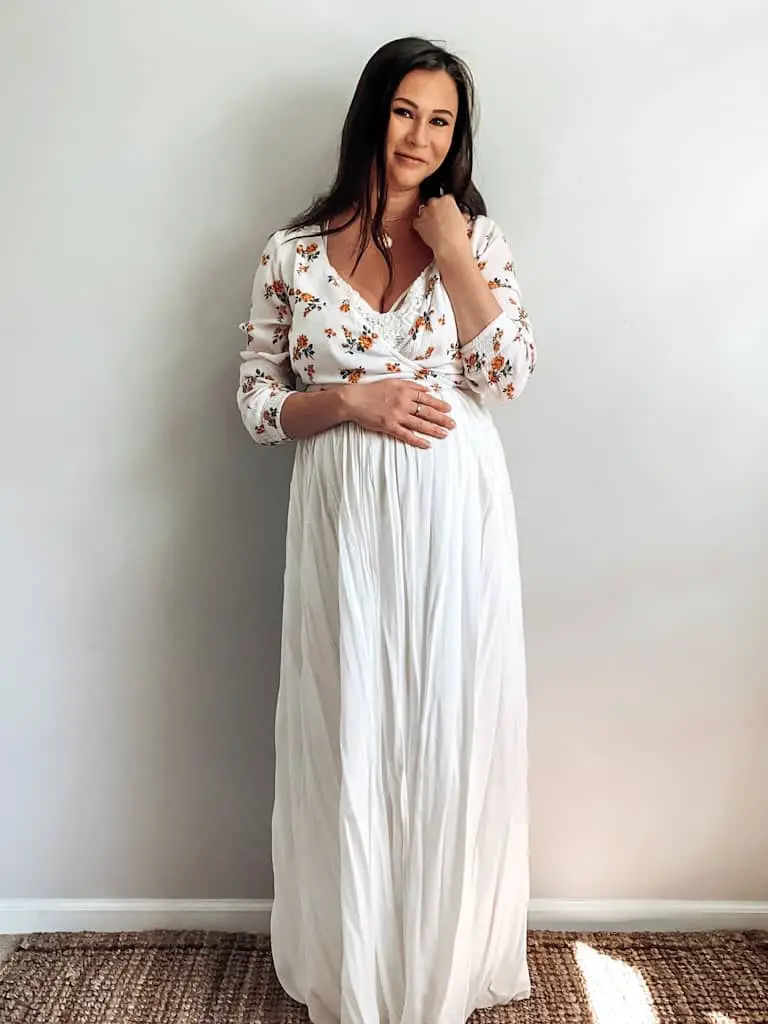 I love finding pretty floral tops like this. But the pants I originally thrifted to go with this ended up not going high enough over my bump so I had to reassess. Maxi dresses are perfect for a growing belly, especially when they're super flowy. 
Adding a top over a maxi dress is a great way to get more wear out of your dresses. So I paired the top with this really pretty, flowy maxi dress. 
It doesn't necessarily have to be a cropped shirt either. You could take a button down top and tie it, or wear a t-shirt over top of a dress and knot it. Many options. 
This shirt wasn't super cropped, I'd say it would typically hit about the center of my waist but I just kind of tucked it up under itself a little to get a more cropped look to hit in a better spot over my bump rather than through the center of it. 
I love that this was a tie front shirt so you can either wear it closed or open to show whatever you are wearing underneath. In this case, the pretty lace detailing of this maxi dress.
I also really liked the texture of the shirt, the ruching on the cuffs of the sleeves, and obviously the print. It is so pretty!
This top is from Hollister, which I was honestly surprised when I saw that. I haven't shopped at Hollister since I was like in high school, but apparently it has made its way back into my closet. And I'm not mad at it. This top was $5.99 and probably originally retailed for around $35-$40.
3. Midi Dresses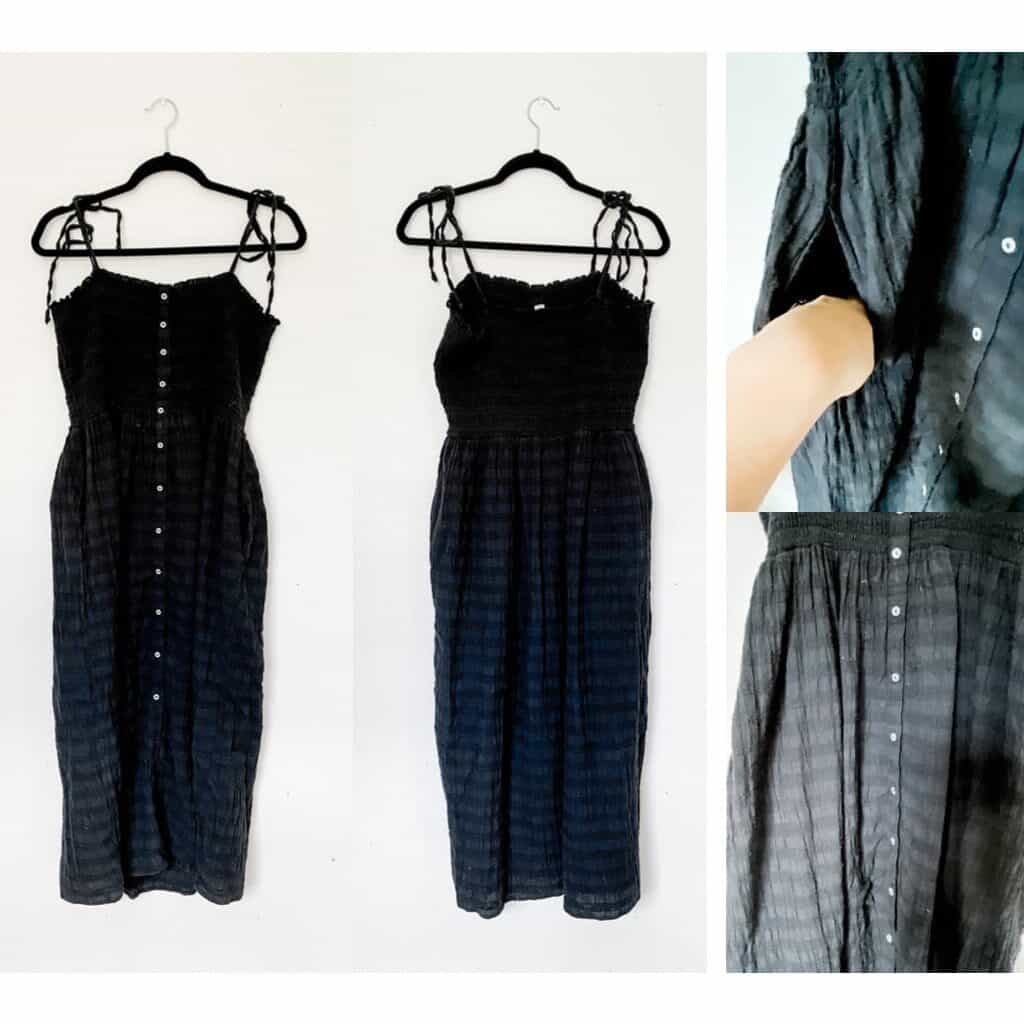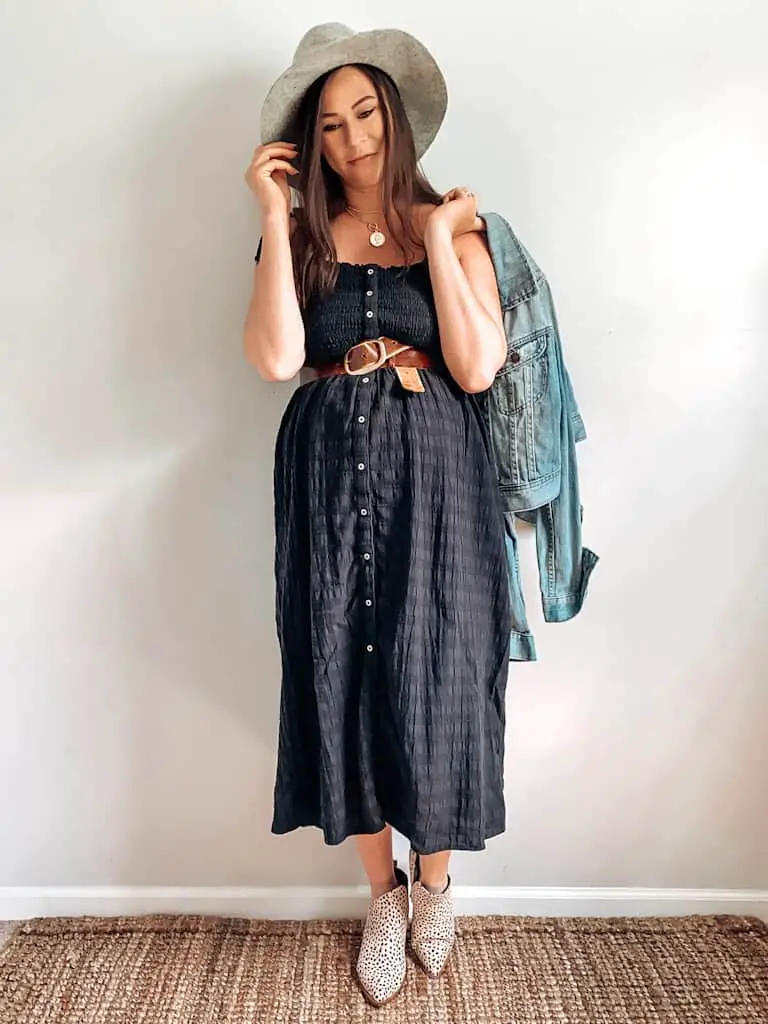 Next up is this black midi dress from Aerie. Very similar to maxi dresses, these are best for pregnancy when they are loose and flowy, although with a smaller bump you can totally get away with a more form fitting style. 
I like midi dresses especially when it's really warm out because you can get more of a breeze in there. It is also nice to not have to worry about it dragging on the ground.
I loved the buttons down the front of this dress and the cool texture of the fabric. It's nice that the straps tie to be able to adjust them easily. 
This one I actually found at Plato's Closet. And to be honest, I rarely go there. Like this was probably my second or third time going and as soon as I was shopping I remembered why. 
It's highly geared towards a younger target market (so…many…crop tops) and since it is a consignment shop, the prices are higher. So this dress was $12 which is definitely more than I would have liked to spend but I really loved it. So I caved. Similar styles range from $40-$60 so $12 is still a good deal.
I grabbed a denim jacket that would be the perfect layer if it was a little colder. For accessories I went with this gray wide brim hat, a thrifted brown belt which highlights the bump, and some leopard ankle boots. 
Dresses like this are the perfect bump-friendly, non maternity dress. There is plenty of room for a growing belly and they are still really flattering on. I will be wearing this throughout the summer months too. 
4. Long Skirts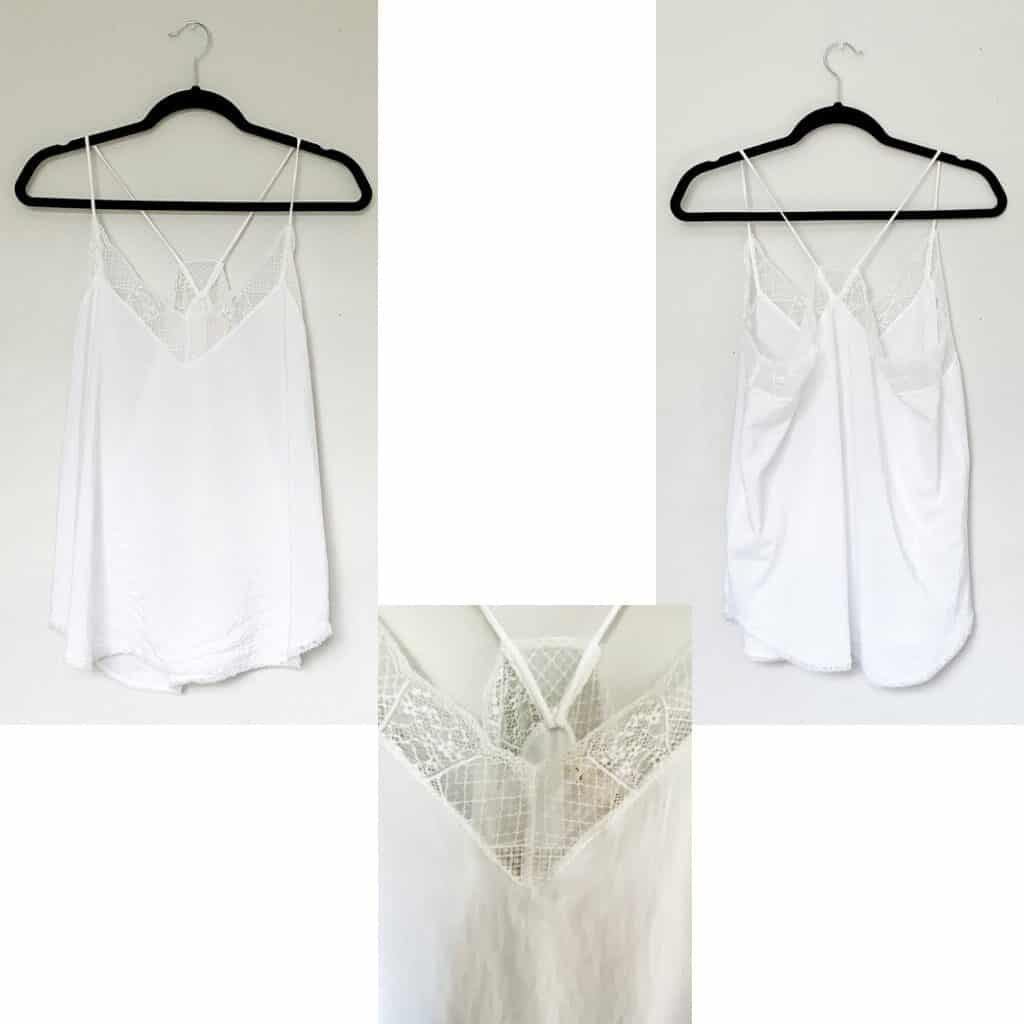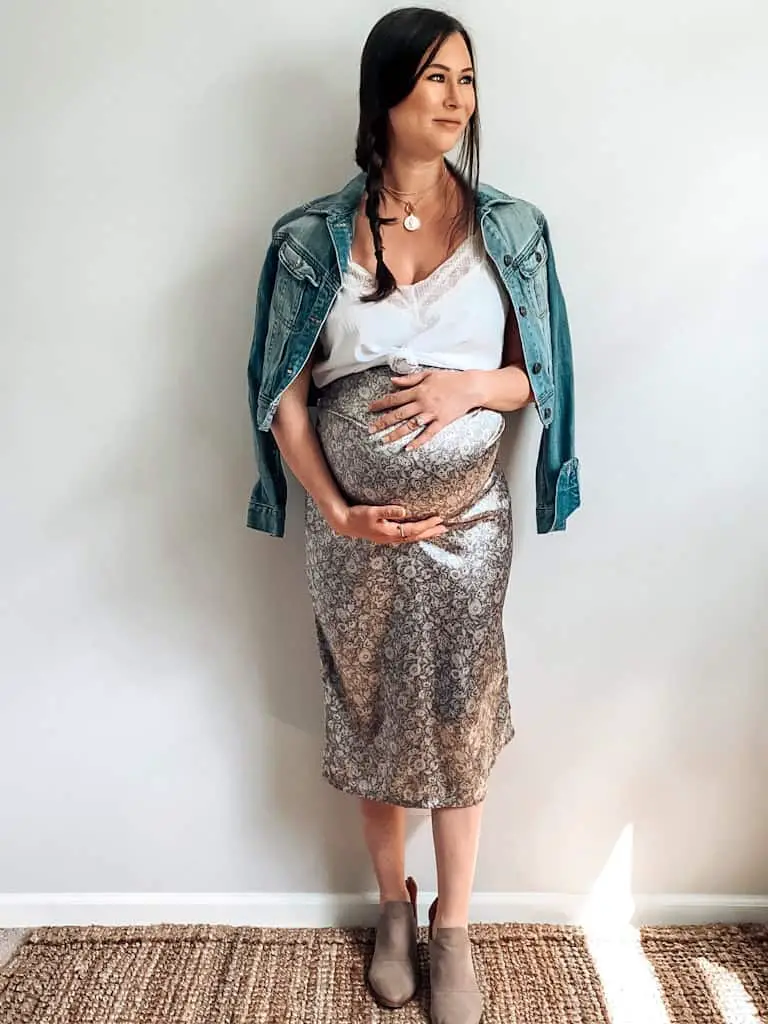 Another option would be a skirt. Depending on where you are at in your pregnancy and the size of your bump, you may be able to get away with something more form fitting or you may want to stick with more of a loose, flowy option. 
I love longer skirts like midi or maxi skirts, especially while pregnant, because you can wear them high waisted up over your bump which I find the most flattering. 
Similarly to what I mentioned earlier, there are so many options for tops with a skirt. You can wear something tied up, you can tuck a shirt in, you can wear a cropped shirt. Lots of great options here. 
For this outfit, I thrifted this really pretty, delicate camisole. I just loved the lace trim. I'm such a sucker for pretty lace. 
This top is from the brand Love Stitch which I am not familiar with, but it looks like a Nordstrom Rack brand that is lower to mid range price wise. Something like this might have retailed for around $30 and I picked it up for $3.49.
The skirt is a thrift find from a few years back, you can check it out in this thrifted finds post (wow how my style has changed!) I love the soft floral print and the satin material. 
To keep this look more casual, I tossed that same denim jacket over my shoulders and tied up the shirt. I love how well this one accentuates the bump. I went with these taupe ankle boots but I also like this outfit with my favorite white sneakers to really keep this casual.
5. Casual Trousers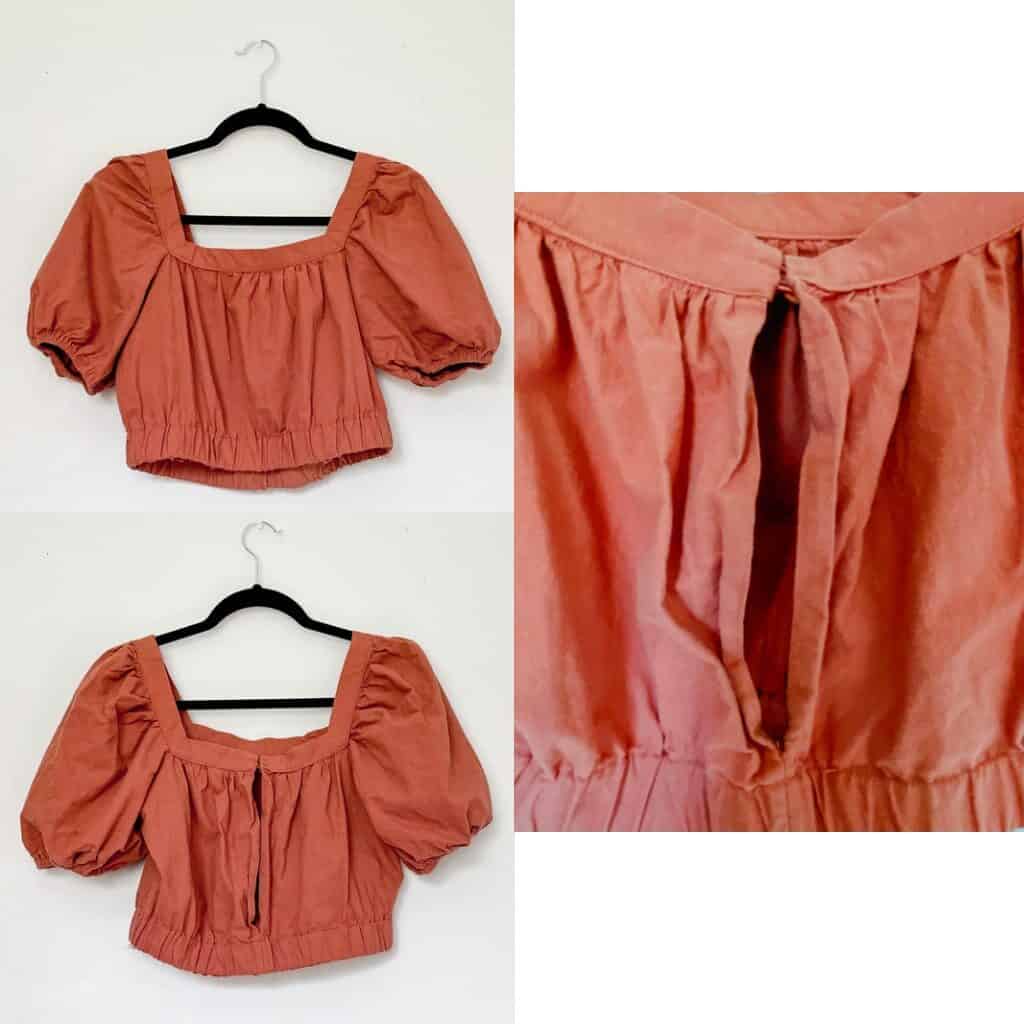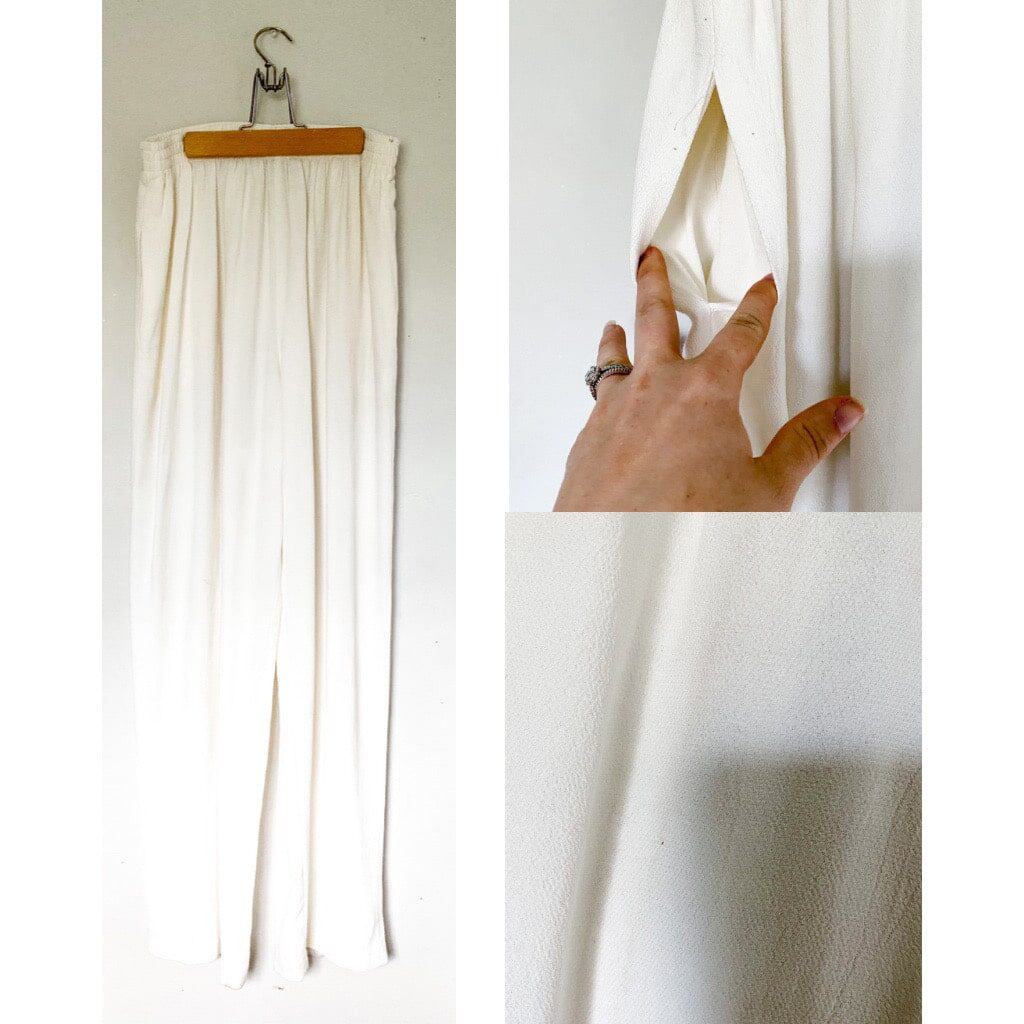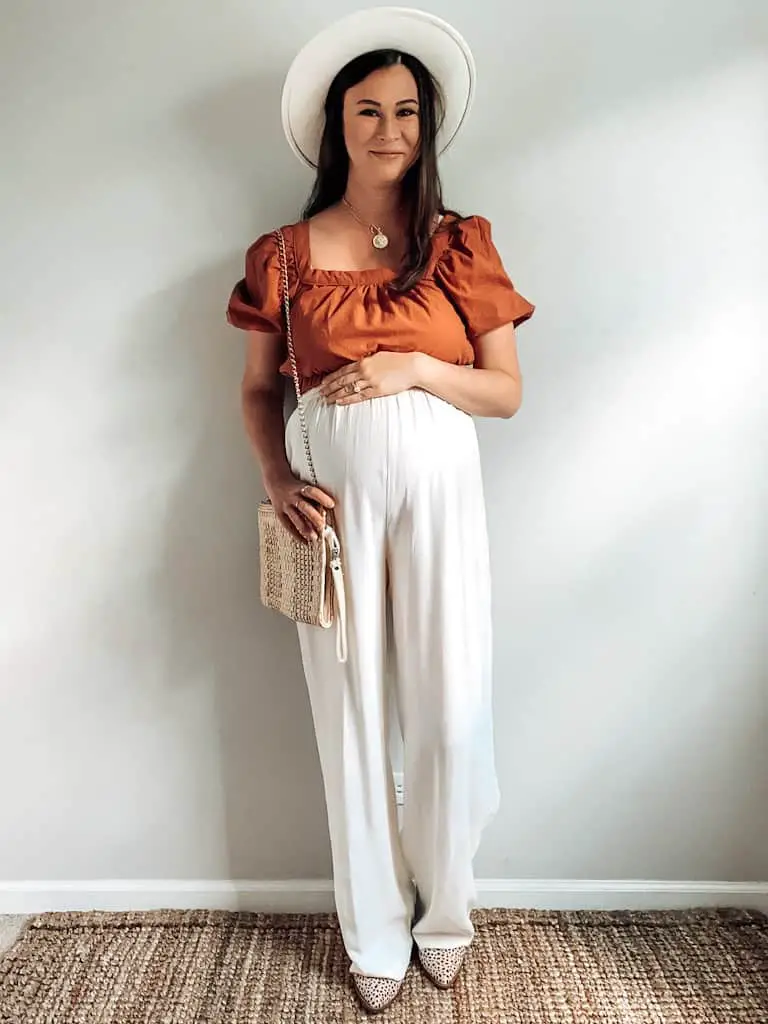 Another bottom option that is bump-friendly is anything with a stretchy waistband, particularly casual trousers. They can be high rise and go over the bump, or be a lower rise and sit under the bump, either way they are comfortable and a cute alternative to jeans. 
This whole outfit is the last part of this thrift haul. The top actually used to be a romper but I did not like where the waistline hit. It was like directly across the middle of my belly, and pregnant or not, that's not the most flattering spot. 
So I cut them apart and love how this looks as a top. The sleeves are what hooked me. And even though it's not the most spring color, the style totally screams spring and summer so I'm going with it!
I would love to take the shorts from the romper and add some elastic to the waistband and be able to wear them separately or even as a set after I'm not pregnant anymore. But I have not yet gotten around to that project. 
This romper was brand new with original tags attached from H&M (price was removed but similar styles were around $35-$40) and I got it for $8.99.
The pants I purchased off a site called ThredUp. It is an online consignment store. This was my first time purchasing off there, I've toyed with the idea before but it's hard to justify the prices. They are not thrift store prices. 
But I was looking for something very specific and just was not finding it at the thrift stores so I decided to take a chance. And I'm so glad I did! I am in love with these white pants from the brand Cynthia Max. The tag looks older to me, probably from the 80's or 90's but this brand is still around today as well. 
They were $23, gulp, which took some serious convincing of myself because these would have been maybe $10 TOPS at the thrift store. But like I said, they were exactly what I've been looking for, so I got them. It also said the estimated retail price for these was $79 so I still feel like I got a pretty good deal. Plus it is still better than buying them new.
These can be worn with so many things making them super versatile and they are so comfortable. 
For accessories I loved how this cream wide brim hat played off the pants and then I paired the same leopard boots and that straw bag from before, with it. 
I love that these are high rise and flowy enough to go up over the bump so I can wear cropped shirts still. I think it is so flattering to highlight the bump by wearing pieces that cut just above it.
Thanks For Checking Out Part 1!
That's it for the first part of this spring thrift haul. Hopefully this gave you some great ideas on how to dress during pregnancy without maternity clothes. Be sure to check back next week to see what other non maternity, bump-friendly pieces I found.
If you're in the mood for more thrift finds, feel free to check out my fall basics thrift haul which was my last, most recent haul, if you haven't seen it already. 
Let me know down in the comments which of these thrift store finds were your favorites, and what you think of wearing regular clothing as maternity wear. See you next time.