15 Comfortable and Pretty Bralettes | Look AND Feel Good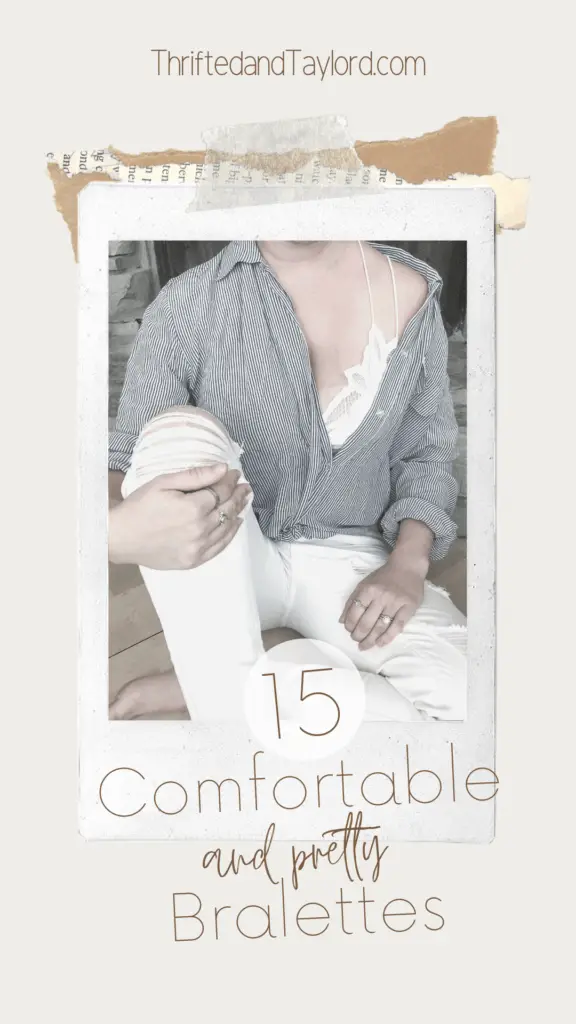 This post contains affiliate links for which I earn a small commission at no extra cost to you, should you purchase through them. Learn More.
I talk about bralettes a lot on here. For a good reason. They're amazing. I practically live in them. I almost always am either in a bralette or sports bra these days. My preference is comfortable and pretty bralettes. You can read  just a few of the many posts where I talk about how I like to wear them here, here, and here (this one is super old oh my…) 
I have some that are more plain and are almost more of a sports bra, without quite as much support, which are great for lounging. But the ones I most often reach for, especially when I want one to peek out, are lacy and pretty but still very comfortable to wear. 
I rounded up 15 comfortable and pretty bralettes from 3 of my favorite places to shop for them. Free People, Target, and Aerie. I made sure to include one that I actually own (because it is my very very favorite!) If you happen to be in the market, I highly recommend trying a couple of these, you will not regret it! Scroll down to the "shop here" section if you want to pick any of these up. Let's take a peek!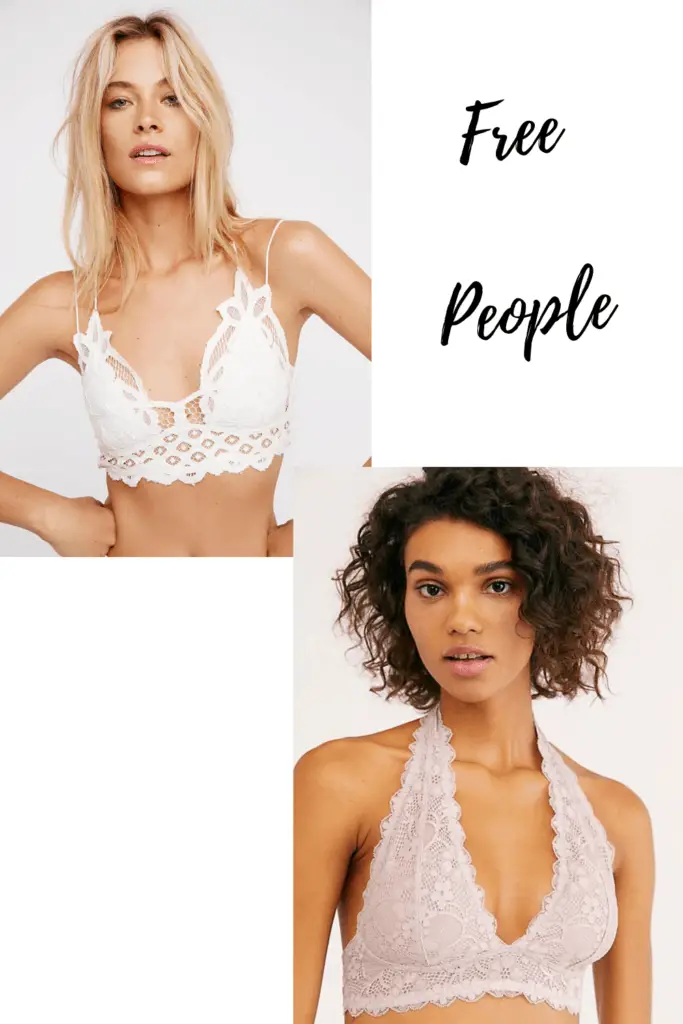 I'll just start off with Free People since they sell my ultimate favorite bralette. They actually sell many beautiful bralettes but they are on the pricier side as far as bralettes go, so I just picked a couple to share. 
The first one being the Adella, the white one. My favorite of all time. I just love this bralette. I have it in 3 colors and it is perfect for layering under basically anything.
I will say, as someone with a somewhat larger chest, you really need to adjust the straps to get a supportive enough fit and it still is not the most supportive thing I've ever worn, but it's beauty outshines that. Lol.
This second one is the Galloon Lace Halter Bra and it is actually only $20 which isn't bad for Free People! It comes in 7 colors and has a pretty good amount of support without having an underwire. I like that it has a halter neck so you could get away with wearing it with an open back top.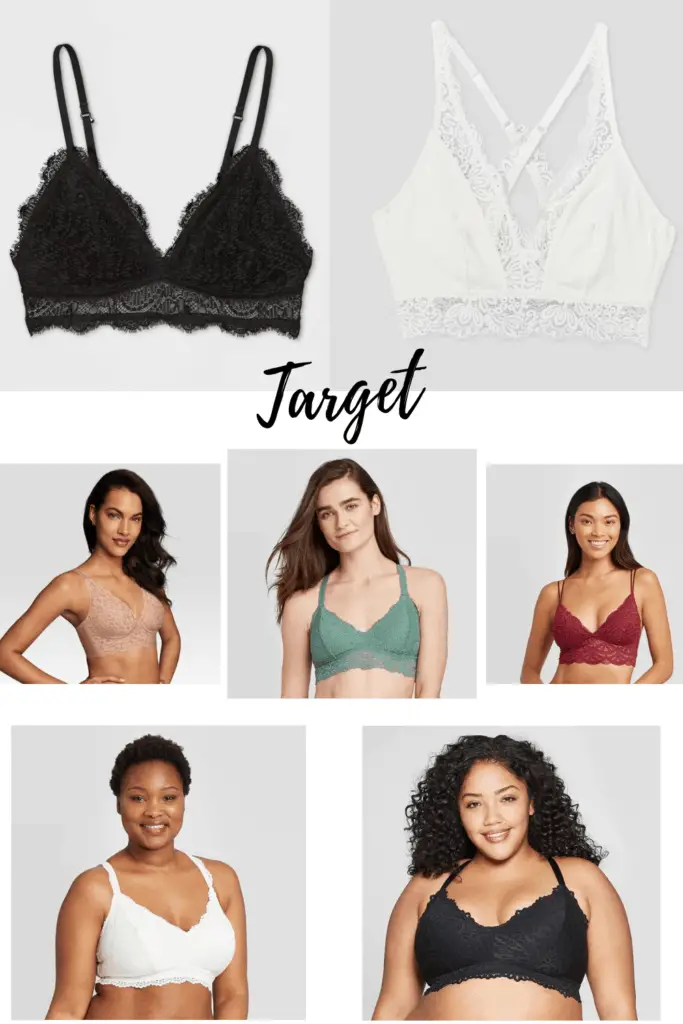 Next up let's talk Target. I have yet to meet a gal who doesn't get sucked into the black hole that is Target. I just can't walk out of that place without a few extra goodies I didn't know I needed. Their bralettes are no exception. And they have so many.
They also carry plus size options which is awesome! The black one at the top is cool because it has cups but no actual underwire or padding so it's super comfortable. It has adjustable straps and a hook closure to get the perfect fit.
The white one next to that is ultimate comfort while still having some feminine lacy touches. It has Spandex added in for stretch and to add to the comfort and the straps cross in back to help keep them in place.
The nude colored bralette is great if you want a little more shape and support with its wireless foam cups. It has adjustable straps which can be worn halter, criss-cross, or traditional and comes in 3 colors too which is nice.
This light green bralette is such a cool color. It is wireless and has padding for extra coverage and support. The T-back straps design helps keep them from slipping which is great. It also is slightly more of a longline silhouette providing a little extra coverage. 
This burgundy bralette also comes in 3 colors and is a long line silhouette (similar to the nude one) which means a little more coverage and comfort. It has removable cups and is wireless and I love that it has these double straps. 
The bottom bralettes are just 2 of the many plus size options Target carries. These are super pretty and have great support and coverage.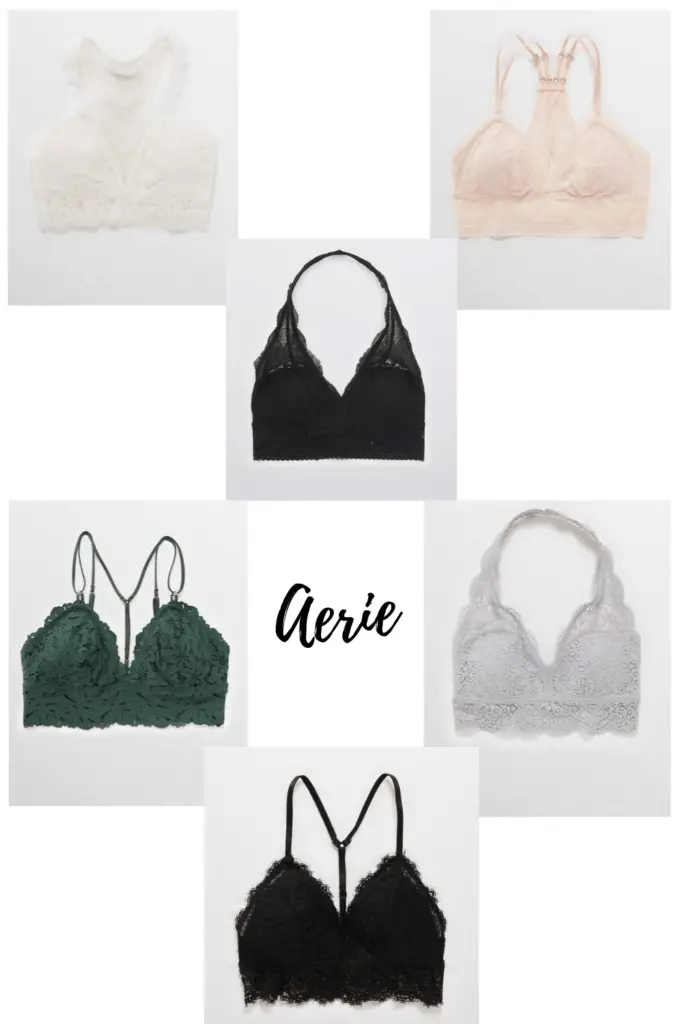 The third store I love for comfortable and pretty bralettes is Aerie. I actually love pretty much everything this store sells. They have awesome bras, great swimsuits, the best loungewear, and almost always have a sale going on.
But let's talk bralettes. They have SO MANY amazing options and pretty much all of them come in different color options which is awesome.
Starting off with this cream one at the top. This one has such a pretty lace back. Prefect for open back shirts that you don't want to go braless in but don't want a plain ole bra strap hanging out. It's a racerback which gives extra support and has removable padding if you prefer. 
The soft pink one next to that, similarly, has a racerback plus it has adjustable straps which makes for ultimate comfort plus the perfect fit. It has removable padding, too.
This one also comes in plus size (Aerie also has lots of great plus size options! See the shop here section below to check out the plus sized version.) 
The black halter bralette in the middle has such a pretty delicate lace design. It is another longline bralette which is perfect to wear under tops or dresses that have large armholes or cutouts on the sides. It also has removable padding. 
I love the color of this hunter green bralette. It actually kind of reminds me of the Adella one a little. The lace on here is so pretty. This one again has removable padding (I think most bralettes from here do which can be nice) and adjustable straps for the perfect fit and best comfort.
The nice thing about some of these bralettes is that in larger sizes (xl and xxl) they provide extra coverage so gals with bigger chests will still feel so comfortable in them. 
This other black bralette at the bottom is made with eyelash lace which is one of my favorite kinds. It is just so delicate and pretty. I love it. This one does not have removable padding but what it does have, is a little extra padding to act as kind of a push up bra to give you more shape and coverage. Who doesn't love a little perk up for the girls? 
The last one is this pretty gray colored bralette. They call this one the Wildflower because of the pattern on the lace, I totally see it! It's kind of a whimsical pattern. This one again has removable padding and also has a hook closure in back so you can adjust the fit. 
I definitely could keep on going but I think I've dished out enough options, hopefully you won't have a hard time picking out just a few. But I highly recommend you give these oh so comfortable and pretty bralettes a try if you haven't already. And if you have, let me know where my bralette loving gals are at in the comments! I will see you all next time.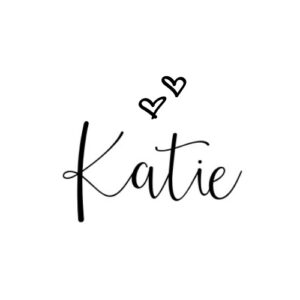 Shop Comfortable and Pretty Bralettes Here!