How to Decorate for Valentine's Day and Keep it Simple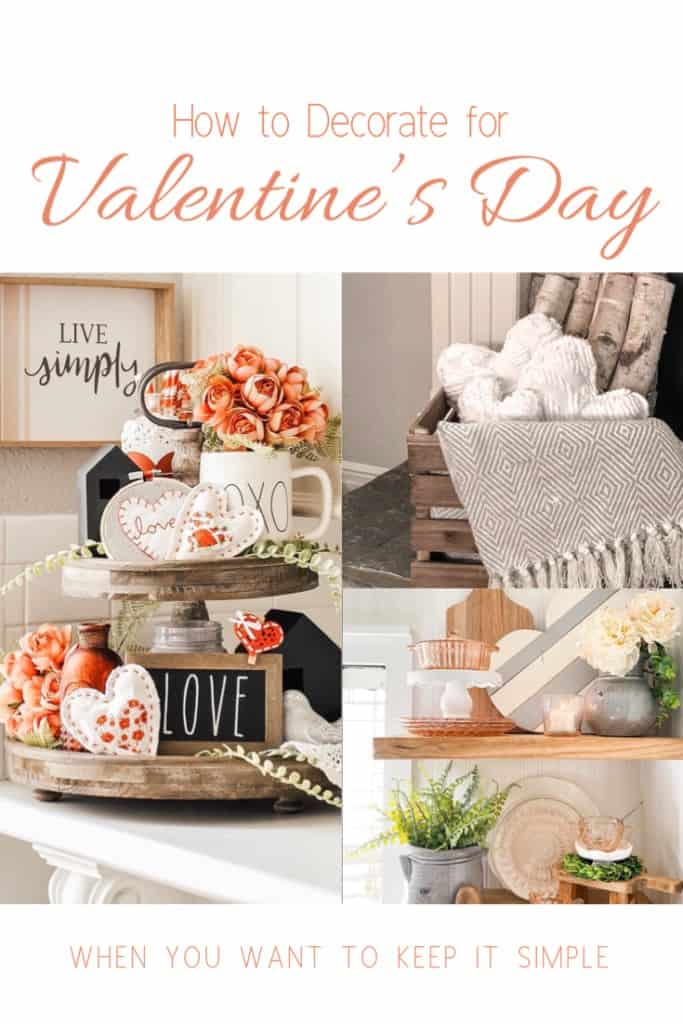 What kind of decorator are you? Do you decorate for every holiday or just the major ones? I personally typically only decorate for the big guys but I have decided I want to start adding in just a few simple touches here and there for some of these smaller holiday's. I just think it adds a fun touch to my home in between those big seasons I typically change out my decor for. 
I thought it would be helpful to show you some of my inspiration for how to decorate for Valentine's Day so you can get an idea of how easy it can be to add in a few things here and there. I love finding things at the thrift store to use or that I can re-work into something that better fits my decorating style. More on that to come. 
If you are not new here you are well aware of my modern farmhouse (more emphasis on modern than farmhouse)  decorating style so it will come as no surprise that my inspiration photos are in that style. If this is your first time here, hello and welcome! Feel free to check out my winter decorating post and fall decorating post to get an idea of how I like to decorate. 
Let's check out these inspiration photos and  get talking on how to decorate for Valentine's Day!
Tiered trays. I love them. They are a great way to add in some pops of pink, peach, red, or whatever other color Valentine's Day means to you. You can find some little hearts or love signs as well. I would love to find a wood sign at the thrift store to paint and make my own love sign. I also think I could re-purpose some fabric from a shirt or other textile at the thrift store to make some little fabric hearts like these. I just think they're adorable!
Try adding a cute little banner somewhere in your home. It would also be super easy to make your own with some card stock or scrapbook paper and some twine or string of choice. I really love the last one where she added some hearts to her winter decor. That's a great way to add in some Valentine's Day feel without having to remove any of your current decor.
Adding in some little pillows or other textured pieces is a great simple way to decorate for Valentine's Day. You can choose any kind of pillow you like to add to your couch, a bench, your bed, anywhere really. And those smaller hearts would make a cute addition to a shelf, tray, basket, or any other little nook or cranny you might have to fill.
I love the texture on these neutral hearts. These are another great DIY project using textiles from the thrift store. You don't really even need a sewing machine (I do all my sewing by hand!) Of course if you aren't a fellow neutral lover as I am, these would be equally as cute in some Valentine's Day colors or patterns too. 
Adding some wood elements is another great way to add some texture to your Valentine's Day decor. I love finding wood pieces to paint or stain at the the thrift store. They are the perfect things to sprinkle here and there throughout your home decor.
Alternatively, you could pick up a large wood sign like that love big one. Adding in one larger piece makes it much easier to take down and replace when the time comes.
The best thing about this kind of sign is that it doesn't scream Valentine's Day so you can really keep that up well past February 14th. 
You could even go as simple as just adding some pretty pink (or red, or whatever colors you like for Valentine's Day) flowers around your home. 
Whatever style you like to decorate in, you can use these tips on how to decorate for Valentine's Day in your own home very easily. If you're in the market for some new pieces to add to your home check out some great finds below. See you next time. 😊
The following are affiliate links for which I earn a small commission at no extra cost to you, should you purchase through them. Learn More.
Shop these pieces to add some Valentine's Day into your home!