Fall Thrift Haul | Fall 2019 Trends Plus Closet Staples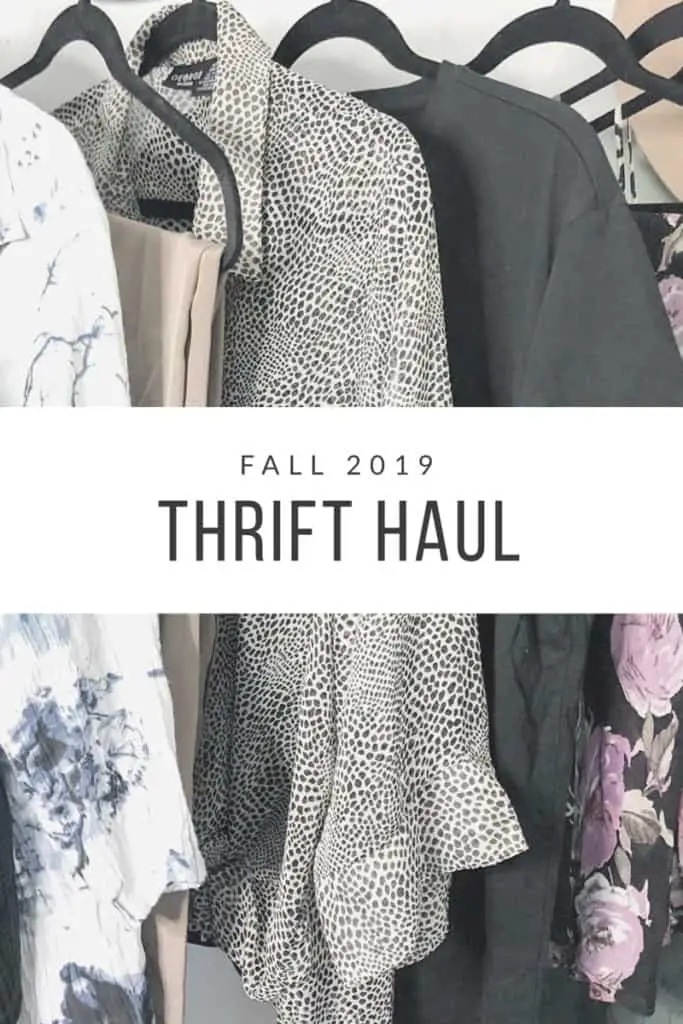 I have a massive fall thrift haul for you today. I am still on the hunt for a few more fall items but since I have so many good things already I figured I should probably go ahead and show you what I've found so far in my hunting. If you haven't already, check out my recent fall trend thrift list post, you will see all the trends I was/am on the hunt for.
I also should add a quick side note that there are a few items I found which aren't the most fall appropriate but they are items I was lacking in my wardrobe so I picked them up as well. I found some real gems though let me tell ya. 
So, ok, full transparency here, I was really planning to shoot a video of this haul but like I had no idea how hard (and how awkward) it would be! Not to mention time consuming. 2 hours went by before I knew it! I like didn't know what to say and my face was doing weird things. It was just, it wasn't cute. 😂 However, if it is something you genuinely would love to see from me please let me know! I can totally take another shot at it so you can see these awesome thrift finds in a little more in depth. 
Moving on, I have not styled these items, I merely tried them on so you could get a better idea of how they look. There were a couple items which I tossed on a jacket or wore some jeans with, which were not thrifted items, just to give you a better idea of how I would wear it (and also because I needed to wear pants.) But stay tuned to my Instagram for actual styled looks for these pieces! Ok time to dive into this fall thrift haul.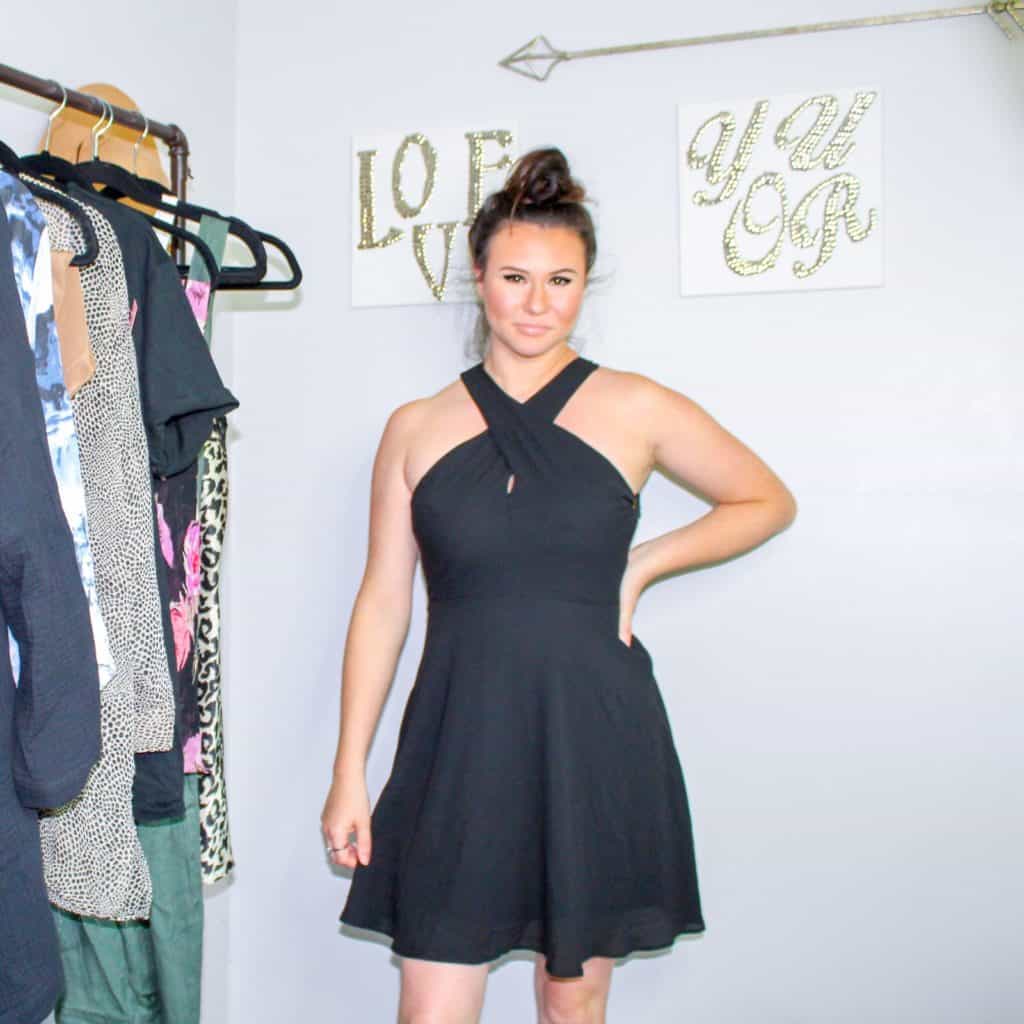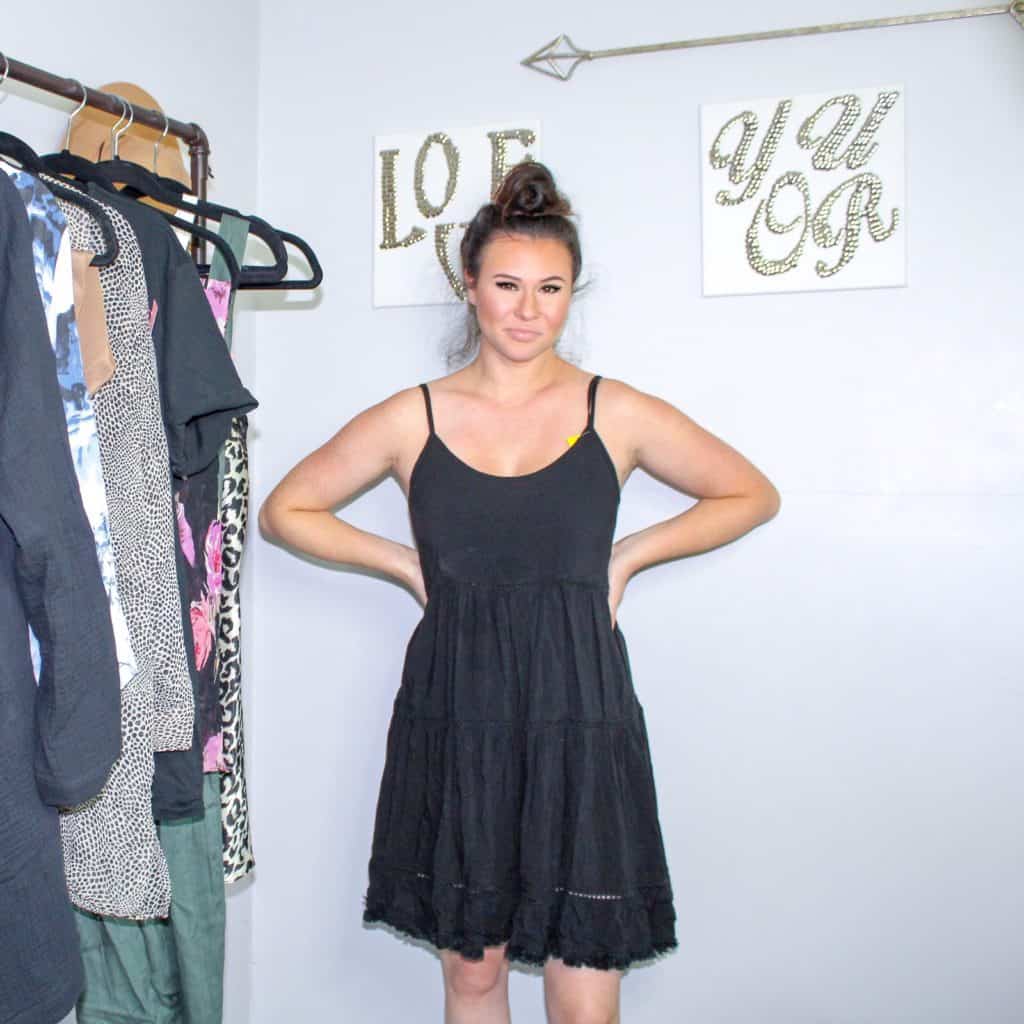 Let's start off with dresses. Two of these are not items I intend to wear this upcoming season but fall into that "I was lacking them in my wardrobe" category. They are both of the black dresses. One is the perfect little black dress for night time events and the other is the cutest Free People-esque sun dress that I will no doubt sport regularly next summer.
The LBD is originally from Express and I picked it up for $7.99. The sundress is originally from Target and it was 50% off of $5.99 so I got it for only $3!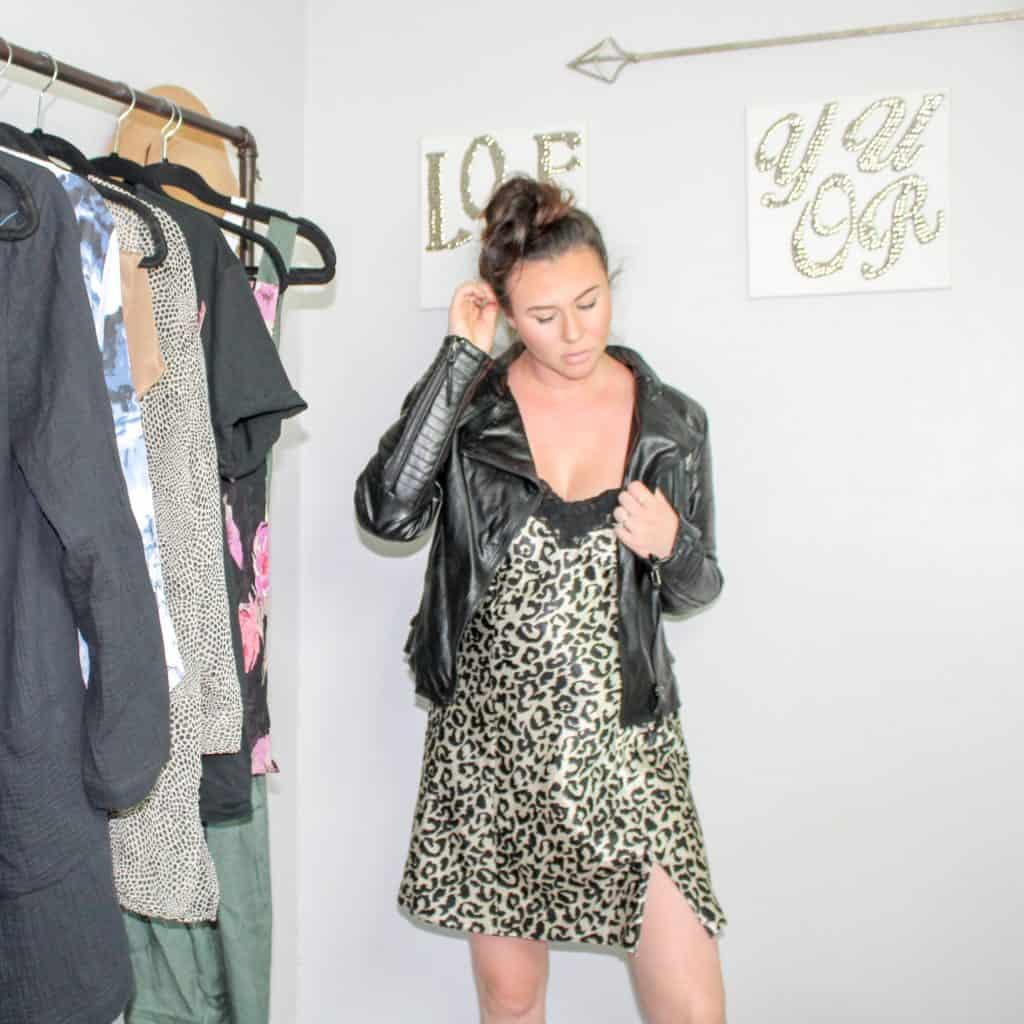 As for this satin leopard slip dress, I am obsessed. This one I actually probably would wear styled with this leather jacket for like a date night or something. But I could also see this tucked in as a top as well. The tag was cut out of this so I'm not sure where it was from originally but it was only $4.99 so I snatched it up.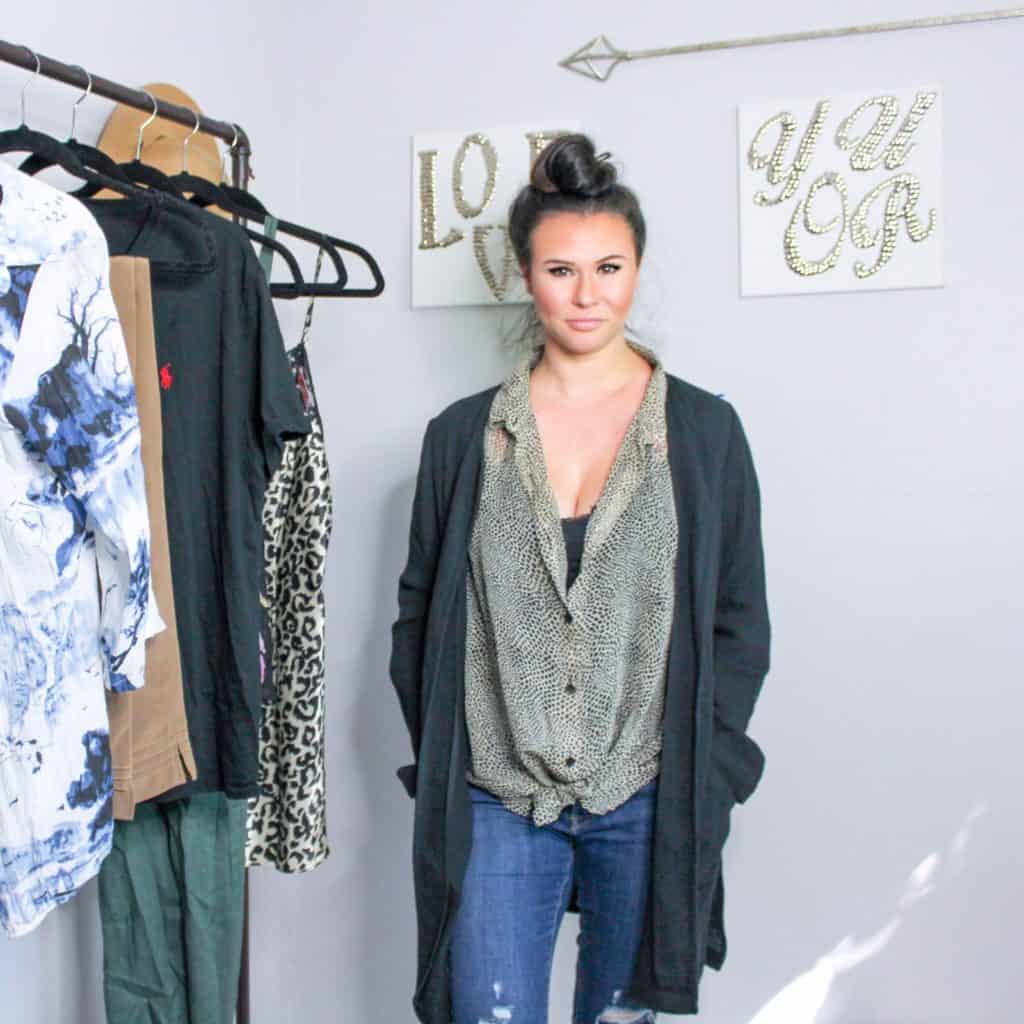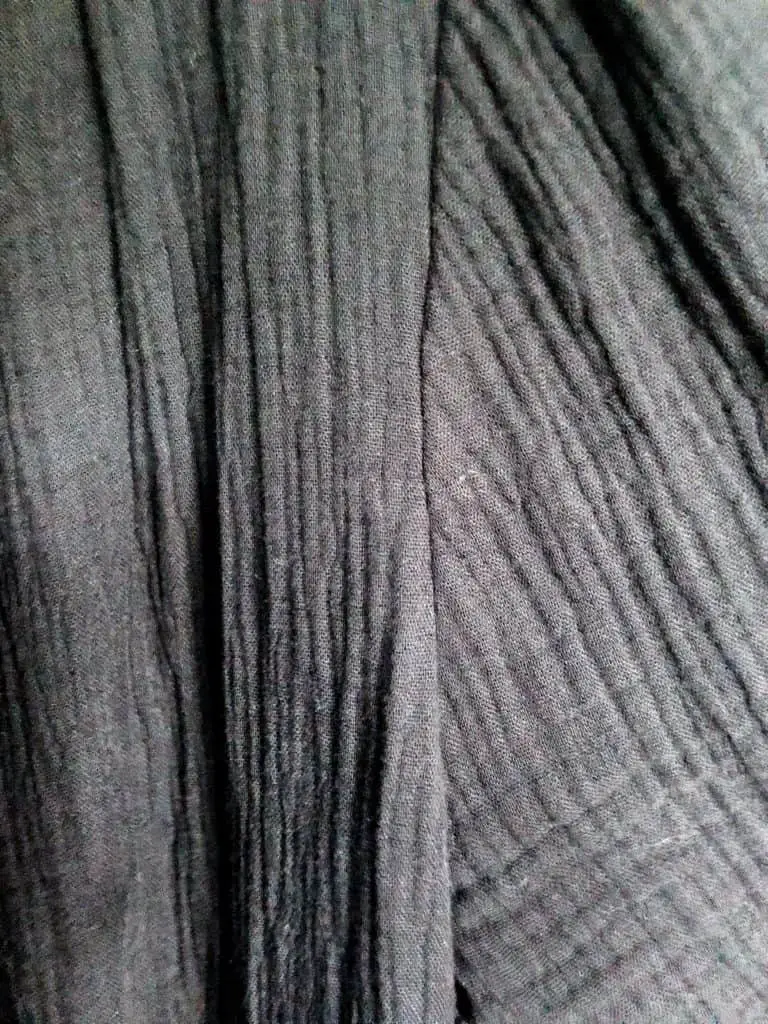 Let's move on to the tops and layering pieces. Starting off with this black cardigan which is 100% cotton so it's really light weight. It also has this cool texture to it which makes it more than just a regular old cardigan. It is originally from the brand Adrienne Vittadini which is sold at Kohl's and it was 50% off of $3.99 so it was only $2.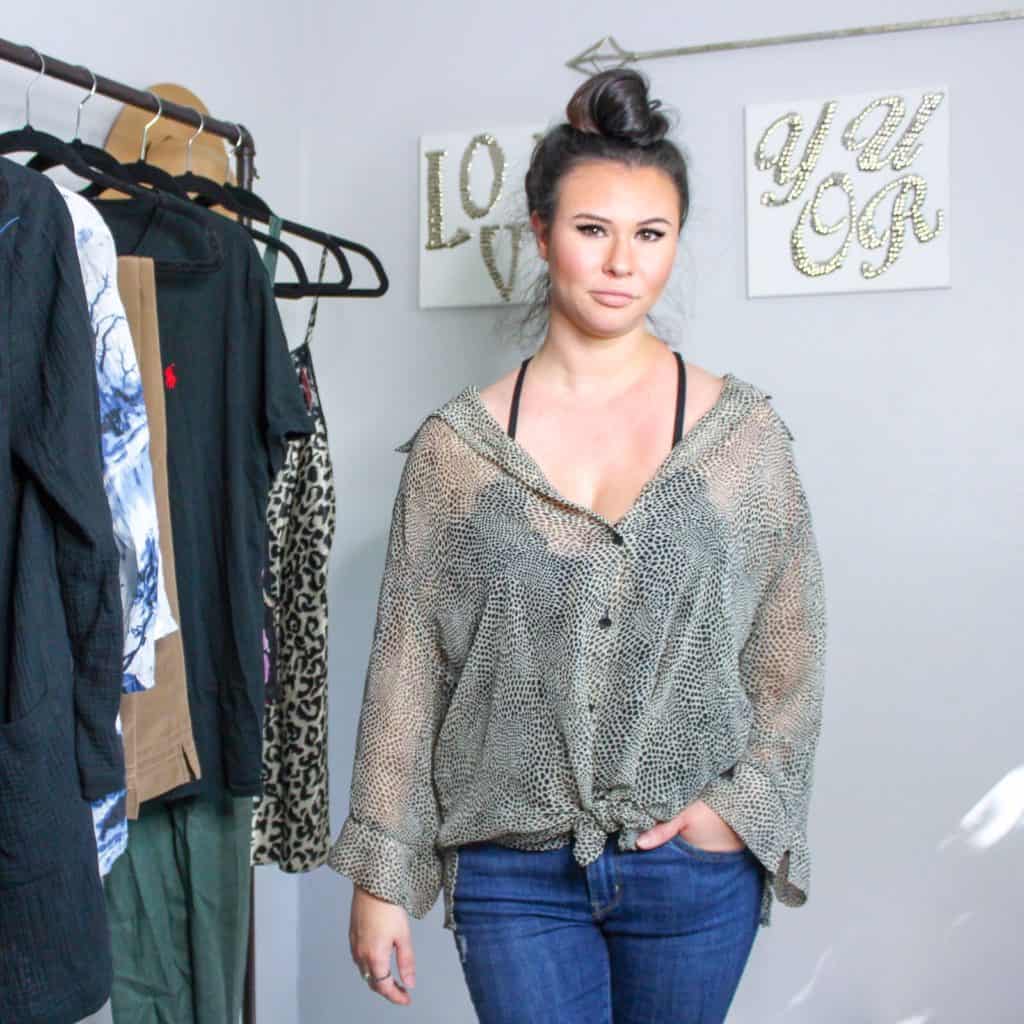 I layered it over this kind of leopard print/ maybe like a polka dot sort of print? The print jumped out at me from the middle of the rack and so of course I grabbed it. It is actually plus size so it is pretty oversized on me and I love how it fits. I can wear it multiple ways too, I love it knotted as well as wearing it loose. Layered or on its own. There are lots of options. This is from the brand George Woman and I got it for $4.99.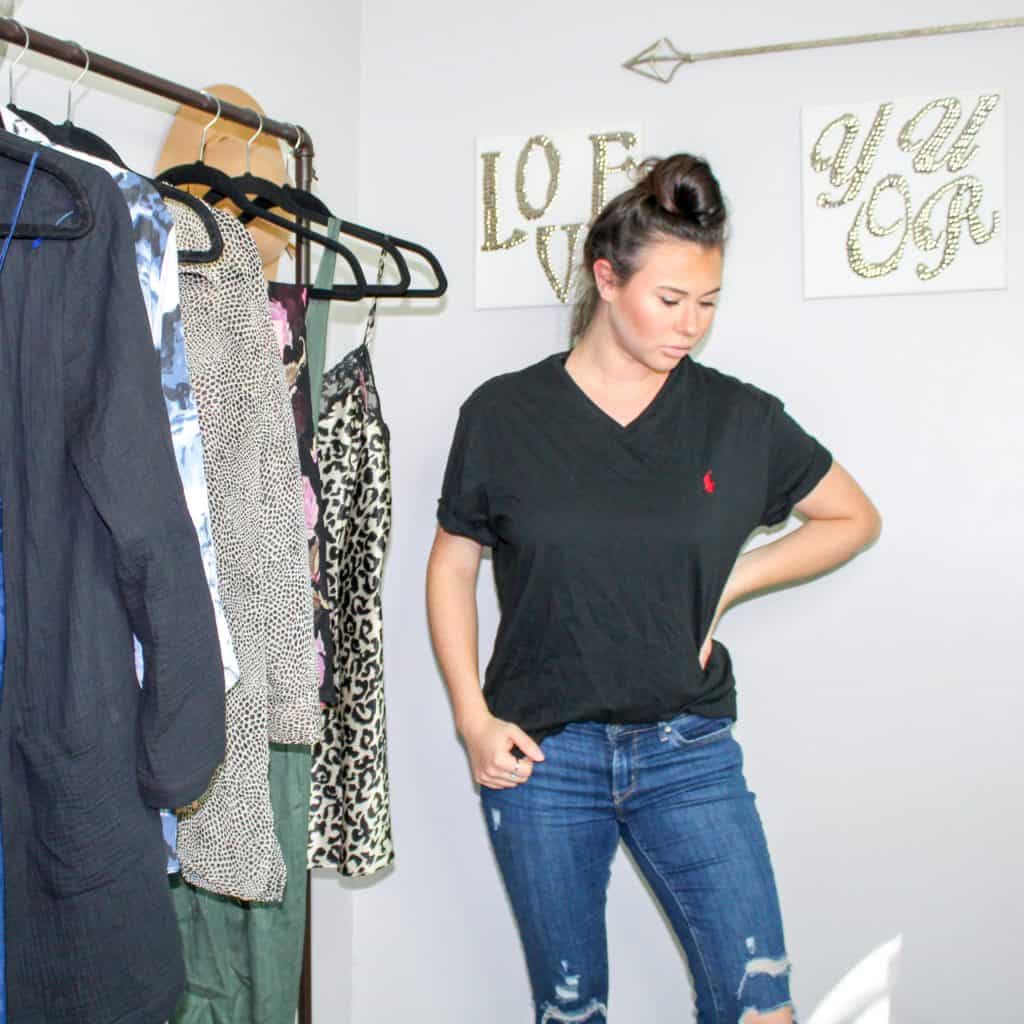 I like to browse through the men's t-shirts because they often have cool graphics or band tees and they fit me a little more baggy than women's shirts which I like. So I came across this Ralph Lauren t-shirt which looked like it had barely been worn and it was only $1.99 so you better believe that one was coming home with me!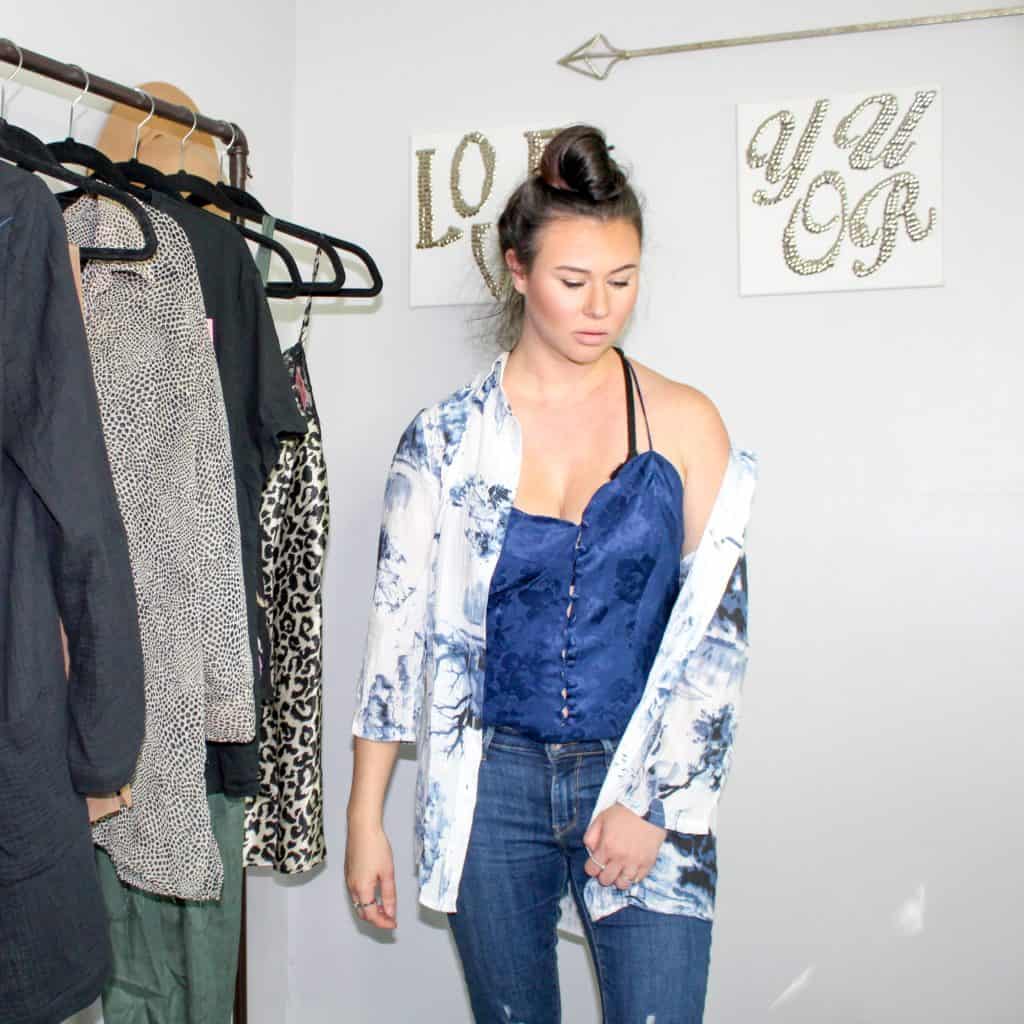 I also like to browse lingerie, I think I've mentioned this a couple times before. They have the best satin and lace camisoles and slip dresses in this section! That was where I found that leopard dress. I also came across this navy slip dress which I'm wearing as a top.
The straps are a little big so I need to do a little minor adjustment to them. I love the subtle floral design and the buttons down the front, really cute details. It is a very old Victoria's Secret slip and I paid again just $1.99.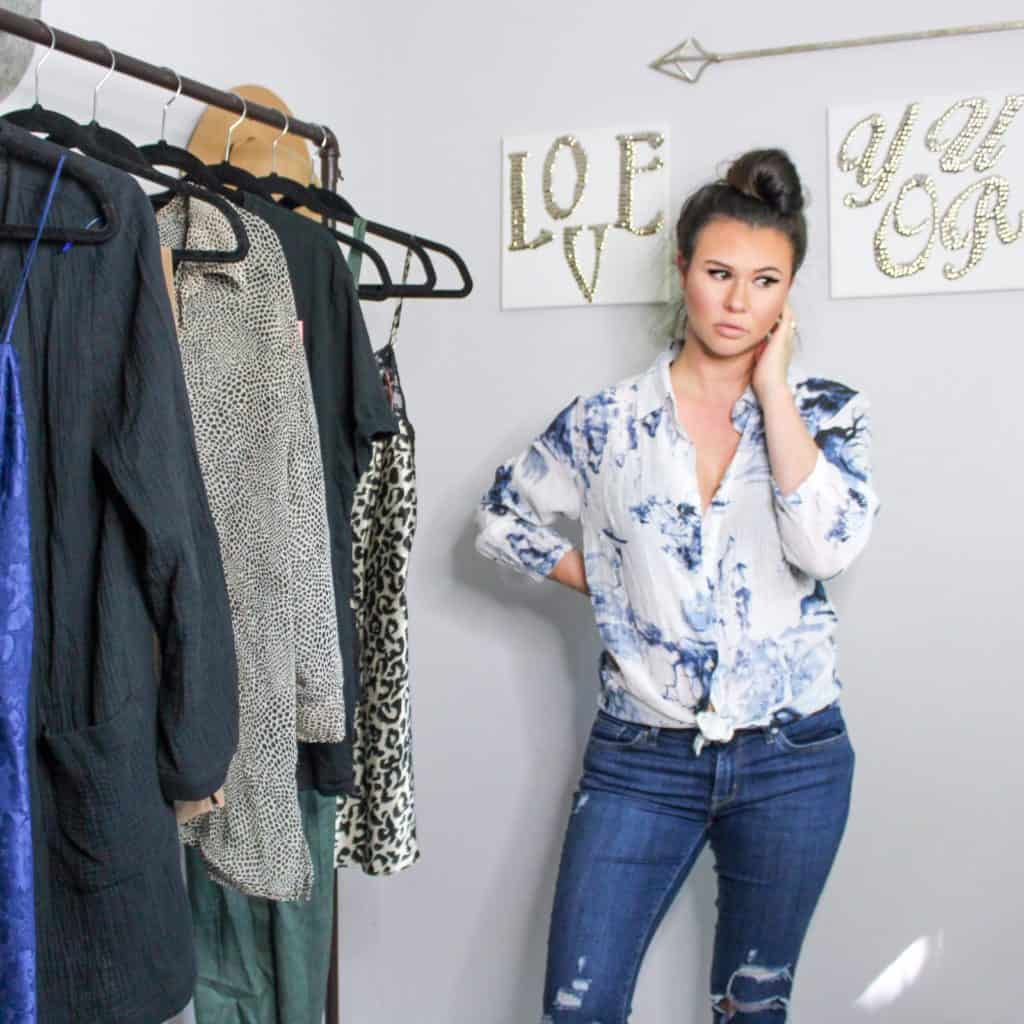 This blue and white floral button down I love both as a shirt and as a layering piece. These kinds of shirts are so easy to toss on and add instant interest to your outfit. This top is from the brand Ethyl and I got it for 50% off $3.99 so just $2.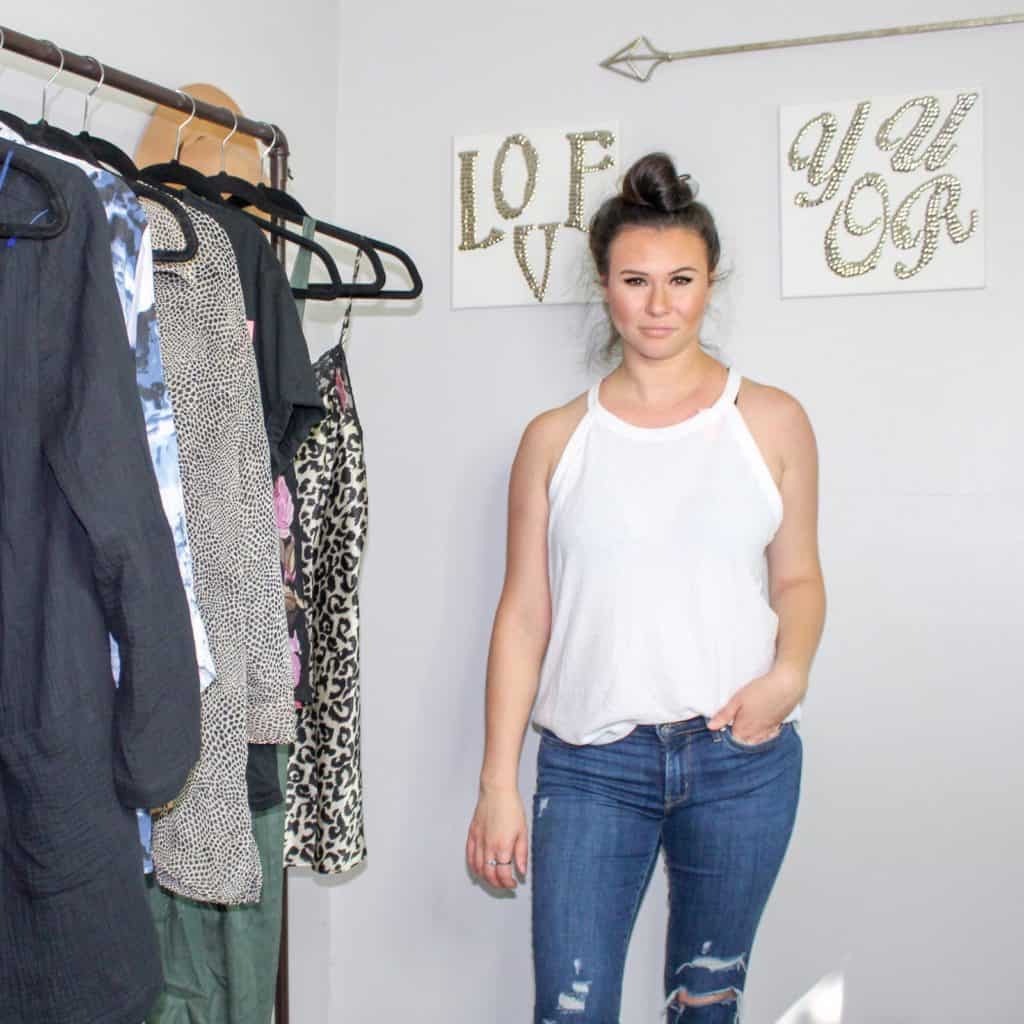 I came across this simple white tank and loved the texture. Then I realized it was brand new with tags still attached. It is from the Universal Thread line at Target. I actually found another item that was brand new with tags from Target which I will get to in just a bit. This top is great for layering and I love the shape of it and how it looks on. I picked it up for $4.99.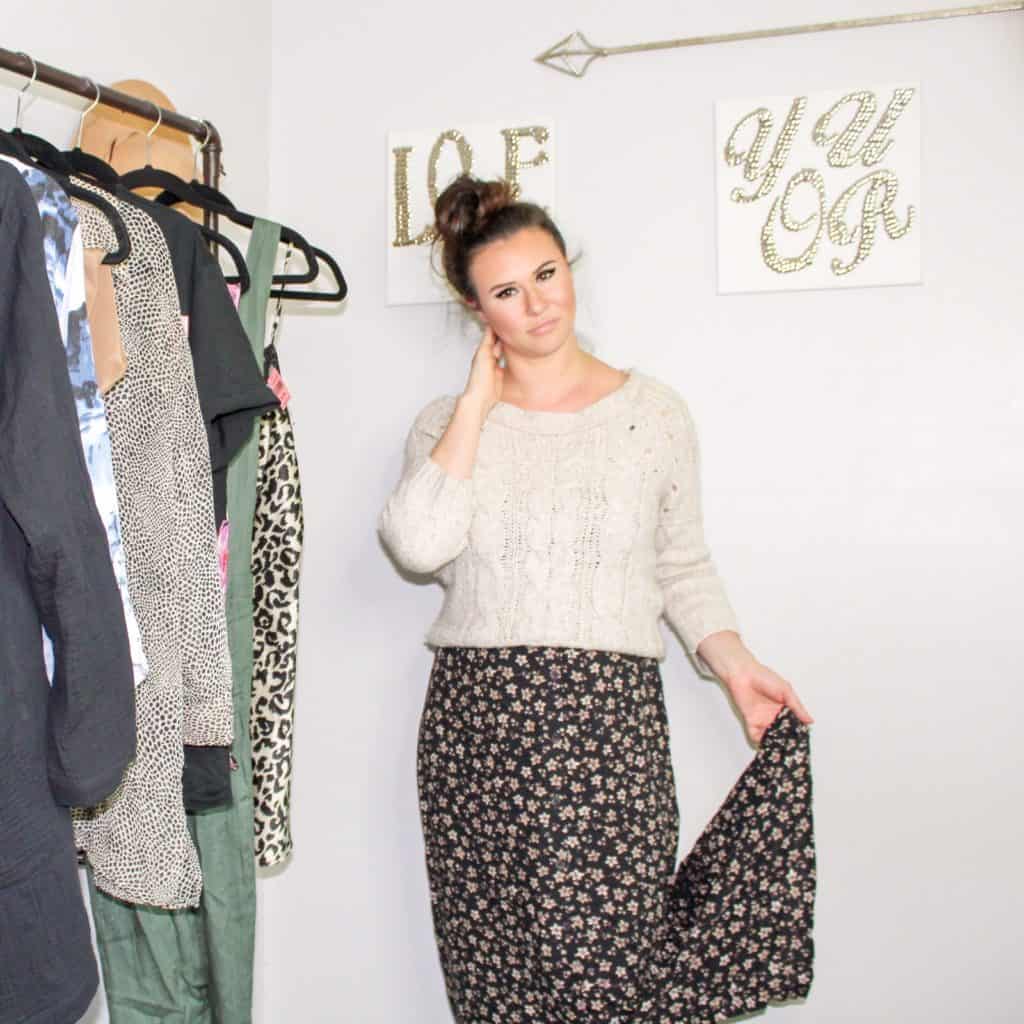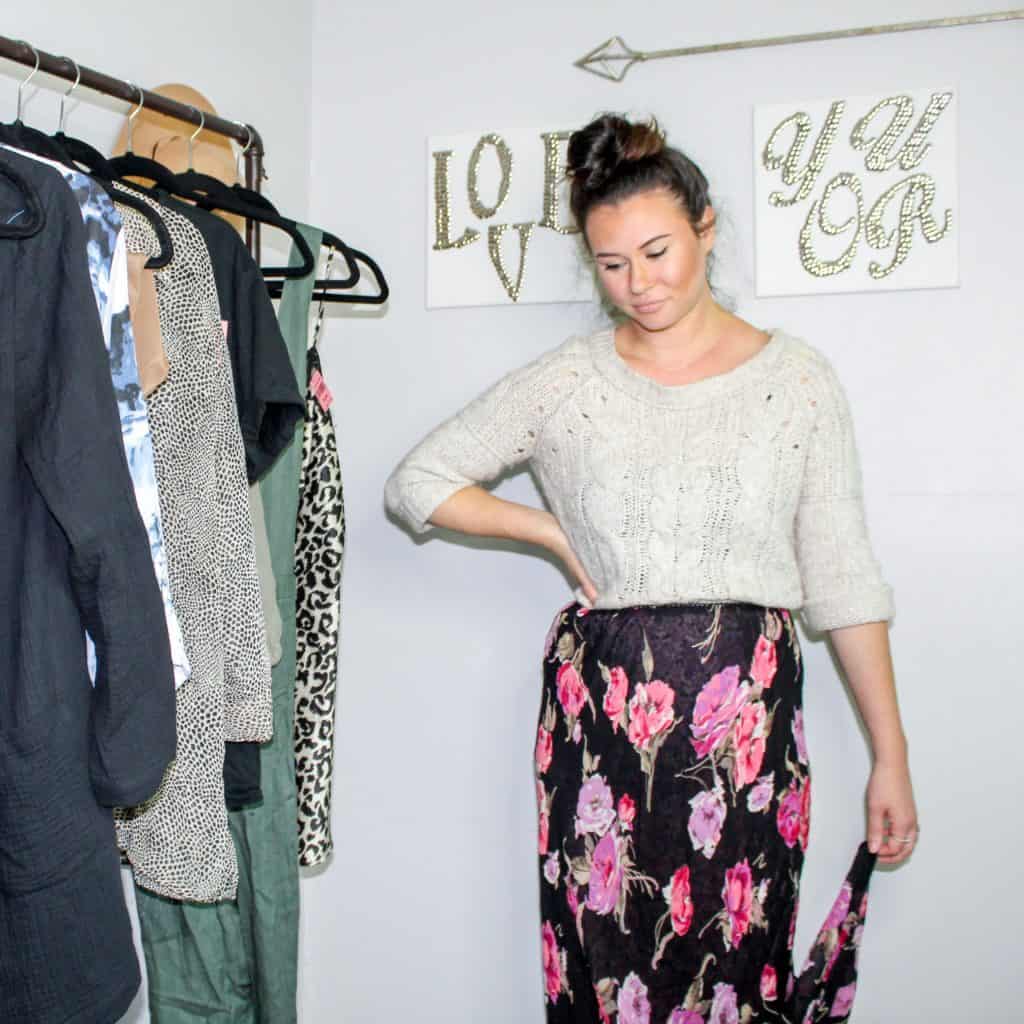 So the sweater and skirt trend this fall is one that I am really into. I still need to find some more sweaters but I did find this one which I loved with both these skirts I also found. This sweater is originally from Ann Taylor Loft and was 50% off of $6.99 so it was just $3. 
Let's move on to bottoms and start off with these skirts. I love the buttons down the front of the black and tan one. It hits me like mid calf which I kind of love! It is originally from American Eagle and the tag looks super old so it might be from the 90's or early 200's which is fun.
The other floral skirt is actually reversible which is cool. It's like 2 skirts in 1. It has no tags on it at all so I don't know the original brand. I just love how it fits and it has just the right amount of flow to it. This one is a maxi length skirt. Both of these were $4.99.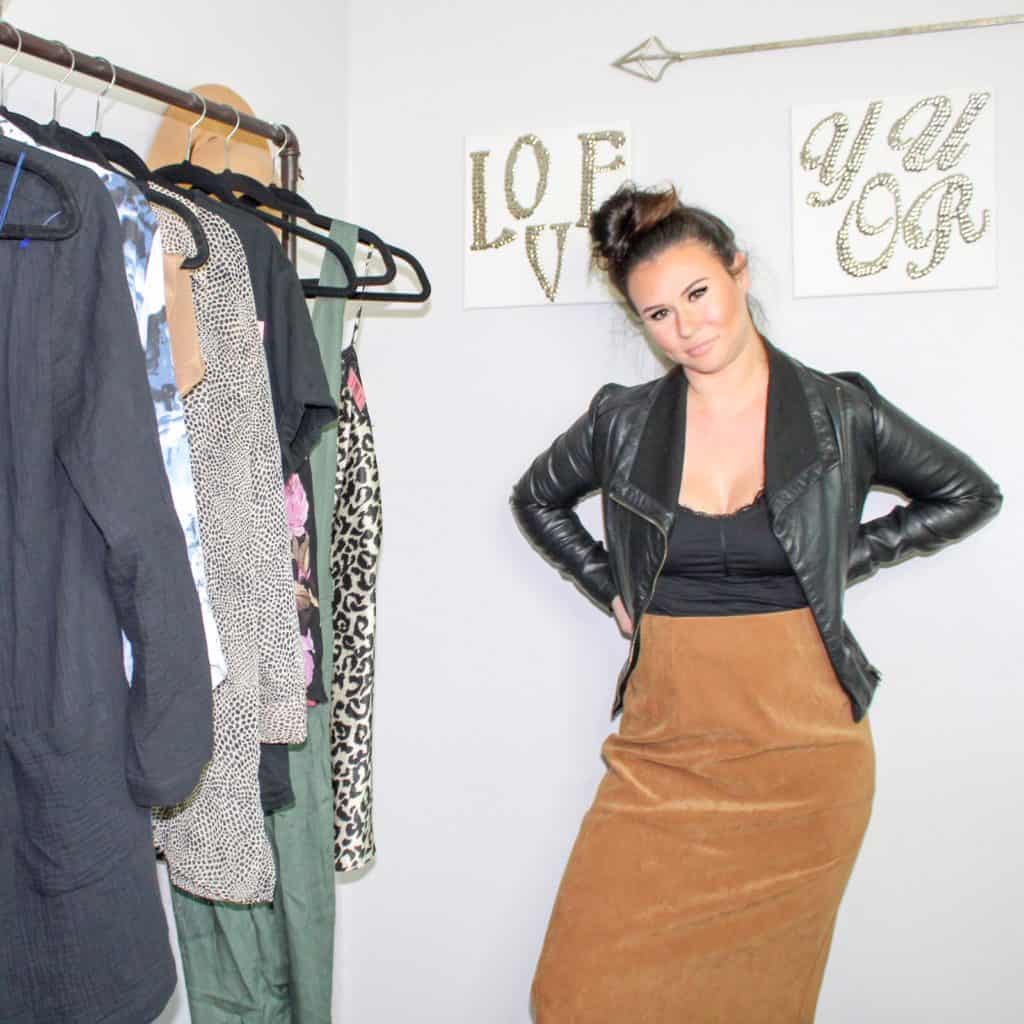 The other skirt I picked up was this midi length tan skirt that kind of looks like a suede but isn't actually at all. It is a little big on me but with something tucked in it fits perfectly. It is originally from Briggs Petite which is sold at Kohl's so nothing too exciting there but I feel like it looks expensive which is always a plus. This skirt was also $4.99.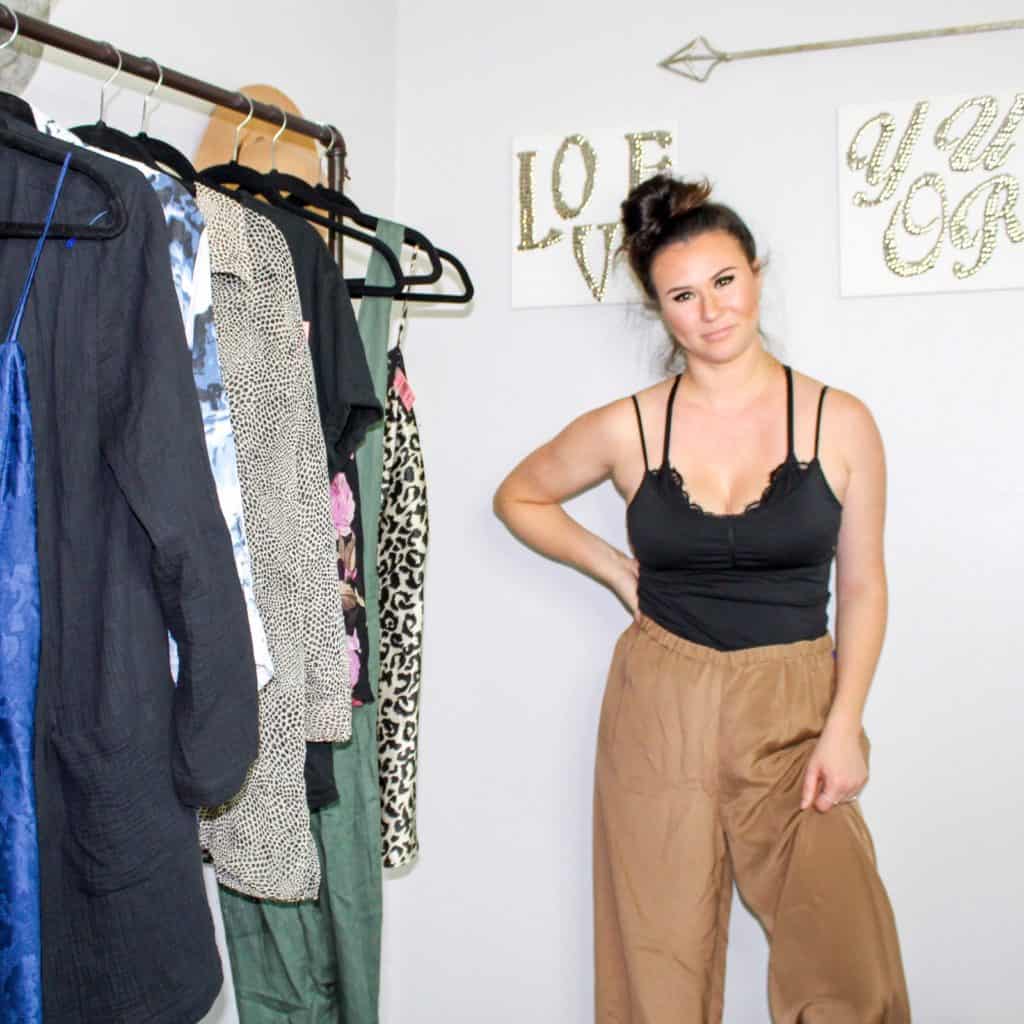 I grabbed 3 pairs of pants which are unlike anything I have in my wardrobe. First up are these brown 100% silk pants which are from the brand Soft Surroundings and I'm pretty sure are vintage. I have been hunting for pants like these so I was so excited to find them. They are big on me but I think I might try them belted or I might even get them tailored. They are so sleek, I love them.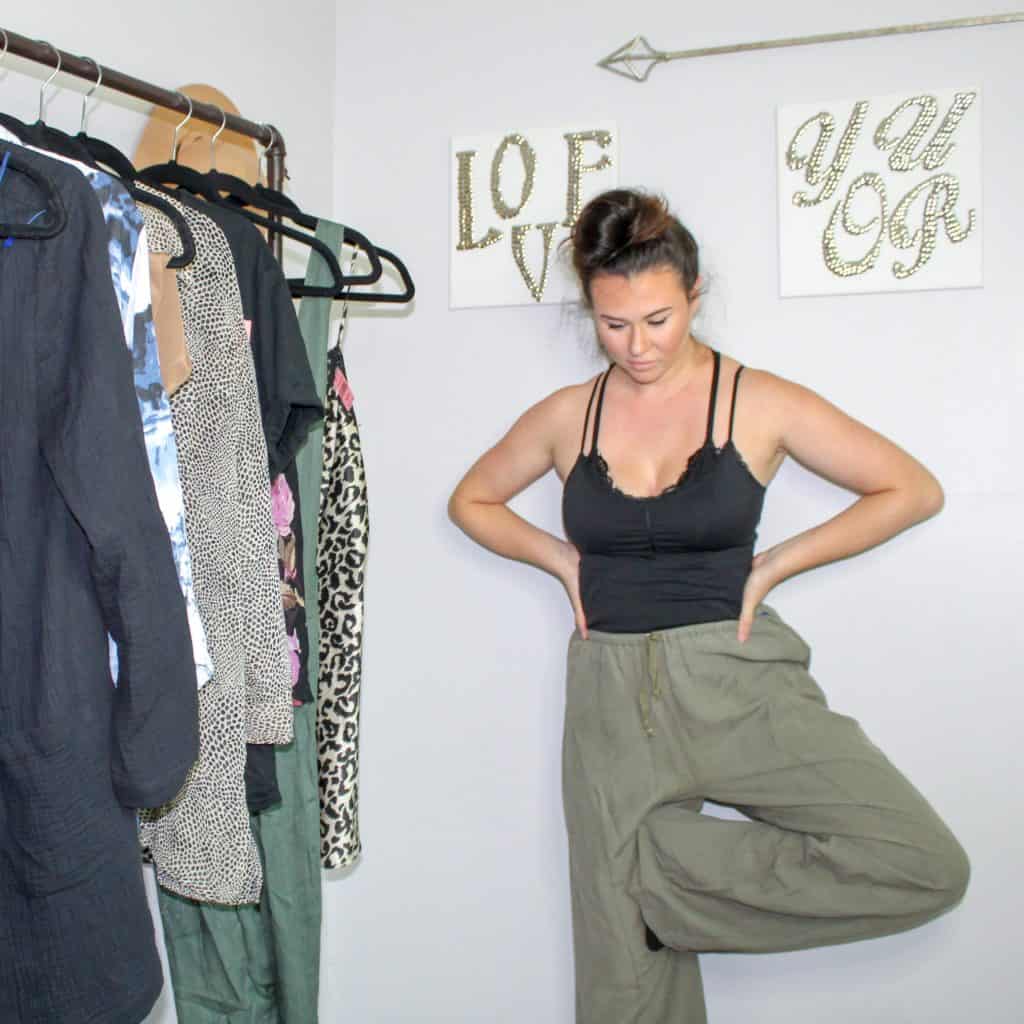 Then right next to those were these olive green pants from the same brand. My guess is that the same person most likely donated them. These are 50% silk and 50% linen which is an amazing blend. They're so soft. I think that the color of these makes them great for fall despite them being linen which is typically more of a spring/summer material. Both of these were 50% off of $4.99 so just $2.50 which is an unbelievable deal. I'm so excited to wear these!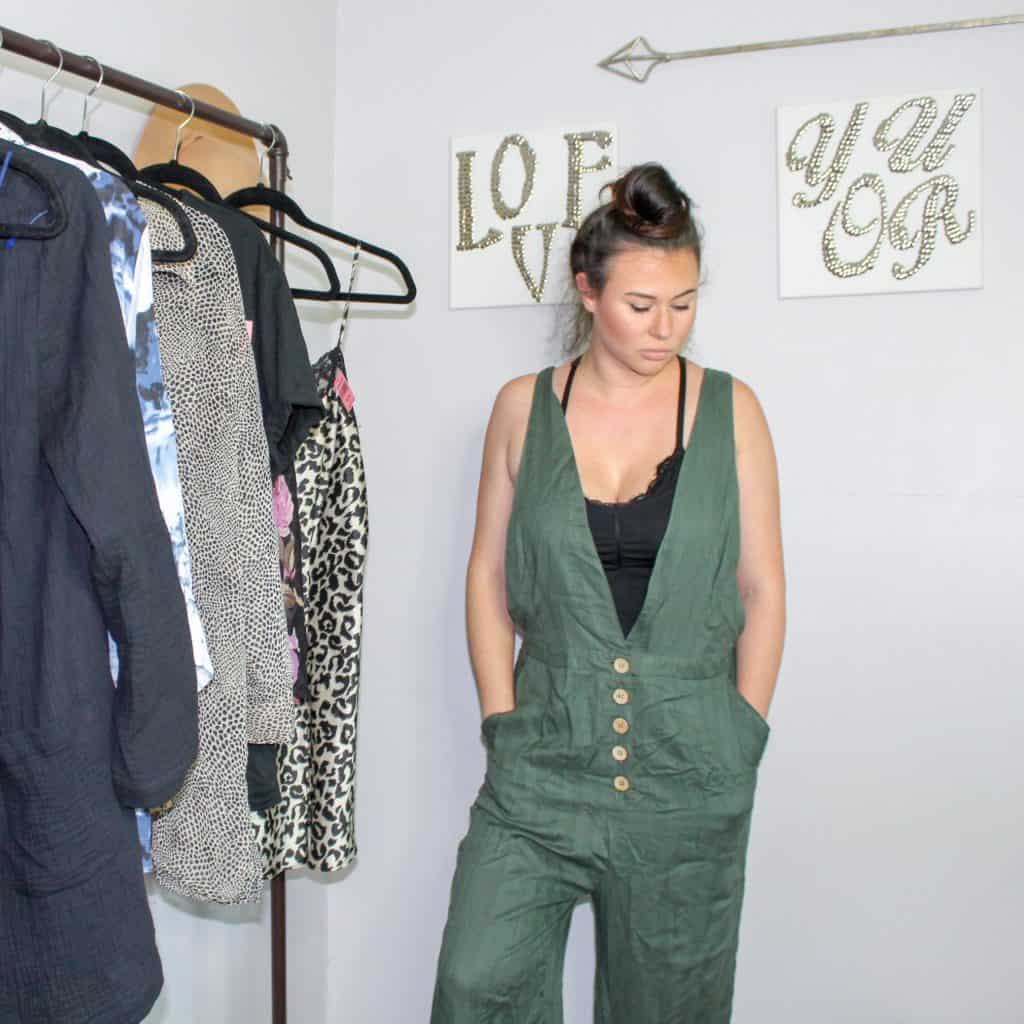 Last up for pants are these green button front overalls that were the other new with tags item from Target. These are from the Wild Fable line and they were $7.99. I think these didn't photograph all that well, I couldn't get a full picture if them so it's kind of hard to see what they look like. Definitely stay tuned to social media to see how I'm going to style these and to get a better picture of how they look on because they're really cute.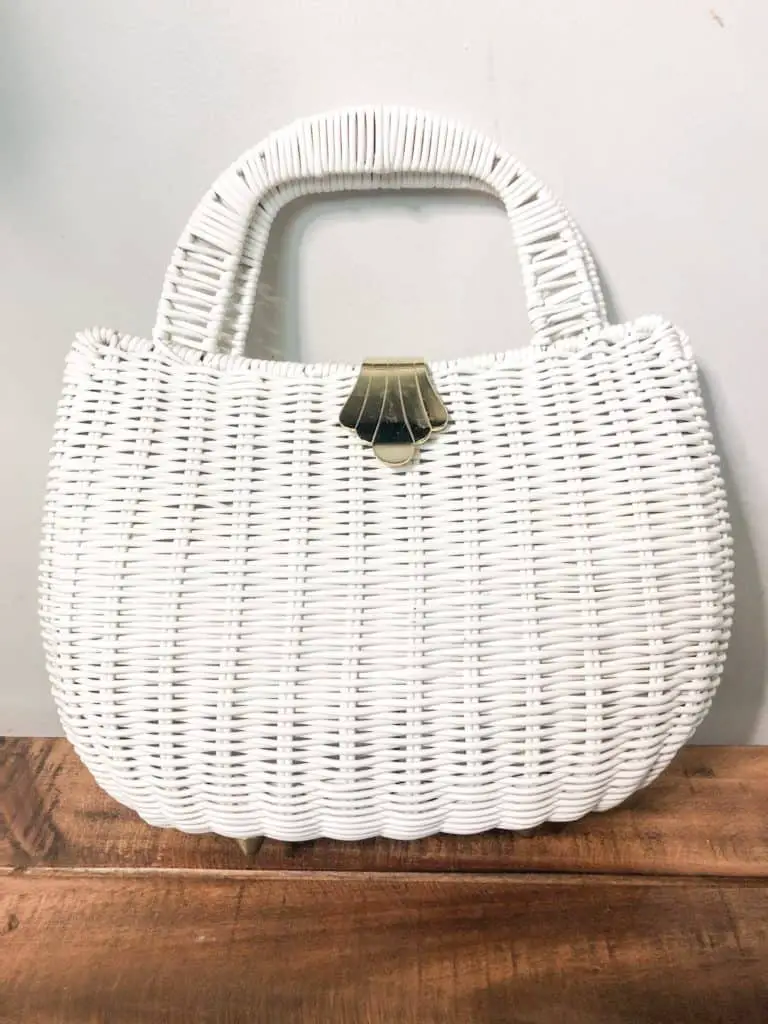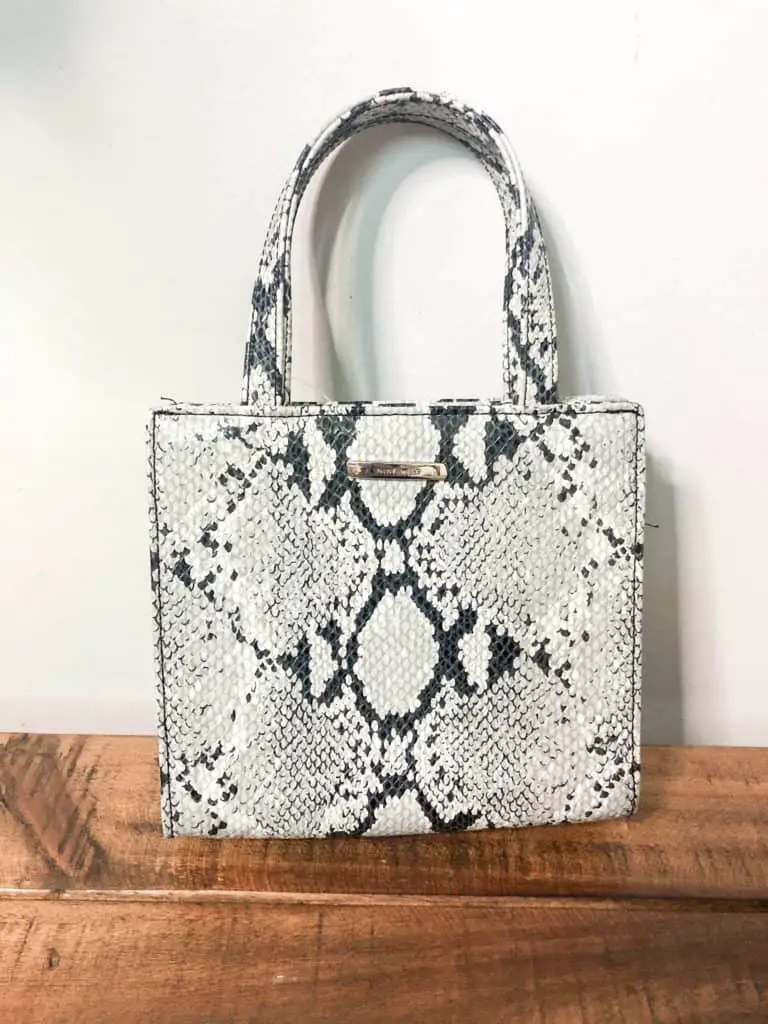 Moving on to the last 2 items, I picked up a couple of handbags. I love finding unique or trendy bags at the thrift store because I don't feel bad about not wearing them every day since they were only a few bucks. 
First up is this cool, vintage looking white woven bag. The scalloped closure is what really gave off a old school vibe to me. It feels like more of a summer bag to me so I probably won't use it until next year which is fine.
It honestly looks brand new inside as if no one ever used it which is cool. The brand is Architect which I couldn't find anything about so I'm not sure how old this bag is (or isn't.) I paid $4.99 for this beauty.
Last item is this small snakeskin bag from Nine West. Snakeskin is sticking around this season and these little mini bags from the 90's have also been trendy this year so I had to pick this up for just $3.99. I feel like it will be great for nights out. 
So that's everything I've found so far for my fall wardrobe. I'm still hunting for some tops, sweaters, a blazer, a  cool jacket, and jeans so stay tuned. I hope you enjoyed this fall thrift haul, let me know which items you loved the most. And don't forget to let me know if you want me to take another wack at filming a video version of this haul!! See you next time. ☺