Fall 2017 Thrift Finds | Finding Trends At The Thrift Store
Well even though it may not feel like it outside, fall has begun. Im sure it comes as no surprise when I say I am not mad at this little extension of summer. However, I have been on the hunt for some new additions to my fall wardrobe. I picked up just a few things on my last thrift trip, when I also found all those adorable clothes for the babe.
I still have some things I am on the hunt for but I think I found some really cool pieces to get started. You might notice a trend in color and the fact that they are nearly all sheer. What can I say, I know what I like! It's funny, I find this happens nearly every time I go thrifting. I find several different things of the same color and/or style. No idea how or why. Just happens. If you're curious what I found then just keep on reading.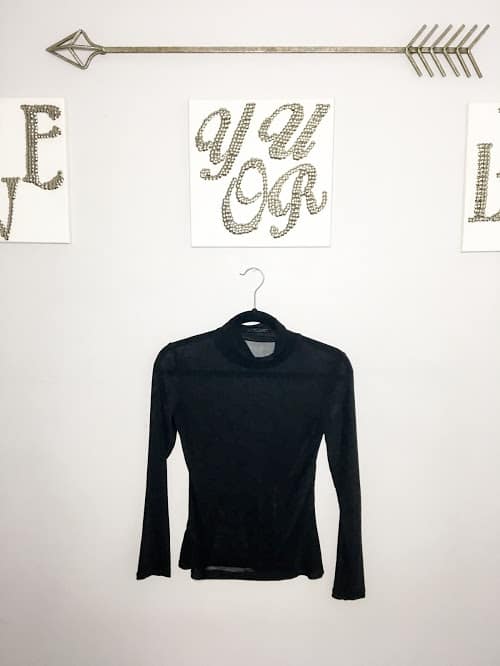 Let's start off with this black sheer turtleneck. Can we talk about the level of excitement I had when I found this? It's kind of embarrassing actually. But it is literally exactly what I was looking for and I found it, for $2! I may or may not have shrieked to myself ever so slightly. I can't wait to style this. It has a ton of stretch to it so I'm just hoping it will fit over this ever growing baby bump of mine. Might have to try to get my use out of it before I am impossibly full of baby.
I just love pretty things. This delicate pink top is the perfect example of that. I found it in the lingerie section. Yes, lingerie. Always check there, you will find gems. Best part, it was half off so it was only $3! I love the lace on this. It has some sequins that I'm thinking of removing. I think it makes it a little too lingerie-y. I love wearing these tops under a thick cardigan or leather jacket. 
I also found this burgundy number in the same section. It was  also half off so it was a whopping $1.25. What a steal! It's one of those could be a dress, also could be a top. With the baby bump I'm thinking this will end up being a top. Maybe. I kind of love it as a dress so I am certainly going to try but if it doesn't cover the necessary areas then I'll explore other options as a top.
I really like the satin roses all over this. That was what initially caught my eye. I picture it with thick tights and ankle boots. Some sort of layering piece. I'm excited to try some things with it!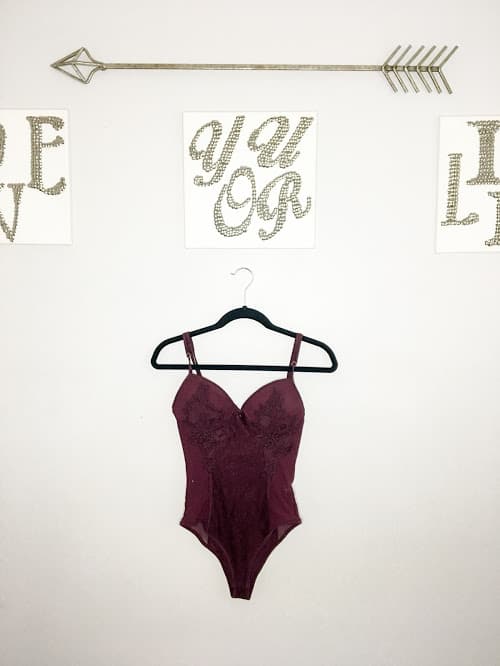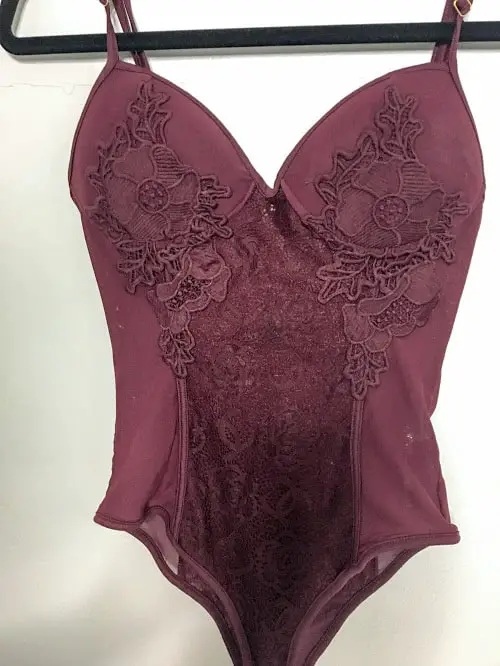 This body suit is probably my favorite find. It was half off at only $4 and is brand new with tags. My favorite kind of find. The detailing is gorgeous. Just look at that floral appliqué. So pretty! This one might seem far fetched considering baby, I know. But I fully plan to rock this while pregnant. I tried it on and it fits well. Thank you spandex. But it will be another one of those wear it right now or that will no longer be the case, kind of things.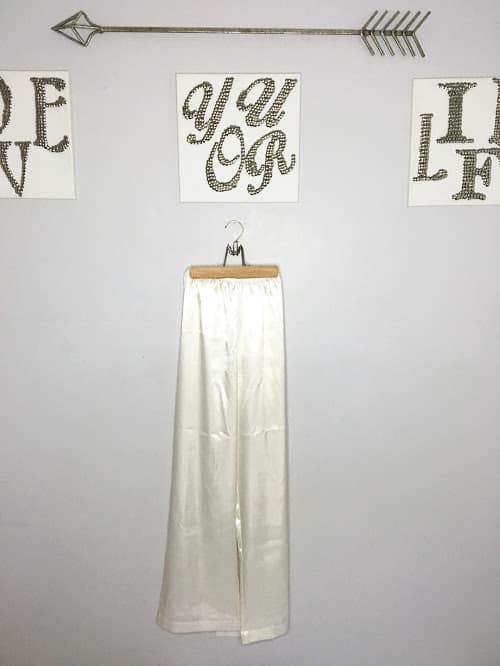 Last but certainly not least we have these cream satin pants. Amazing right?! They were actually part of a set, yes a pajama set and they were also half off so $2. The top was really not my cup of tea so I plan to just wear the pants. I love the fit. They are super wide leg and they can be high waisted, although on me that is not actually possible currently so it's nice you can wear them lower down as well. I have a few different ideas in mind for styling these. Let me know if you would want that to be an upcoming post in the comments below.
That's all my finds for now. You will certainly be seeing these in upcoming posts and on my social media. So if you're not already and you'd like to be, follow me by clicking down below! Thanks for reading, don't forget to share with your favorite fashionistas! See you next time 🙂