5 Ways to Style A Button Down Shirt
Ok so maybe this isn't the most summer friendly piece of clothing because it's typically long sleeves, but a button down shirt is a wardrobe staple. It can absolutely be worn on a more tame summer day, or most certainly on a summer night. It is lightweight and can also come with short sleeves.
And it definitely is not just for the office! There are so many really fun ways to style a button down shirt and so here I am today to share my 5 favorite ways. 
You can go for a plain white shirt, a fun color, a cool pattern, or great texture. They will all work. These kinds of tops are actually so great to shop for at the thrift store. There is always a huge selection of these bad boys. And I have found some really cool and unique ones like this purple iridescent one. Plus a pro tip, check out the men's section for some really great options. Especially if you want more of an oversized look.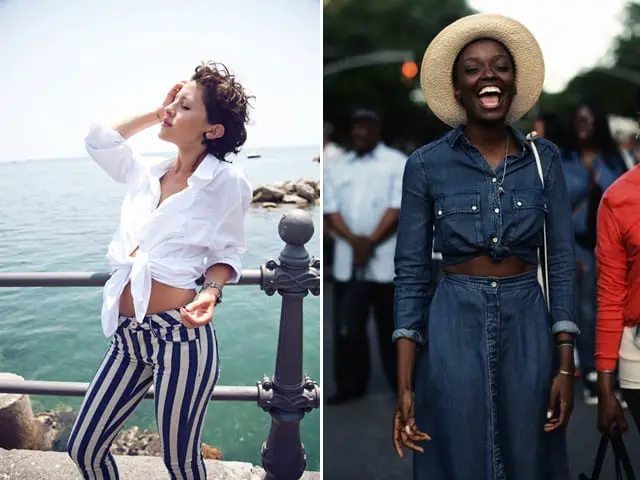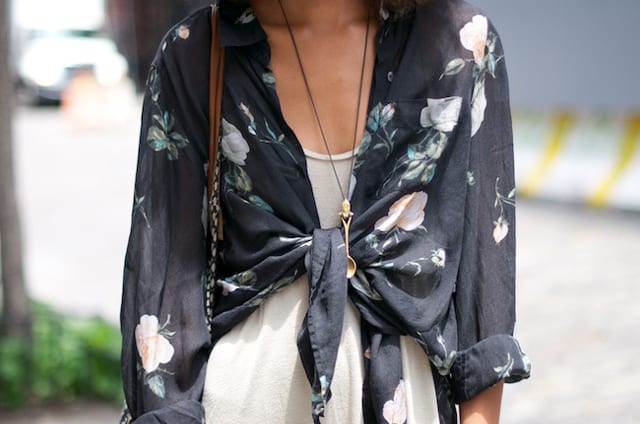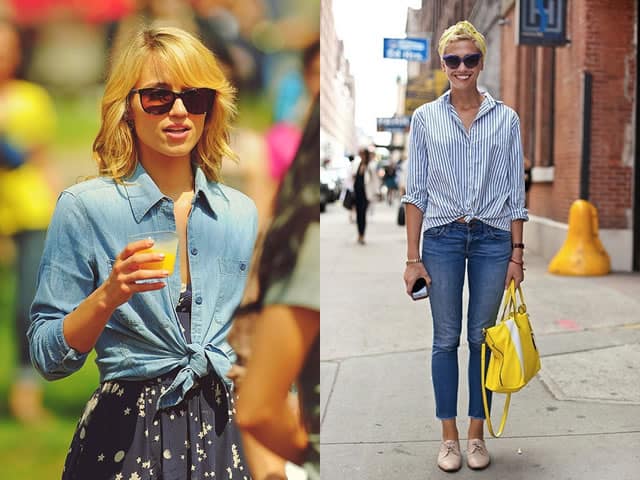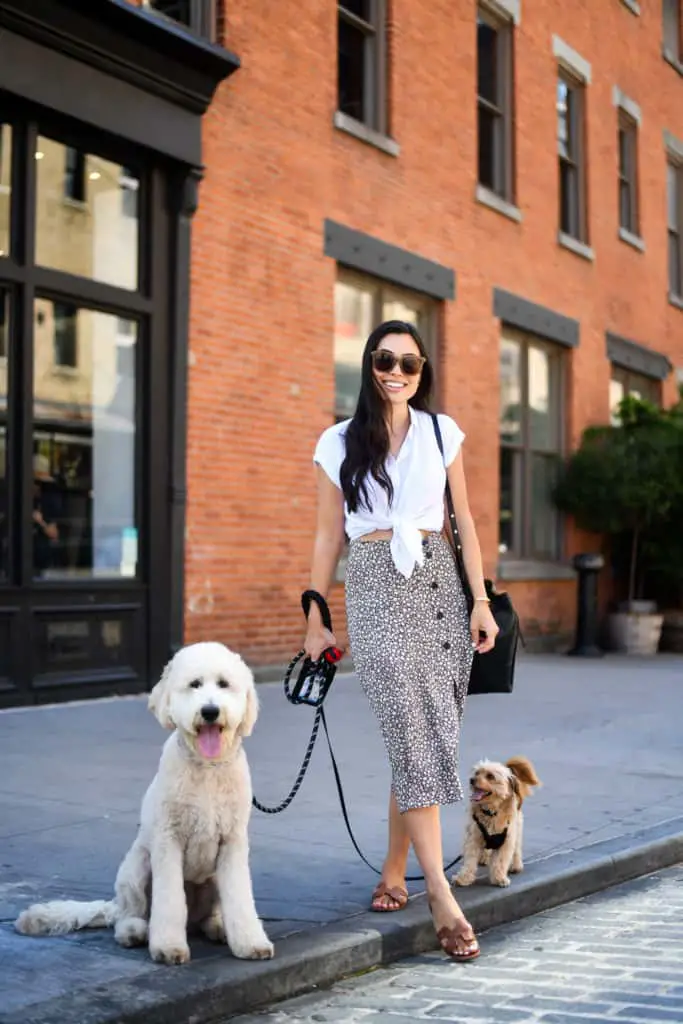 The first way you can style a button down shirt is to leave the bottom portion of the shirt undone and tie up your top. This works best with a mid to high rise bottom or over a dress. 
It really goes with any type of bottom as well. Jeans, skirts, trousers; you name it, it'll work. If you do it over a dress, you can even leave the whole shirt undone and just tie up the bottom. Looks super cute.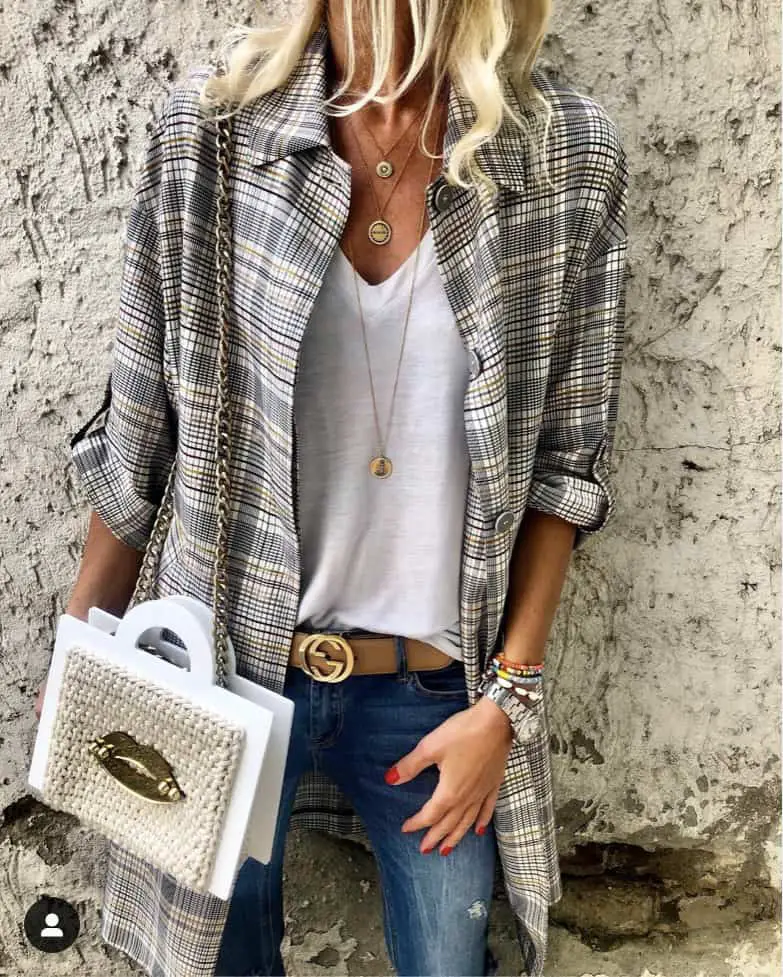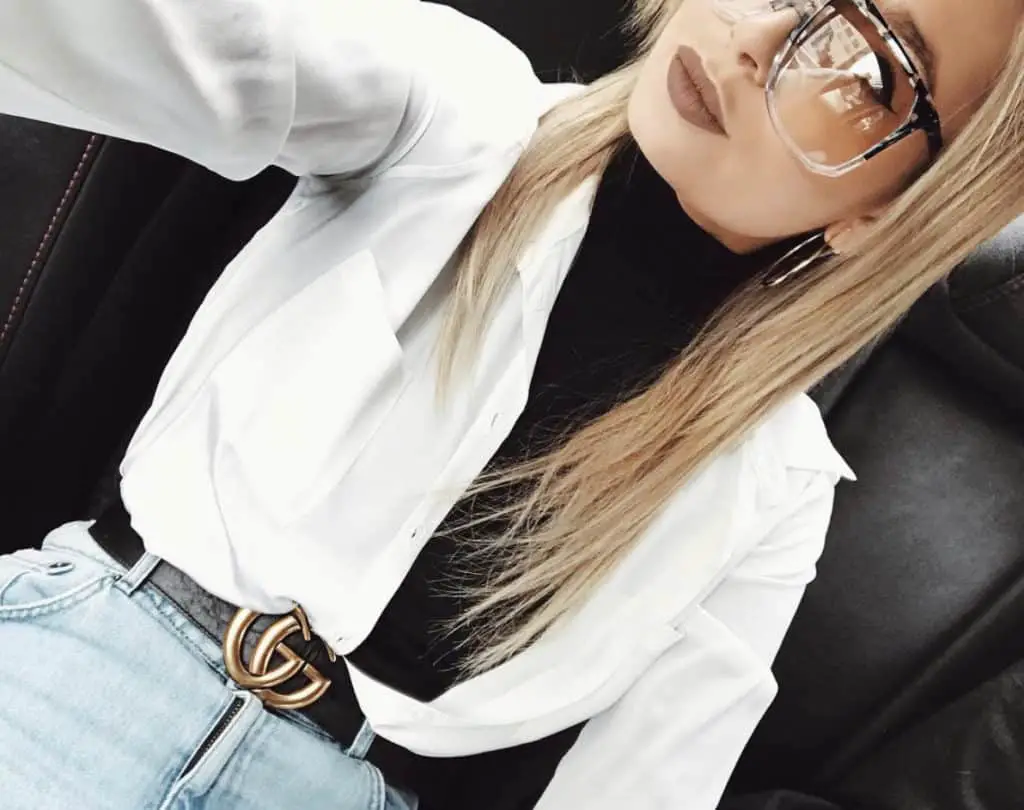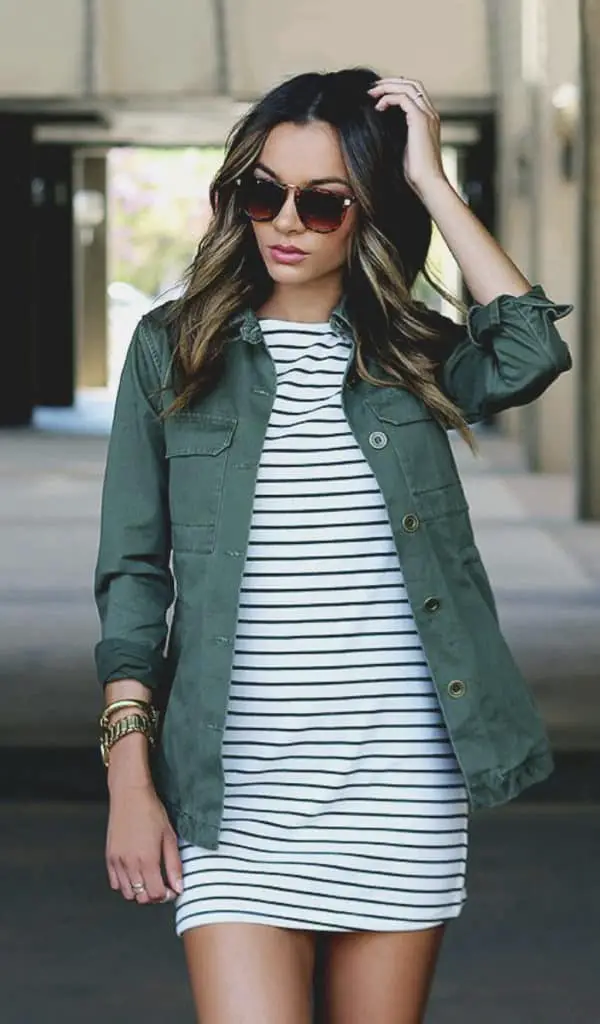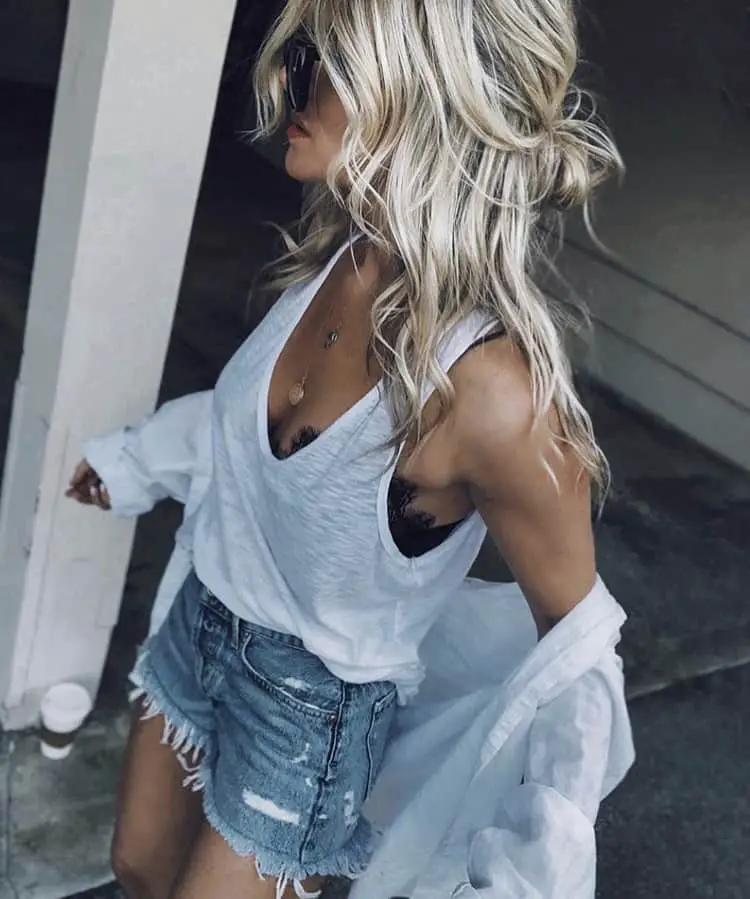 The second way to style it is to wear it open as a layering piece. This is one of those instances where a men's shirt would work great. You could toss it over a dress or just to add a little something extra to your favorite jean shorts and T-shirt combo. Try mixing it up by pairing it with something unexpected like a turtleneck for a night out.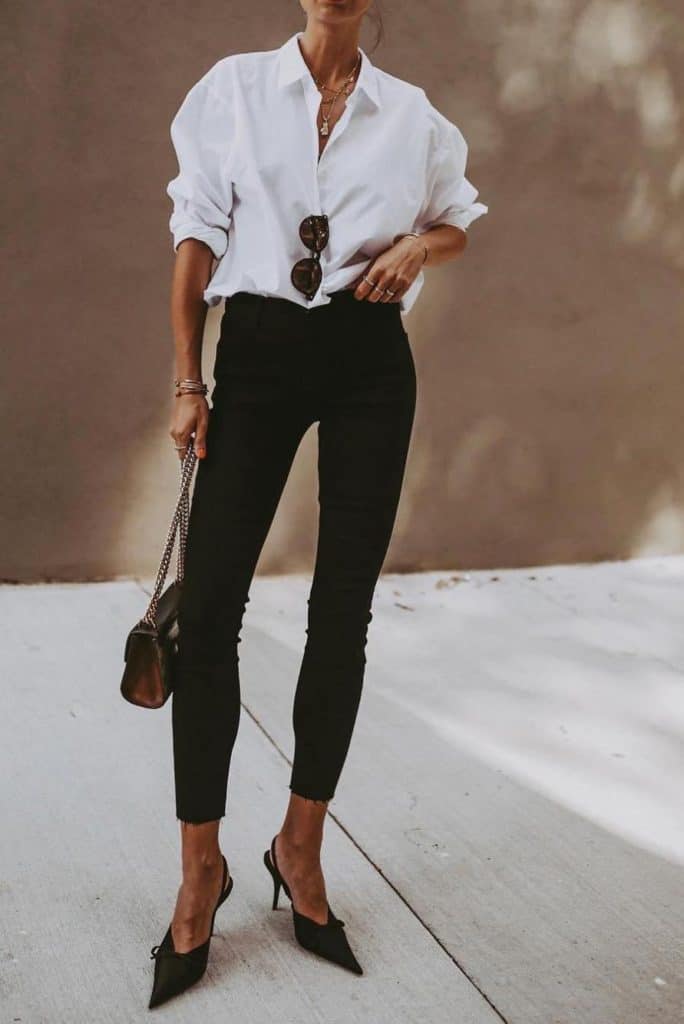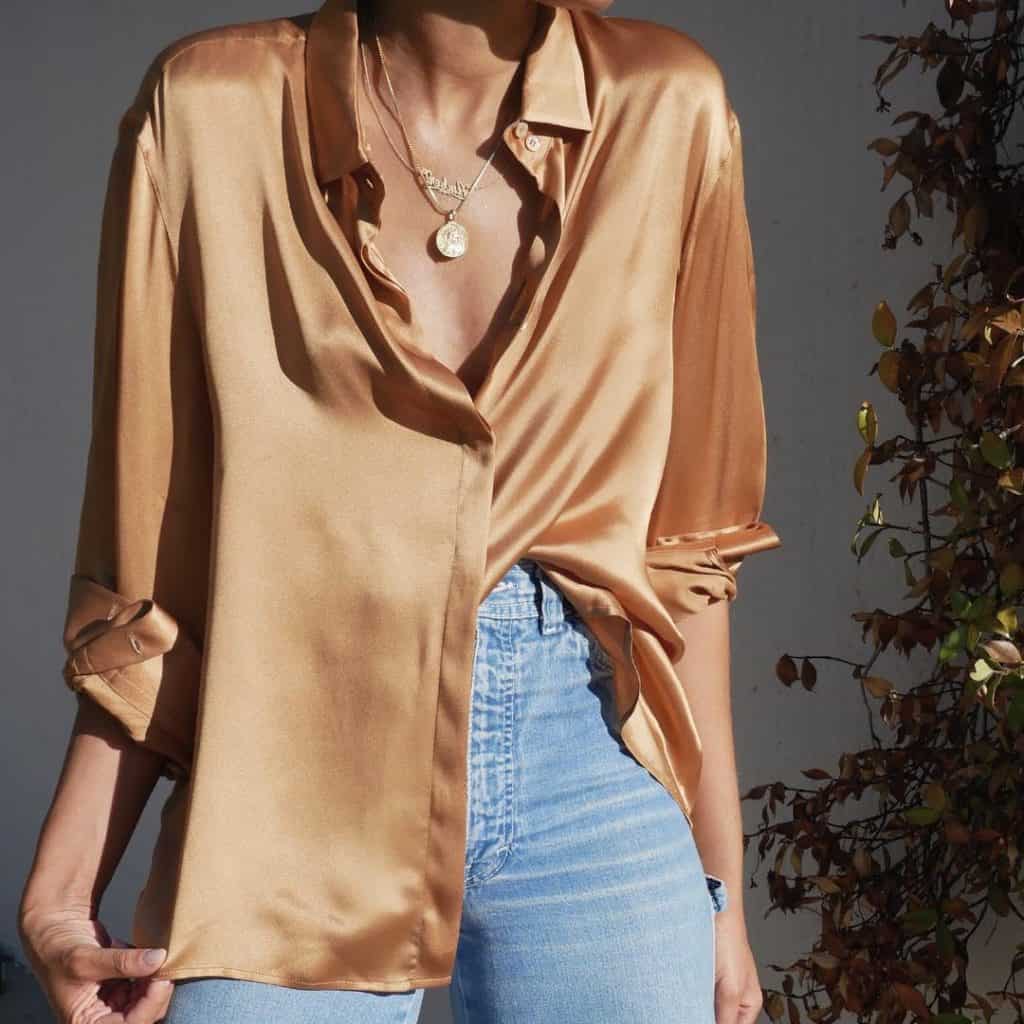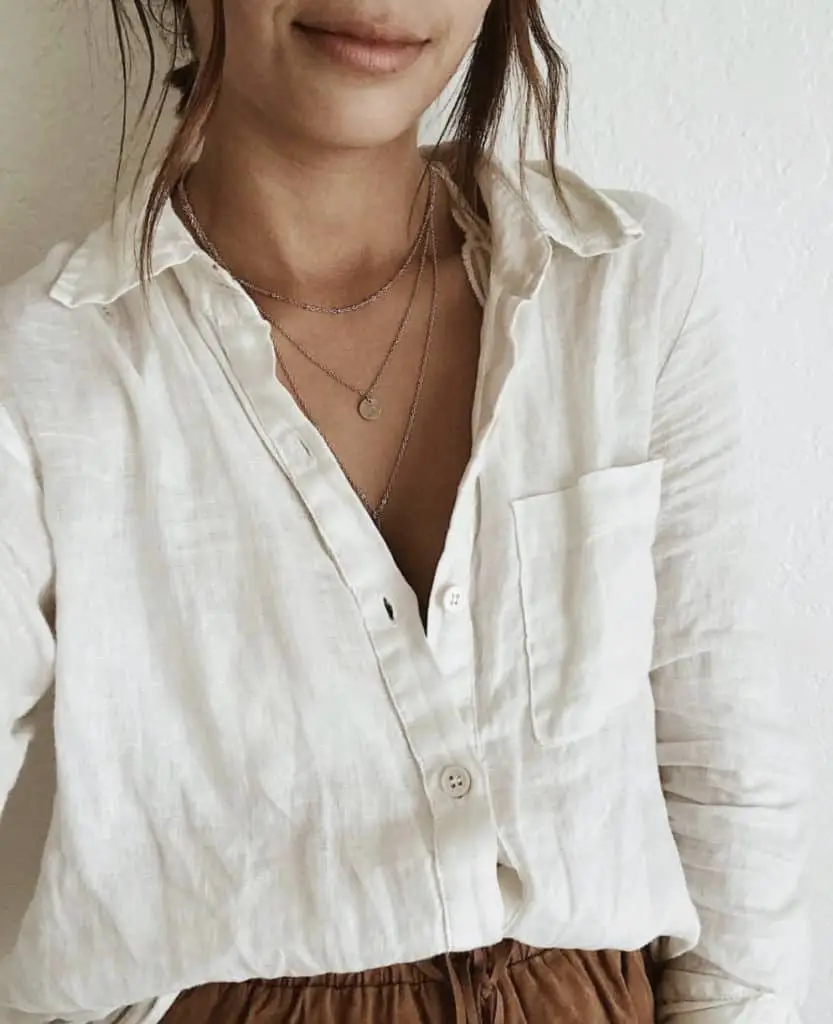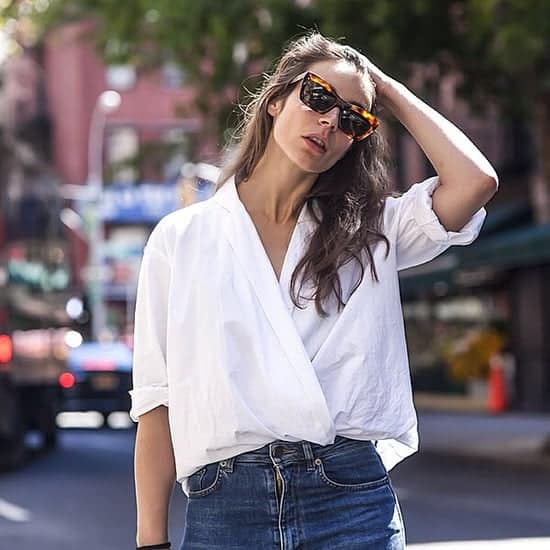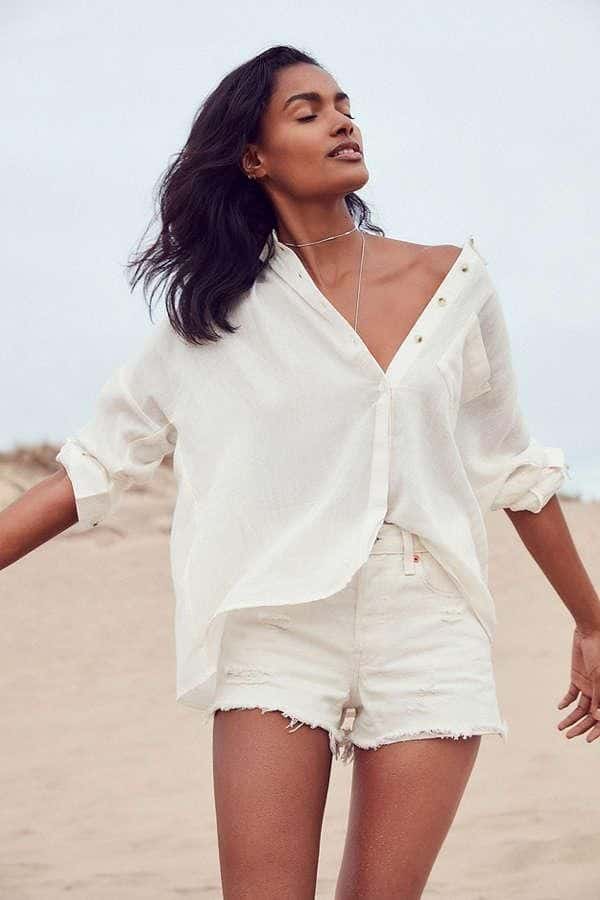 Number 3 is to experiment with different ways of tucking. You can tuck it in all the way and pop on a cool belt. Tuck just the very front and let the rest hang. Try something a little different by tucking in one half of the front of your shirt and leave the other half untucked.
Another really cool way is to leave it unbuttoned and cross the shirt over itself and tuck it in. Or you could try tucking a little bit off centered. I am notoriously a front piece tucker but I am totally ready to try some other ways out.
4. Wear It Off the Shoulder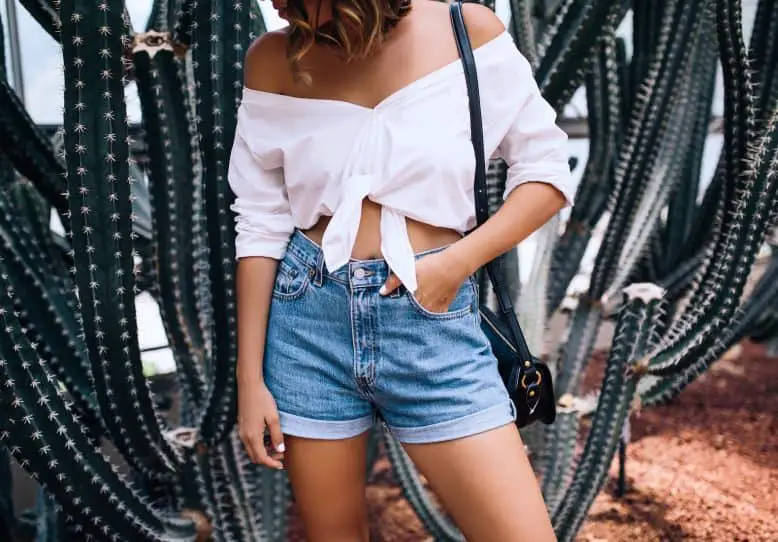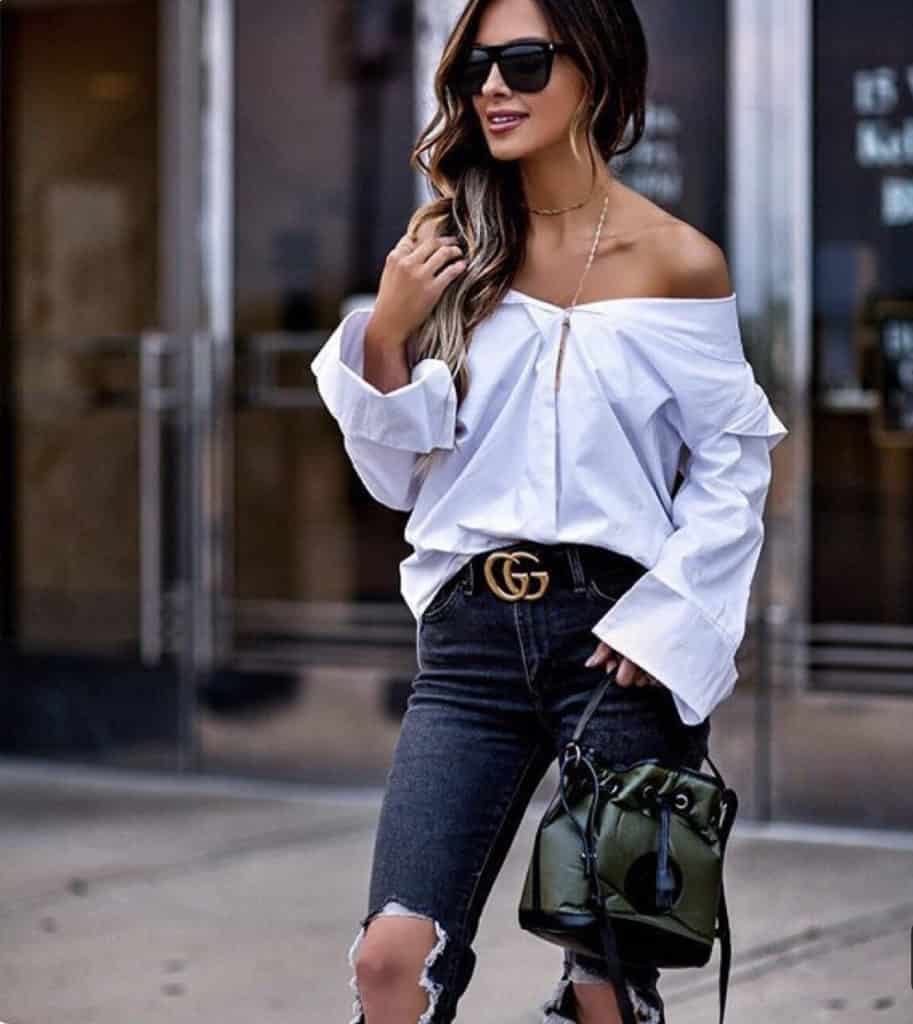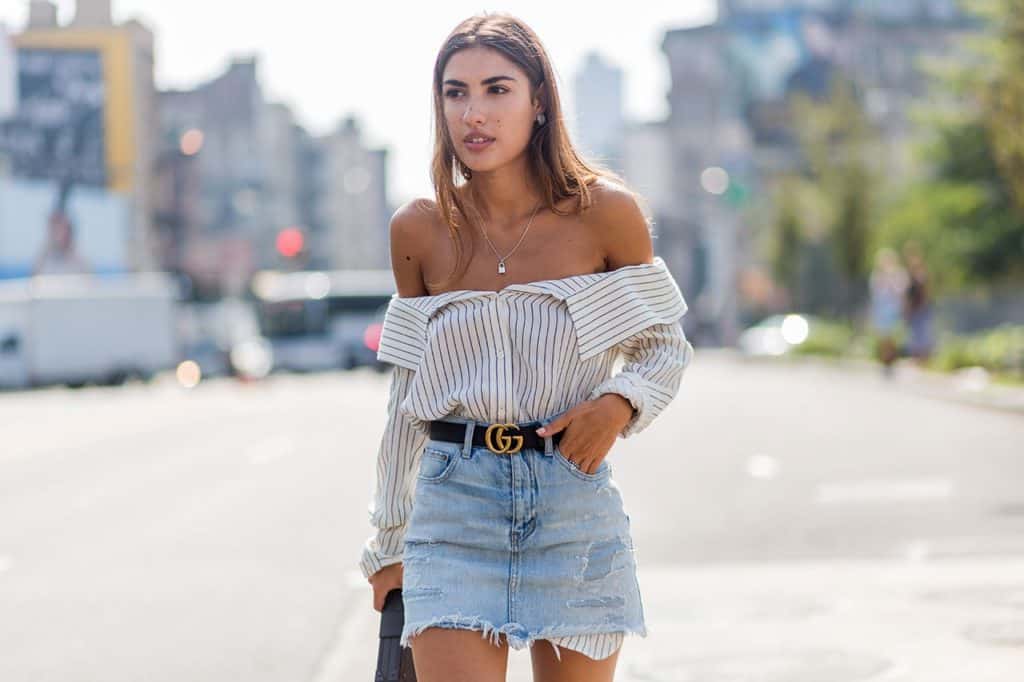 The fourth style almost transforms your button down shirt into a whole other style of top. Simply unbutton the top few buttons and pull the shirt back over your shoulders making it an off the shoulder top. I totally love this style! It works best with a sturdier types of fabrics like cotton, but you can absolutely make it work for other types of fabrics too.
5. Wear Something Sexy Underneath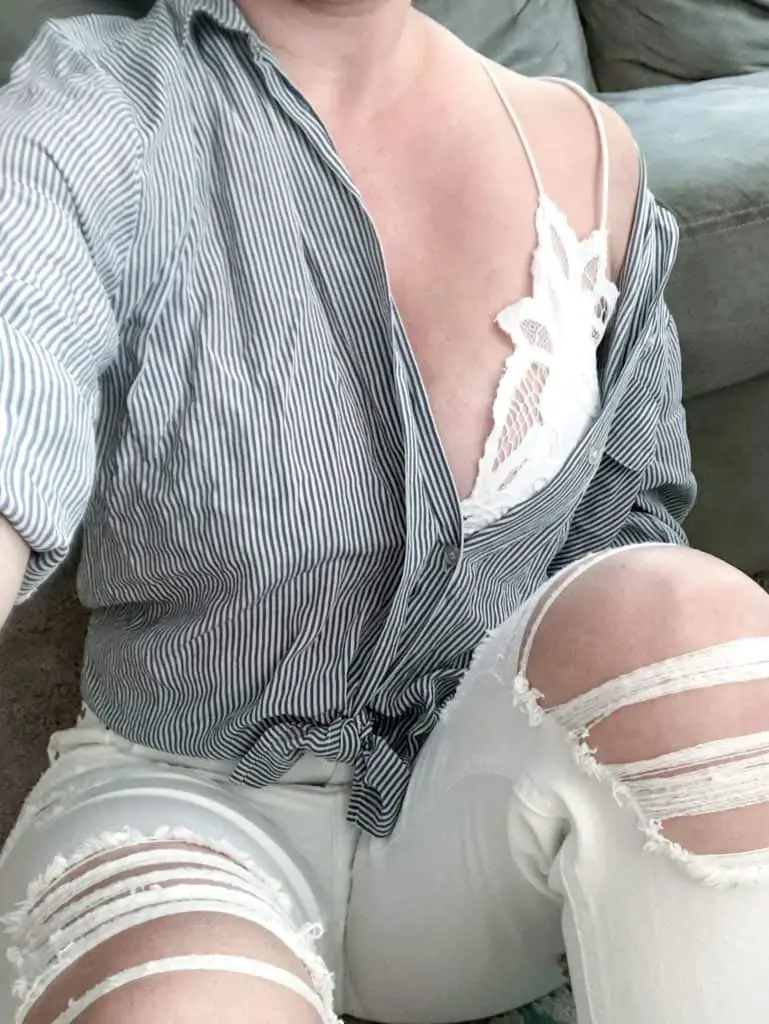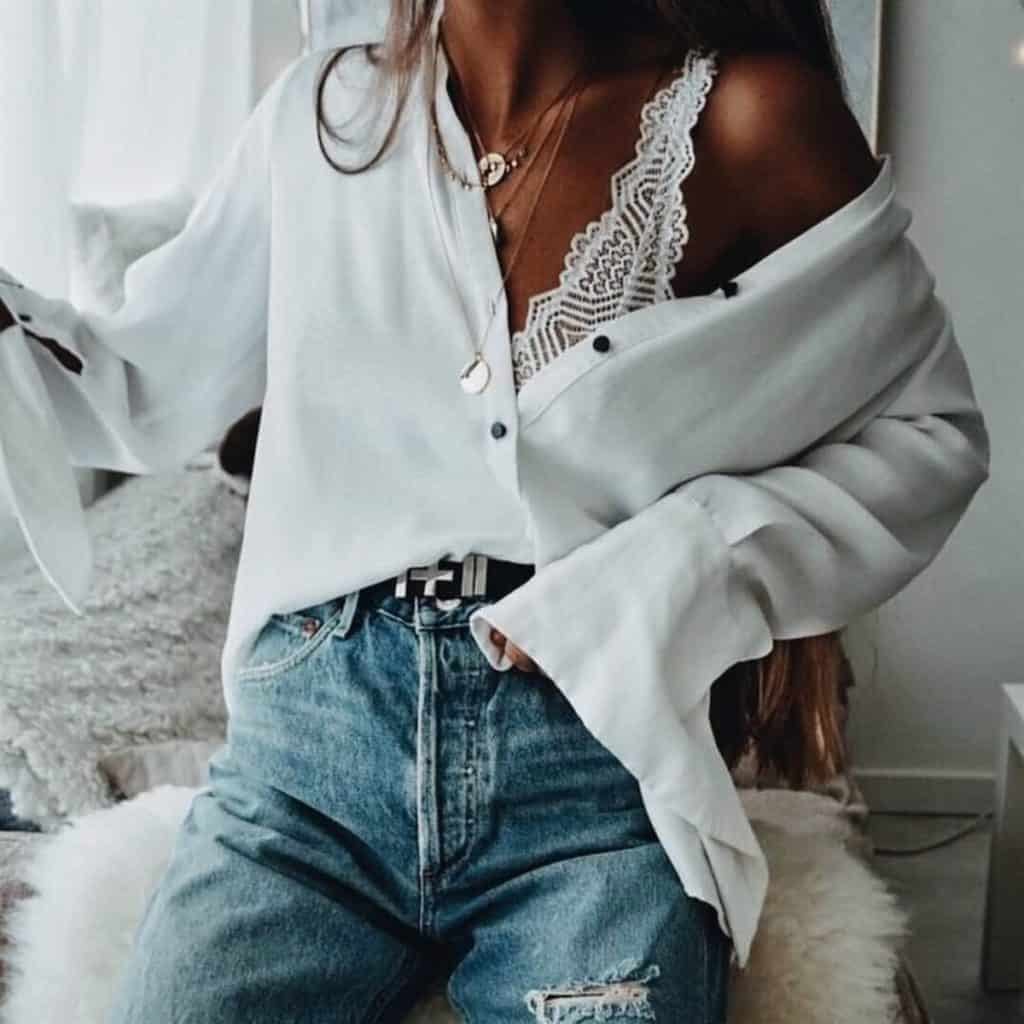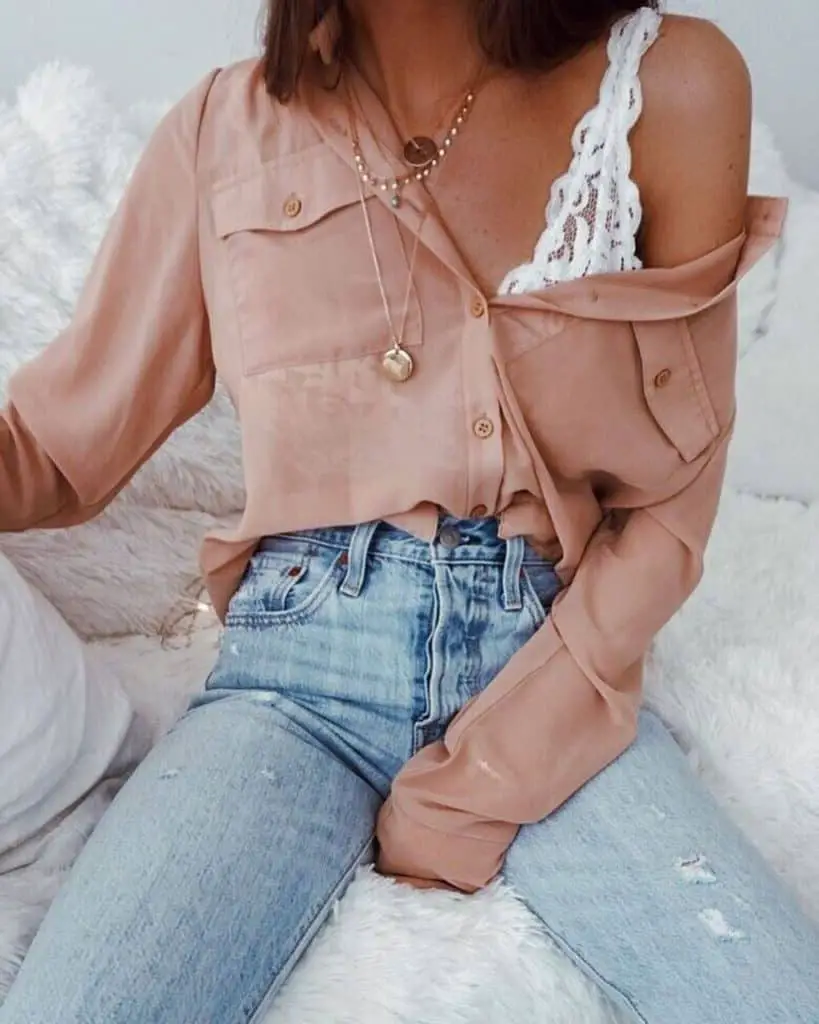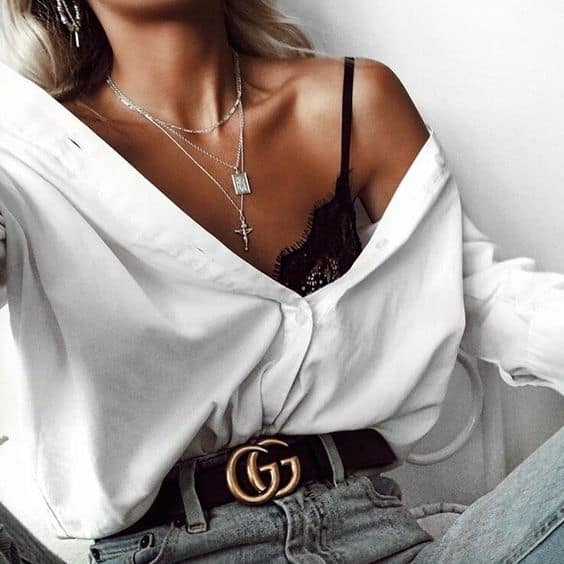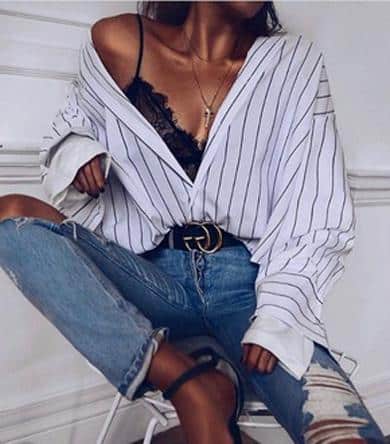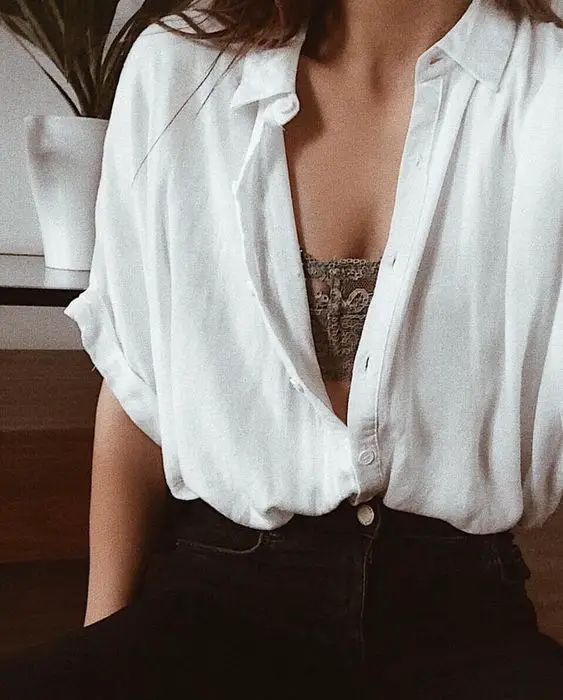 The last way I like to style these shirts is to wear something sexy underneath and have it peek out just enough to let everyone know it's there. My usual go to for this is a lace and satin camisole or a pretty bralette but you could also use a lace bra or bustier too. Bodysuits are another great option as well. Basically if it's lace, silky, or a little bit see through, it's perfect. 
Those are my 5 favorite ways to style a button down shirt with tons of pictures for inspiration. And in case you're on the hunt for some, here are a bunch of shirts I found that are perfect to try these methods with. Let your girl know in the comments below which ways you're going to try! See you next time. ☺