5 Ways to Wear Ankle Boots
I don't know about you but for me ankle boots are a must have, go to, always works shoe. Some girls collect heels, I collect boots. Mostly ankle boots and booties. They are super versatile and can work with basically any outfit. Except maybe a bikini. Because, well, they're boots. But really most every outfit would work with ankle boots. I put together another personal styling type post here. I created 5 different outfits to show you how to wear ankle boots. Interested? Scroll on down!
Pair your favorite booties with a dress and jacket for a fun fall outfit. I love the boho vibe this outfit gives off. It's also right on trend this season with the color of the dress and the Sherpa lined suede coat. Those boots are so cool. Love the big slit in the sides and the little metal detailing on the back. And can we just take a moment to admire those fringe earrings!? Amazing.
2. With All Black to Let Them Pop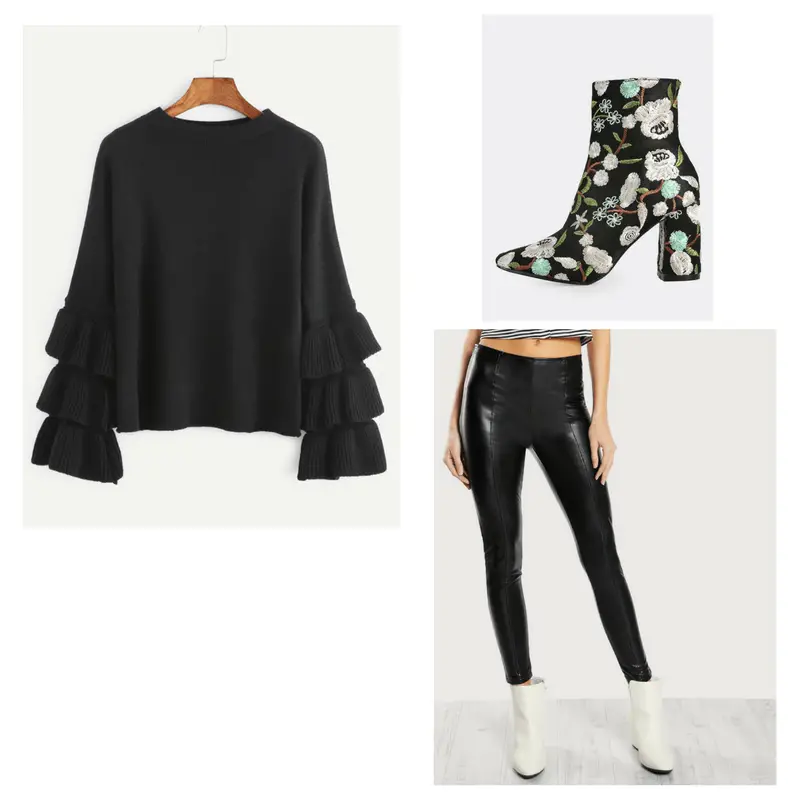 I am all about an all black ensemble. Especially when you have a killer pair of shoes. I adore the ruffled sleeves on this sweater.  So feminine. I would pair it with some leather pants to toughen it up a bit. Then we get to the star of this look, those embroidered boots. I am all about the embroidered boots right now and these are most certainly on my list of must haves.
This look gives off serious cool girl vibes. I am a big fan of t-shirt dresses and this one in my favorite mauve color is up there with the best. I couldn't pick between that awesome bomber jacket and that distressed denim shirt. I think either would look really cool with the dress. I loved those floral boots with the distressed shirt and the more rugged boots would be awesome with the bomber.
Skinny jeans are so easy and work with everything. I fell in love with that embroidered mesh top!  It is perfect to pair with a leather jacket and skinny jeans. I went with a motorcycle style jacket, I love the belt on it. I think a mid to high rise jean would be perfect since the top is cropped. And just look at those blood red ankle booties! Stunning.
Boyfriend jeans are pretty much the exact opposite of skinny jeans. Definitely more casual and give off a more laid back vibe. I think pairing a satin cami with jeans like those are an awesome juxtaposition. That suede jacket is incredible. I need it immediately. I went with some burgundy boots for this one. I love the detailing on them.
So there you have 5 ways to wear ankle boots. And as a bonus they're all styled with outfits for you to go right ahead and buy if you are in need. Or maybe just fall in love with. Again, let me know if you are loving these styling type posts so I can keep them coming! Let me know in the comments below which boots you must have. If you're not already and you'd like to be, follow me on my social media down below. See you next time! ☺
This is not a sponsored post. Links are affiliate links. To learn more, visit my About section.