33 Stocking Stuffers Under $20 | For Him & Her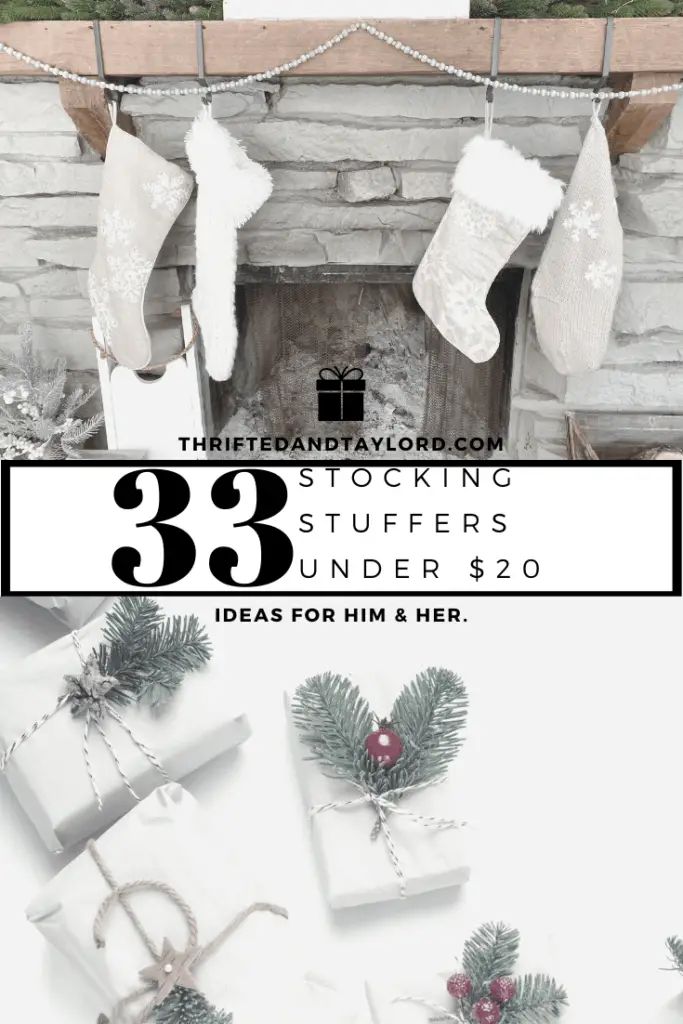 This post contains affiliate links for which I may earn a small commission at no extra cost to you. Thank you for your support! Learn More.
The Christmas countdown has officially begun! Time to get that shopping done (if you haven't already!) Stocking stuffers can be hard sometimes, you want something they will actually enjoy or use. Sometimes practicality is best, ie. socks. Sometimes it can be fun to mix it up and do something kind of funny, delicious, or something they didn't know they absolutely needed in their life.
I put together a big ole list of over 30 (33 to be exact) stocking stuffers under $20. These could also make great small gifts or white elephant gifts too. 
I found stuff for men, stuff for women, stuff for both men and women. So there's bound to be SOMETHING that will be perfect for your gift recipient. I mean really, all of these things are obviously fine to gift any gender, but yes some of these things fit within a traditionally "male" or "female" gift idea so I've rounded them up as such to make it a little easier.
Ok, so let's check out these stocking stuffers!
Stocking Stuffers Under $20 for Her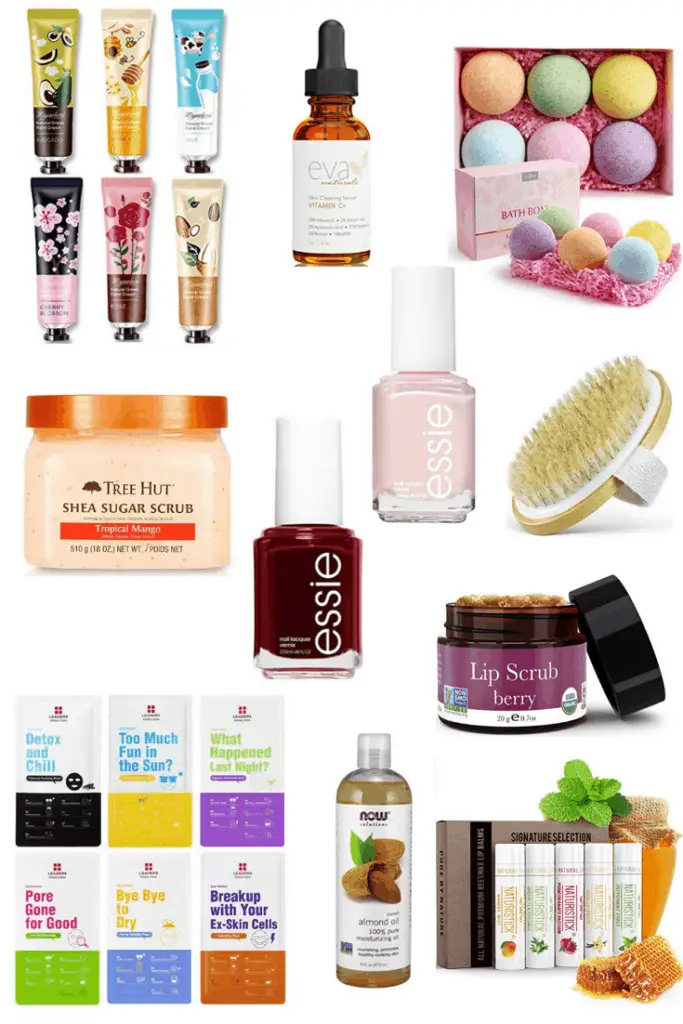 Let's start off with some stocking stuffers for her. They're all beauty products of one kind or another, I feel like these are things that any woman would love to use (I know I do!) and might not always buy for herself. 
Hand cream is one thing I always forget about. But I get such dry skin in winter, I am always in need of some. This set of 6 scents is perfect to gift one person or you can even break it up among a couple people if you want!
Lip balm is another one of those things you just always need during these cold months. This set of all natural beeswax lip balm has a variety of yummy flavors which will last for quite a while for your gift recipient. 
You already know I'm a face mask fanatic. Leaders Cosmetics masks are some of my absolute favorite! These daily routine masks are great and their names are pretty clever which is a bonus when you are giving it to someone else. Give them a little giggle while you're at it! 
There are tons of masks to choose from, these just happen to be the ones I have most recently tried (and loved!) And from now through 12/31 you can use the code THRIFTED10 to get 10% off your entire order!
A good face serum is a necessity to any lady's skincare routine. This vitamin C+ skin clearing serum is budget friendly and solves many pesky skin problems. 
Ok, find me a gal who doesn't enjoy a nice soak in the tub. I found a few bath time essentials that definitely tend to get overlooked when ladies shop for themselves. Gift her a dry brush! Before even getting in the bath she can use her dry brush to help improve circulation, skin tightness, and more. There are seriously so many amazing benefits to dry brushing.
Bath bombs are a fun and relaxing addition to the bath. With essential oils and skin loving ingredients, she'll be left with soft, yummy smelling skin. Another great one she can use is this shea sugar scrub for exfoliating her body. Or gift her this almond body oil which will leave her skin supple and glowing. 
Something else for the lips that is the perfect stocking stuffer is a lip scrub. Or you can pick up a bottle of nail polish in either your favorite hue (like this pink which is totally one of my faves) or a fun holiday color like this deep red. 
Stocking Stuffers Under $20 For Him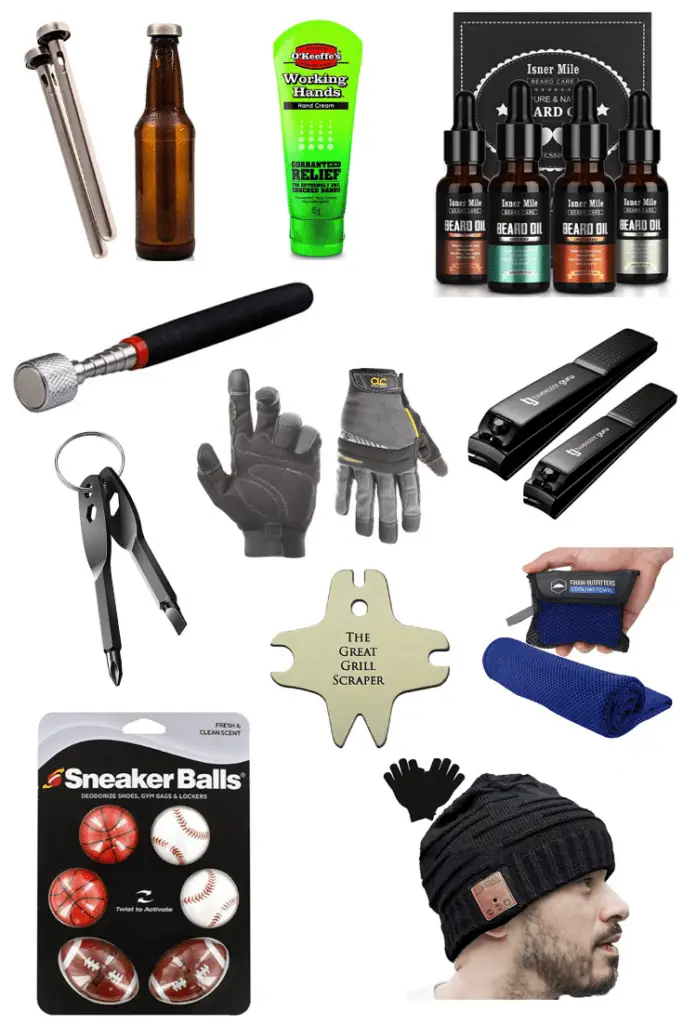 Let's move on to the men. Men can be hard to buy for, am I right?! I found a lot of really cool things that I think any dude would love. This stainless steel beer chiller for one example. That's seriously so cool. How about some beard oil for those men who have a love affair with their facial hair? 
Have a guy who works with his hands? This hand lotion is said to be amazing. Plus it doesn't have a scent which a lot of guys would prefer. Or you could gift him a new pair of work gloves. 
I feel like anything that has to do with tools is usually a given. I found this screwdriver key chain so he can always have a set on hand for those "man I really wish I had a screw driver right now" moments. Or how about this magnetic pick up tool for when he drops some screws on the ground and can't quite get them with his fingers? That's a thing. It happens. Or I'm sure there's some other use for this tool that I just don't know about too. 
A grill scraper just seemed perfect for a stocking stuffer, both practical and a cool gadget all in one! I also thought these stainless steel nail clippers which come in a leather case seemed perfect. Another cool one was this Bluetooth beanie which he can connect to his phone, it also comes with a set of gloves. Perfect!
The last couple things are great for that active guy in your life. These sports balls are odor removers that are perfect for stinky sneakers and gym bags. And how great is this cooling towel for after working out or playing sports?
Stocking Stuffers Under $20 For Anyone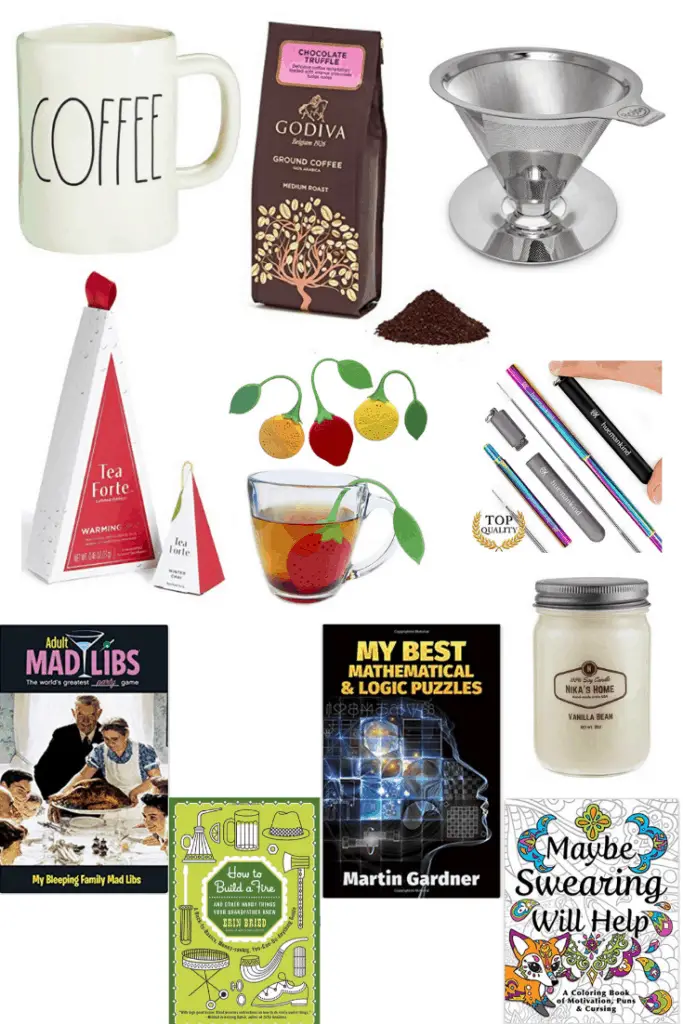 Last up in this list of stocking stuffers under $20 is the stuff that would be great for anybody. As I said before, you can totally buy any of the above mentioned products for anybody as well. I'm just making things easier here.
Stuffing the stocking of a coffee or tea drinker? (Odds are greatly in your favor that the answer is yes for at least 1 of those because who doesn't enjoy a cup o'joe or tea every now and then?) How about a cute coffee mug? It also comes with a whole slew of other sayings, including tea if that's more fitting.
Some coffee or tea would be another great option for a stuffer.
How about a gadget such as this reusable coffee filter or these adorable tea infusers for loose leaf tea?
Kind of on theme with drinking things, this set of metal straws is equally cool and practical. I love that they close up and can be stored in a little carrying case so you can take it with you places and not have to use plastic!
Candles are always an easy and great stocking stuffer. You can pick a scent that will be perfect for whomever you are gifting. Vanilla bean is always a great neutral because who doesn't want their house smelling like fresh baked cookies? 
Books. Funny books, witty books, interesting books, the list goes on with many great book ideas for stocking stuffers. A few I found include this Mad Libs one which is great for when you want a good laugh, this practical "how to" book filled with all kinds of useful tutorials, this puzzle book, and this hilarious coloring book to give you a laugh and help you unwind. 
Ok, you made it! 33 stocking stuffers under $20 for your purchasing pleasure. Glad to help you out. Let me know which ones you're picking up below, or if you have any other suggestions feel free to leave those too! See you next time. ☺