10 Highly Rated Sweaters on Amazon Under $35
Anyone else live in cozy sweaters when it gets cold? Wrap me up in a thick blanket like sweater and I'm one happy gal. I personally love thrifting sweaters. There are always tons of them. Pro tip, check the men's section too if you want an oversized fit.
The next best thing to a thrift store is finding a quality item without emptying your bank account. Enter Amazon. Surprised? Of course you aren't! Amazon is my go to gal when I'm looking for a deal. As I've stated in the past, the key to finding quality items with a smaller price tag is to really read the reviews. I will not buy something that doesn't have several detailed reviews. I also make sure to check sizing charts provided by the seller to make sure I select the proper size since a lot of the times these products are Asian sizes which run small.
I searched Amazon for some great fall pieces in this previous post so I thought it would be even better to round up some fall staples more specifically, like sweaters. I found 10 well rated sweaters that are under $35! Check them out!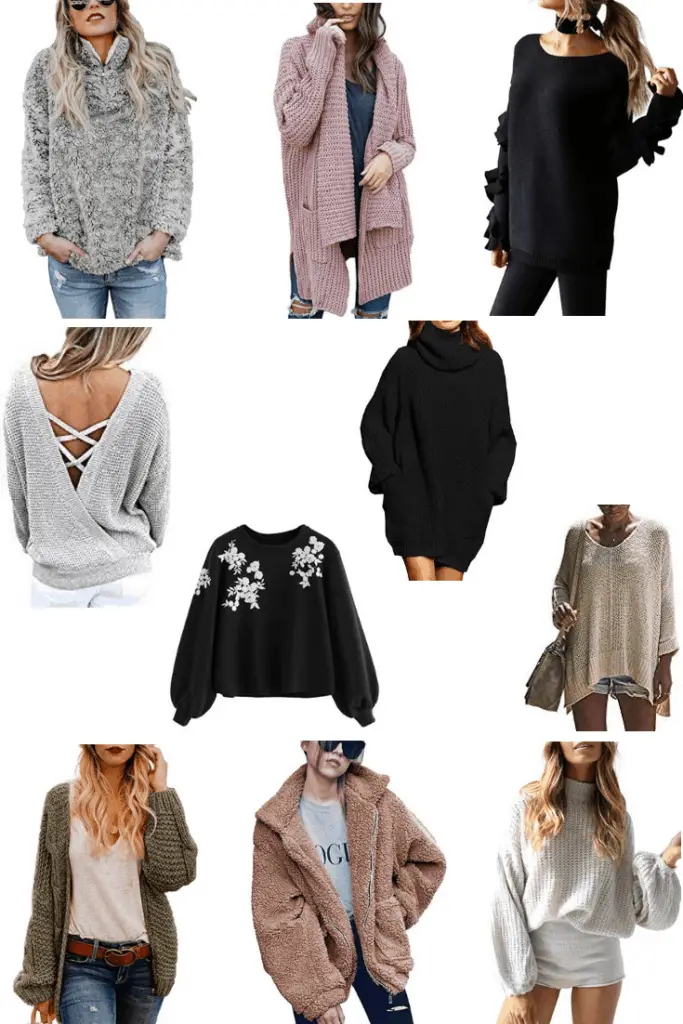 These Sherpa pullovers are everywhere and most places they're like $70 to over $100. So when I found this one for only $26 I couldn't believe it! It looks so warm and cozy. Another one that is all over are these teddy bear jackets. I actually have this brown one and I absolutely love it. It is seriously so warm and unbelievably soft. I highly recommend it.
Like I mentioned, I love big cozy blanket like sweaters. This mauve one is like the sweater of my dreams, my favorite color and all. That chunky green one is another great option.
I love the super feminine style sweaters that are really in this season, the ruffle sleeves on this black one are so adorable. I'm a sucker for embroidery so this black cropped sweater jumped right out at me.
Sweaters that have something different about them are another type I look for. This grey sweater with the crisscross back is so cute. I love the big balloon sleeves on this lighter grey one too. Fun sleeves are another trend this season.
You can't go wrong with a cute sweater dress. This black one is nice and thick and I love the chunky turtleneck on it. It would look so cute with some thigh high boots!
Last up I found this light weight oversized tan sweater. I really like the way it hangs on the body. It doesn't completely hide your figure like some oversized sweaters can.
Thank you Amazon, once again, for saving my wallet a little money. Which sweater is your must have? Let me know down below and I'll see you next time. ☺