Fall Thrift Store DIYS | Quick and Easy Changes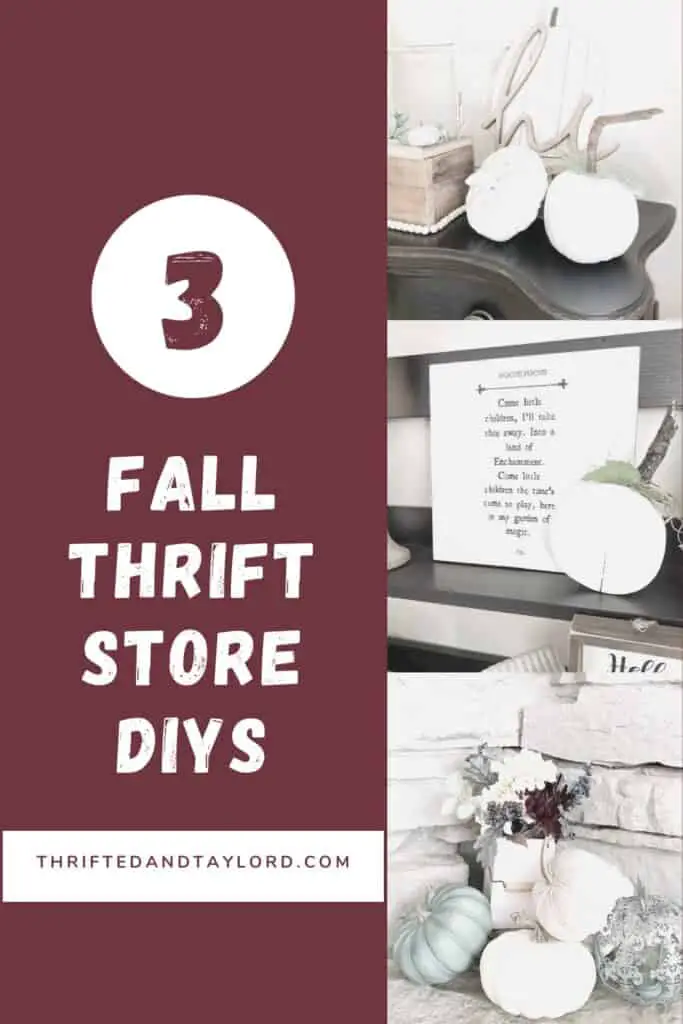 Have you started decorating for fall yet? I just started pulling out my decorations and found I was just super unhappy with a lot of them. My fall decor is one of the areas I have not fully transitioned into this new decorating style I have found and love. So I decided to try to find some items to upcycle at the thrift store. These fall thrift store DIYS are super easy and quick ways to transform items you find, but don't love.
If you are new here, hi! I am a neutral home decor fanatic. I am slowly working on adding in some pops of color here and there. But when it comes to fall decor, orange is just not my thing. And the thrift stores are full of orange decorations. But that doesn't mean I don't buy it. It just means I find ways to change it to make it exactly what I want for my home.
I have done several other thrift store DIYS before. A few of my favorites you can check out, if you haven't already, here, here, and here. The DIYS in this post only require some paint, a little hot glue, and some items you can find outside or around the house. Let's check out how quick and easy these fall thrift store DIYS are!
Fall Thrift Store DIYS : The Befores
This post contains affiliate links for which I earn a small commission at no extra cost to you, should you purchase through them. Learn More.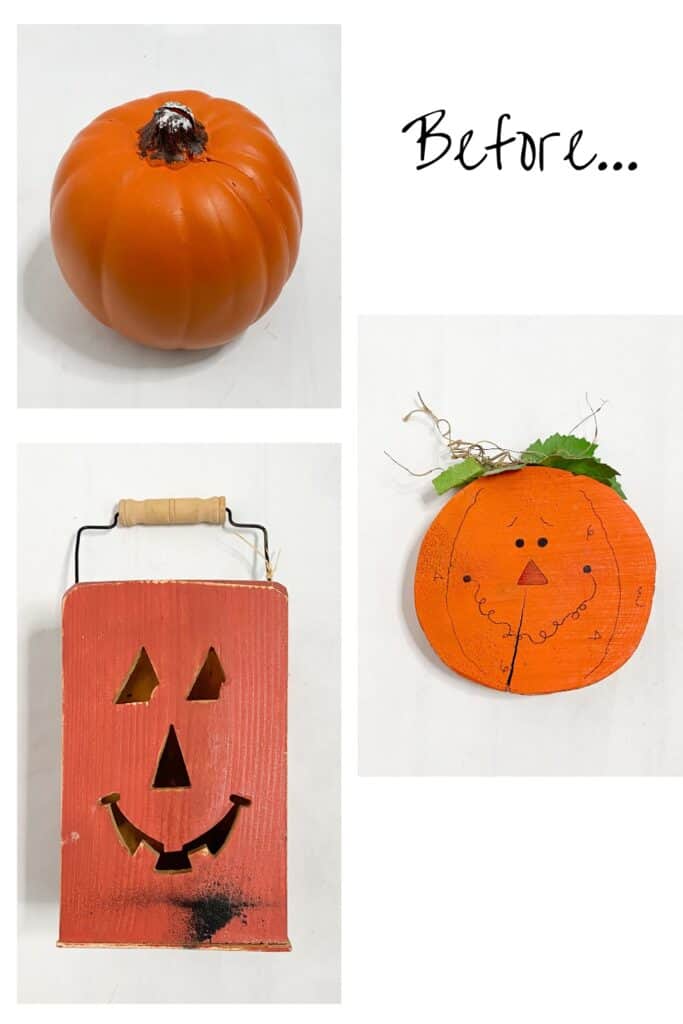 So this is what I started with. I'm sure plenty of people would think these were pretty cute but like I mentioned, I'm just not an orange person. Plus the lantern had some blank paint on it and a few other marks that needed to be covered up as well.
The plastic pumpkin is one of the things you could totally find at the dollar store to do this DIY with too. I was not a fan of the color or the stem on top so I knew I wanted to change those.
I just like to browse for items that I like the basic idea of but might have a thing or 2 about them I don't love. I thought this little jack-o-lantern was pretty cute, I loved that it was wood and the little wood and metal handle. But I wasn't positive if i wanted to use it with his face showing or not, and I knew I needed to change the color. 
Then I saw this cute little wood pumpkin which someone clearly handmade. I really liked his little face but I knew it wouldn't fit in with my decorating style. I didn't mind the little leaf and vines on the top, but I felt like he was missing something.
Fall Thrift Store DIYS: The Transformations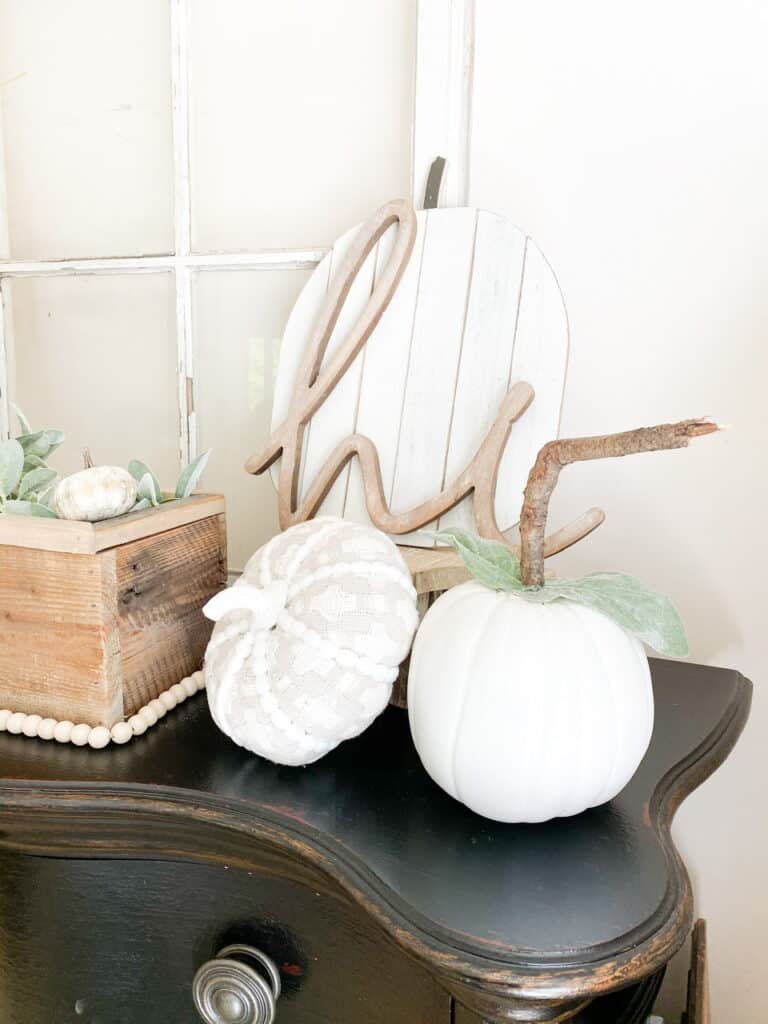 Here is how I transformed the plastic pumpkin (actually it is made out of foam, I realized once I cut the stem off.) I gave it a coat of spray paint using this Krylon spray paint in white with a satin finish. I like that it gives off a little sheen so it looks a little more realistic, and a little less… plastic.
I found the stick outside, actually my little man found it for me, while we were on a walk. I slightly trimmed down the end so it would sit flat on the top of the pumpkin. The leaves I took from a faux lambs ear stem I already had. And I just used my hot glue gun to attach them!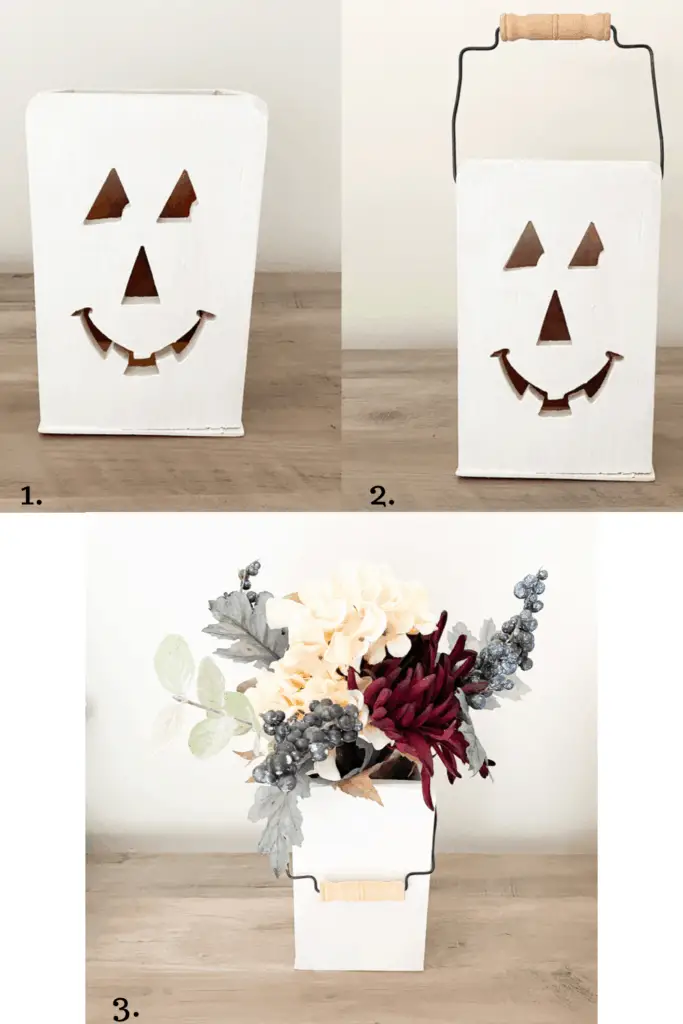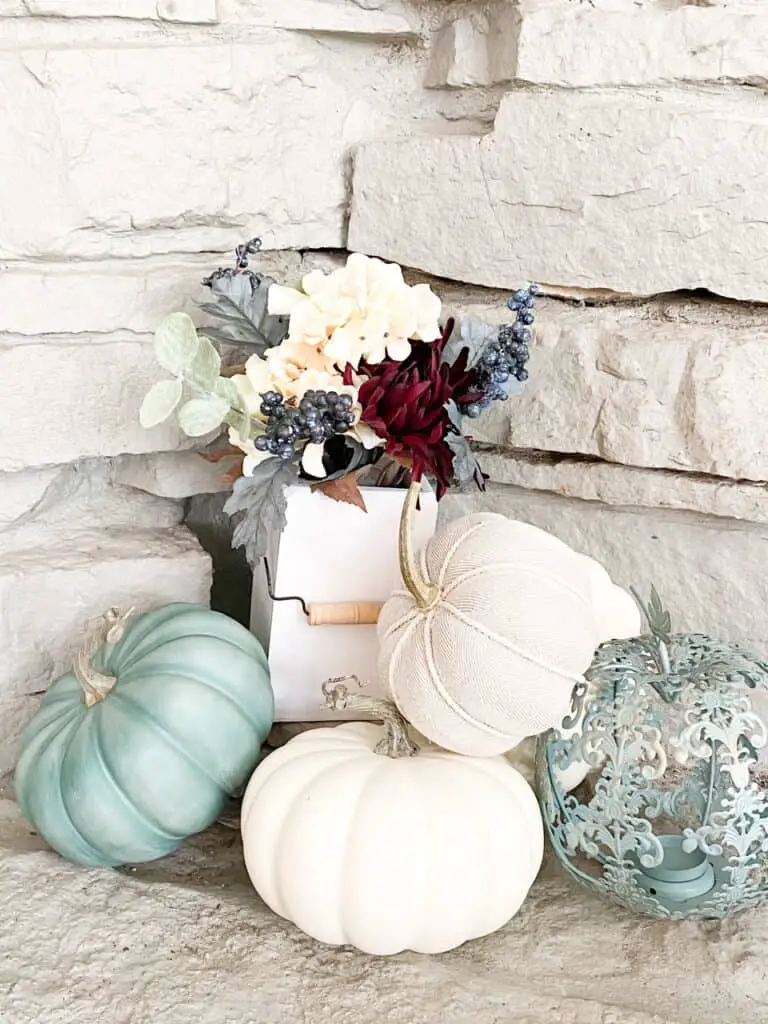 Here is mr. jack-o-lantern. He was a super quick fix. I removed the handle and originally gave him a coat of the spray paint but quickly realized the orange paint was bleeding through. Face palm. So I let it dry completely and then whipped out my white chalk paint and painted 2 coats over top and that did the trick!
I put the handle back on and I added this gorgeous floral arrangement I picked up at Hobby Lobby. And I ultimately decided, I liked it better without his face. Sorry mr. jack-o-lantern.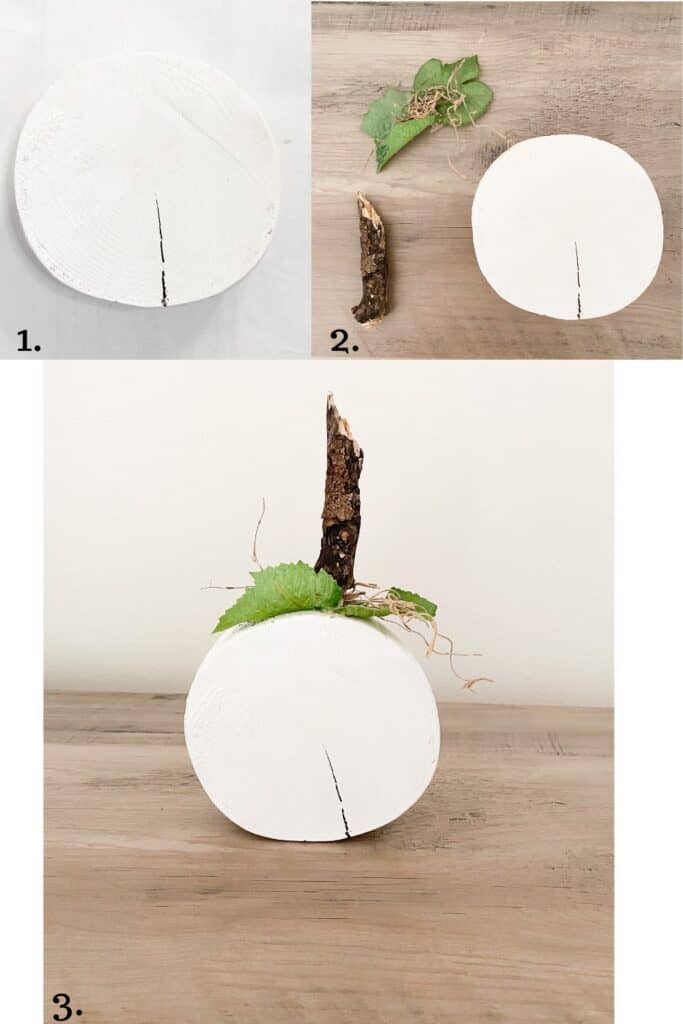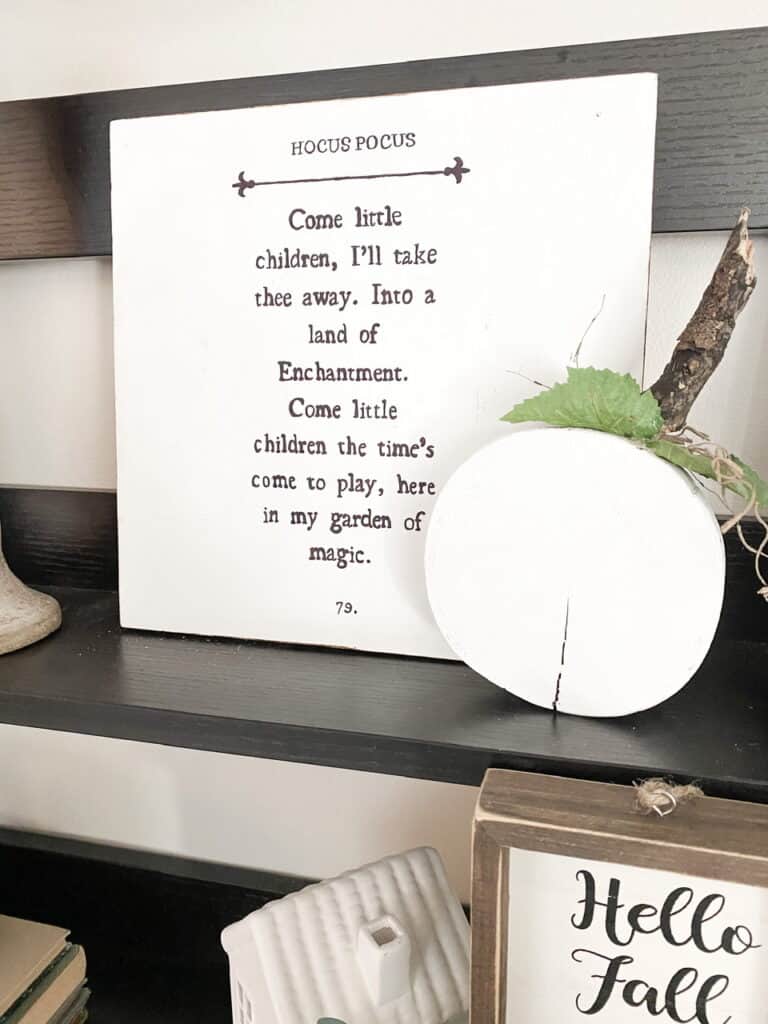 And the last of my fall thrift store DIYS, of course, was this little wood pumpkin. Another really simple fix. I just removed the leaf and vines and gave it 2 coats of chalk paint. 
Since I liked the look of the leaf and vines, I used my hot glue gun to pop that back on. And what he was missing was a stem. So again, my sweet little babe came through and found this little stick that I evened off and hot glued on top.
Those are my fall thrift store DIYS. Now come on, you can't tell me these aren't some of the easiest projects you could do! I still have a couple other fall DIY projects in the works so keep an eye out for those! I also will be sharing my fall home decor once I have the rest of it set up.
What do you think of these transformations? Let's chat in the comments below, see you next time!