How to Incorporate Modern/Minimalist Style into your Home
If you are a clean line, keep it simple kind of person then this style is right up your alley. Typically using white or very neutral colors, metal furniture and décor, stone, and modern artwork, less is more for this type of style. Wide open homes also tend to fit the bill for this type of style. You won't find much on table or counter tops. Bookshelves will look organized and clutter will be strategically hidden. If this is your style then just keep reading to see how to incorporate modern/minimalist style into your home.
This is a big one for this type of style because the furniture makes up a large part of the decorating for this style. It becomes more crucial to purchase new furniture if this is the style you are looking to change your home to since the rest of the décor is so minimal. You will not make a noticeable difference without updating your furniture. A few great finds for this above like that awesome grey couch or those dining chairs really sell this style in your home. 
As I said, décor plays a relatively small role in this type of style. But it is still necessary none the less. The décor will help make the space feel complete. Things like sculptures or geometric metal pieces fit nicely into this category. I also think concrete pots for house plants or concrete bowls for keys or other odds and ends would be great with this style. To keep things organized and hidden away, metal bins would be cool too.
Since the point of this style is to keep it simple, a few pillows added to a white couch would be perfect. I think leather pillows would be cool, or even a solid color if you wanted to have a small pop of color in your space. Some geometric shapes or abstract prints would be a nice touch as well. A tip I left in my last post was to buy pillow covers instead of a whole new pillow to save some money if you already have pillows that maybe just don't work for the space.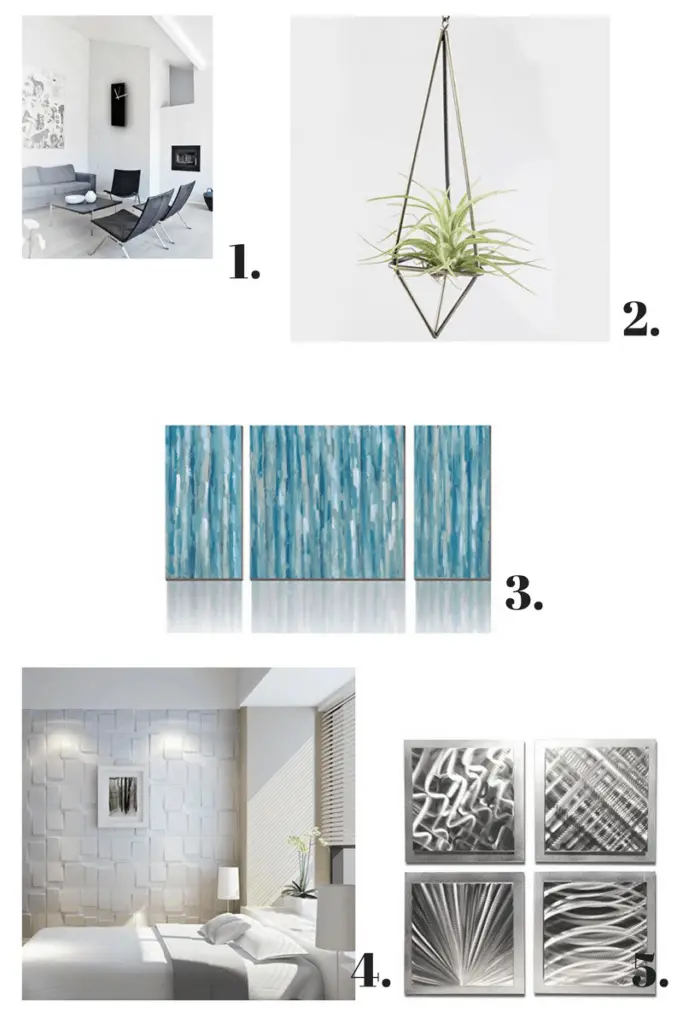 Really modern artwork would be perfect for this type of style. I also picture a really cool clock like I found above in this space. Metal wall sculptures would also work great. A few awesome finds above really help make that modern/minimalist vibe come together.
I hope you enjoyed this post and maybe found yourself a new style! Be sure to keep a lookout on Friday for the last post in this series about incorporating rustic style into your home. Don't forget to leave some comments down below with your thoughts. What do you think about this style? Any other ideas on how to incorporate it into your home?
FTC Disclaimer: This post contains affiliate links. To learn more click on my "About" section.