How to Incorporate Rustic Style into your Home
When decorating your home, if you use a lot of natural elements like sticks, moss, logs, stone, wood and you would say your home is cozy I would say it's a safe bet that your style is Rustic. This kind of style makes your home feel warm and inviting. I kind of picture like a log cabin when thinking of this style but that's like one extreme of this type of style. This can definitely be customized to fit a variety of homes and styles within the "rustic" category. To find out how to incorporate Rustic style into your home, just keep reading!
If you already have a lot of wood pieces for your furniture you probably don't need to do much in terms of replacing things. I think dark and warmer toned woods tend to work best for this style. Big fluffy couches are a perfect fit. If you were in the market for some rustic furniture I would hunt for big wooden tables that look very natural, they don't necessarily need to be clean lines. Tables with their natural flaws like dings and knits are also great finds for this style. I like mixing in dark metals with the wood for this style. Like that coffee table above. I could see having a few pieces here and there that may be a little distressed as well.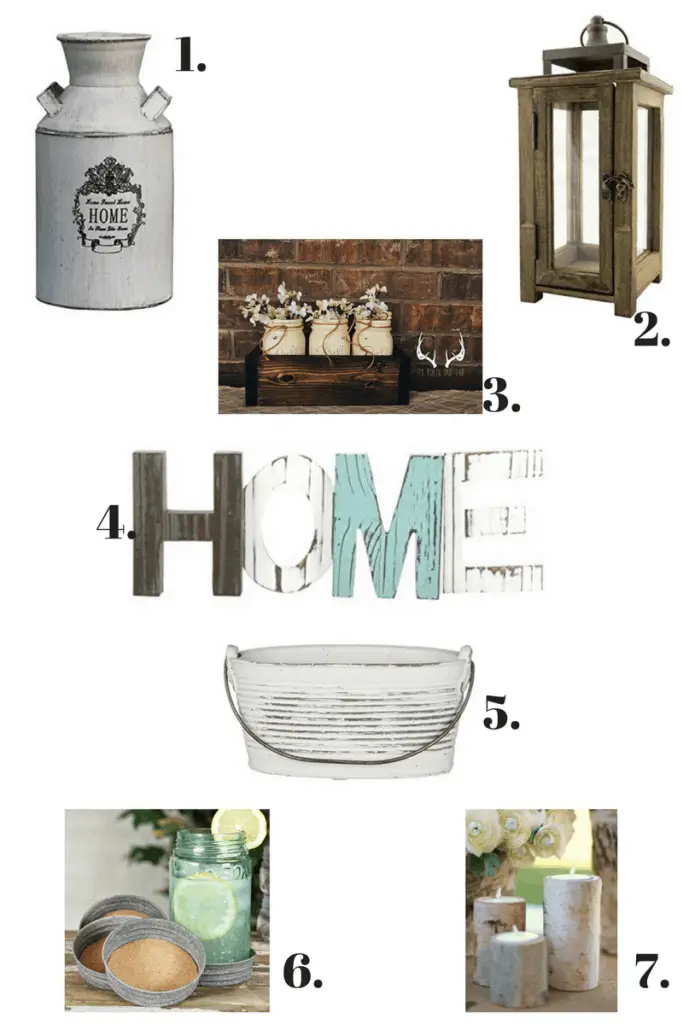 So I briefly mentioned earlier that a lot of natural elements come in to play when decorating with this style. You could even pull things like sticks or wild flowers right from your backyard to use as décor. I think lots of candles would definitely be a part of decorating this type of style and I love those log candle holders I found! As far as colors go I think earth tones would be a go to mixed with warmer neutrals like creams and tans. I could see leather and suede pieces going well with this style, too. This style can have some similarities to the farmhouse style I talked about so these two could definitely work well together as a take on this rustic style.
If you checked out my farmhouse décor or modern/minimalist décor posts you will know pillows are an easy and fun way to change up your décor. For this style I love some fun prints or textures mixed in with natural fabrics like cotton or linen. I like to buy just the pillow cover to put over my existing pillows to save money!
I could see some natural artwork in a rustic home. I think wooden pieces like those arrows would fit in perfectly. You could mix in some canvases with quotes and put together a fun gallery wall too. I definitely see natural wooden distressed frames for any prints or pictures. Some distressed wood pieces like that little shelf are perfect for this style. Those metal letters spelling home with your home state cut out I found work perfectly off all the wood pieces.
That wraps up this little home styling series, I hope you found this information useful. Be sure to leave some comments down below describing your style!