15 Top Rated Amazon Beauty Products
Amazon is my go to answer when I'm looking to find something. Anything. You can literally find anything on Amazon. So recently I was browsing through the beauty section and realized they have some highly rated gems on there. We're talking 4-5 stars from thousands of reviewers. One item had over 17,000 reviews and had 4.5 stars. Unreal!
A few of these products I've actually talked about on here before so you might see some familiar things. Some products I've tried myself while others are now on my list to try since they have such amazing reviews. The best part is that nearly all of these are under $20 with the majority of them $10 and under. You've gotta check these out!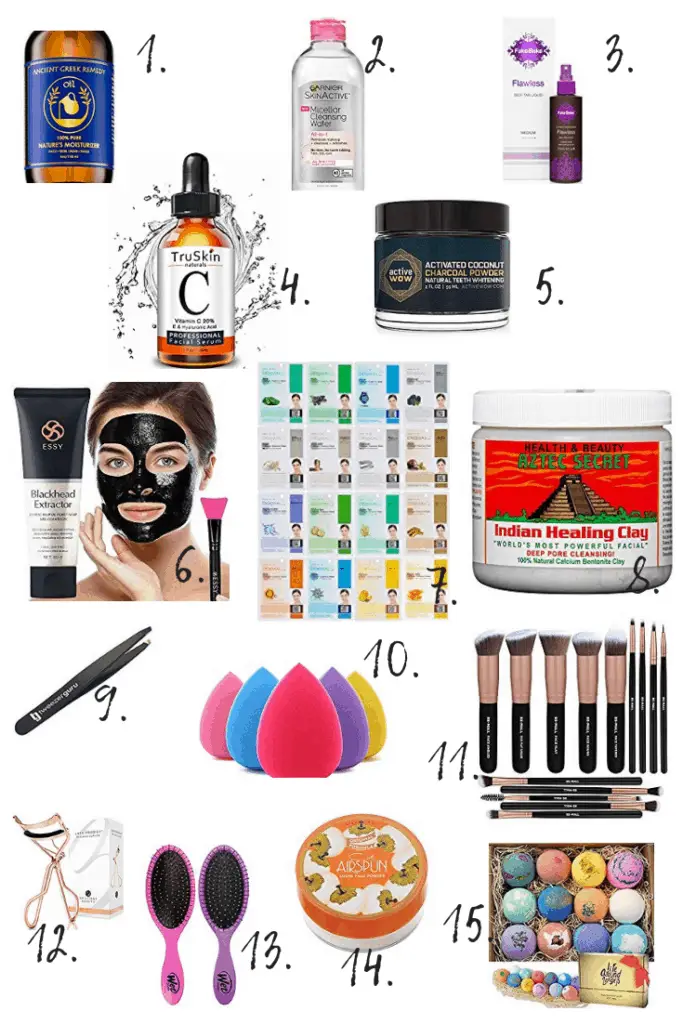 There were a ton of oils but there were two that stuck out. The Ancient Greek Remedy Oil is one that I have mentioned before in my How I Unwind post, it is awesome! My skin is so soft and moisturized after using this. I also use it on the ends of my hair and my cuticles as well. The TruSkin Naturals Vitamin C facial oil stood out because it has nearly 5 stars and just under 10,000 reviews. That is insane. Definitely going to have to try this stuff out.
There were also so many face masks. All different kinds too. So I picked a few favorites. You might remember these sheet masks from a few different posts, including that unwinding post and My Current Skincare Routine post. I talk about them a lot for a reason! They are an amazing value. Fantastic masks for really cheap. If you haven't tried them yet, now is the time.
I also love a good mud or clay mask. This Indian Healing Clay boasts nearly 5 stars and over 14,000 reviews. They must be doing something right. It says it deeply cleans out your pores and for under $10, sign me up!
Have you seen these peel off masks? They are supposed to really clean out blackheads and whatever else is lurking in your pores. I have yet to try one because after watching a few videos it looks like some of them can be painful. But I saw a lot of people say to try using this just on areas where you really get clogged pores like your t-zone and/or nose and those areas were not painful. The amount of stuff that these people showed this mask getting out of their skin makes me completely intrigued to try it myself.
Another skincare item which I actually use every day and completely love is Garnier Micellar Water. I also mentioned this in my current skincare post. It really cleans off any excess dirt, oil, or makeup that I missed when cleaning my face. I also love using it to correct my makeup if I make a little mistake. I just dip a q-tip in there and wipe away the whoopsie daisy.
Moving on to some products more for the full body. I'm sure you recognize these bath bombs from that unwinding post as well. I included them in this because, well duh, they have amazing reviews. And they're awesome! I've given these as gifts and my friends love them too. I love that they're made with all natural ingredients.
The other product is a self tanner which I have used lots of times and love! This Fakebake tanner is awesome. I love the rich golden brown color it gives my skin without looking splotchy or streaky. It's easy to apply, I recommend using a tanning mitt for best results.
Have you tried using activated charcoal to whiten your teeth? Because people swear by it and I have been wanting to try it. This particular one is the product I mentioned earlier with 4.5 stars and over 17,000 reviews! Plus there are tons of pictures showing how well this stuff works. I am 100% trying this out!
There were lots of hair tools on there as well. I came across the Wet Brush and knew that was the one to include here. I swear by my Wet Brush. It makes detangling my hair a breeze and it doesn't damage my hair while it's working out those knots. My hair loves to get tangled. Maybe because it's long and find? I don't know. I just know after every shower it's a hot tangled mess. And this brush is my hair's saving grace.
Then we have makeup. So they actually have tons of well known brands on Amazon but I was more interested in the well rated unknown brands. Because that's pretty cool to find an amazing product that people love regardless of the brand. Plus these are all really budget friendly.
I'll start it off with this Coty Airspun Loose Face Powder. Let me just start with the fact that is $6. What? Yes, $6. And I have used this powder and it is amazing. My skin looks flawless when I set my foundation with this stuff. Try it girl! You will never look back.
Then I found some makeup tools which I found interesting. This brush set is $10 and has nearly 5 stars and just over 3,000 reviews. That's an unbelievably good deal that seems too good to be true. But I looked at what people were saying and there is way more good than bad. 72% of people gave these 5 stars. That's amazing. So for $10 I mean why would you not try it?!
Likewise, these tweezers are under $10 and people are raving about them. They have over 4.5 stars and over 6,000 reviews. 79% are 5 star reviews. So if you're in the market for a new pair of tweezers then go ahead and snatch these bad boys up!
Then I saw these eyelash curlers, which are award wining by the way. Again, $10, not sure what was with me finding $10 goodies but hey I'll take it! So maybe $10 for eyelash curlers might be a tiny bit on the steep side to some but let me tell you. There is a difference between good and bad eyelash curlers. I have not tried these ones but I have had others in the past that were higher priced and they curled my lashes so much better than the cheap ones I bought back in the day. These are on my list to try for sure.
Then last up are these beauty sponges that look an awful lot like my trusted Beauty Blender. I have yet to find a good dupe for the Beauty Blender and I'm not positive that these are an exact dupe as I have not tried them myself but many people were saying these are very similar to it. Some even saying they liked these ones better. Gasp! But you get 5 sponges for $10 so even if they are just a close second to the Beauty Blender, that's a heck of a deal. Maybe I should do a review of these guys, what do you think?
So there you have 15 top rated items from the one and only, Amazon. Which ones are you picking up to try? Let me know down below. And if there's any you'd like me to review leave that in the comments below too! See you next time. ☺