How to Wear Wide Leg Jeans | In 2019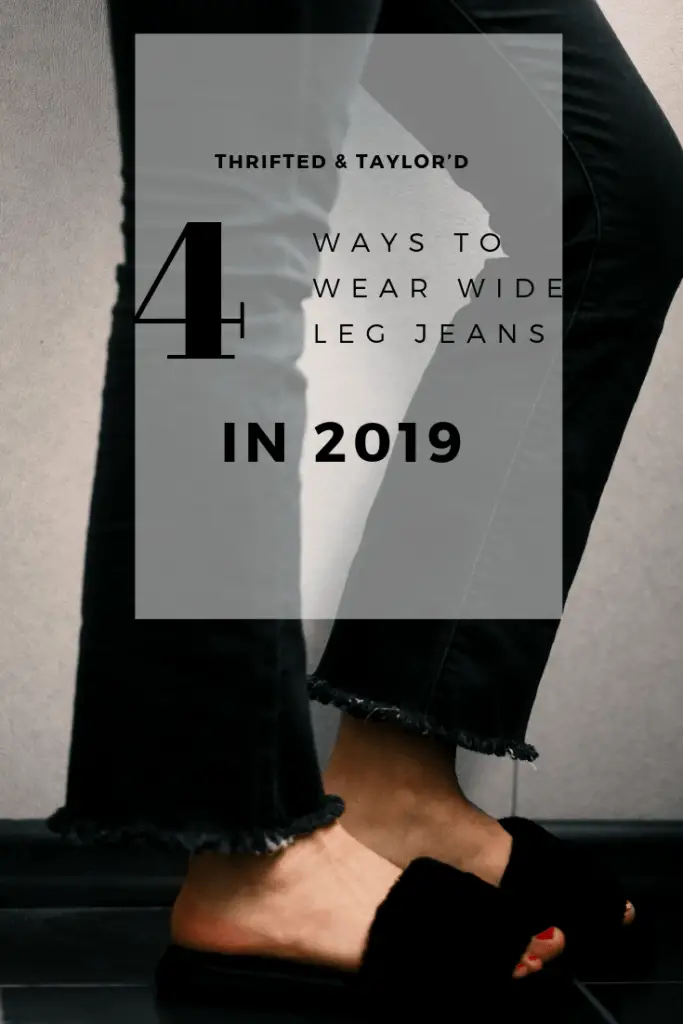 This post contains affiliate links for which I may earn a small commission at no extra cost to you. Thank you for your support! Learn More.
Wide leg jeans are back this season and I'm loving it. Many of them have more of a modern take with a cropped length, raw hem, or cool detailing. It might seem a little daunting to try this trend out but I assure you, anyone can rock a pair of these and look bomb. Balancing proportions is the key here.
I put together 4 different styles of looks for you to get inspiration from. Links are included of course, should you want to pick up any of these pieces. Let's check out these looks!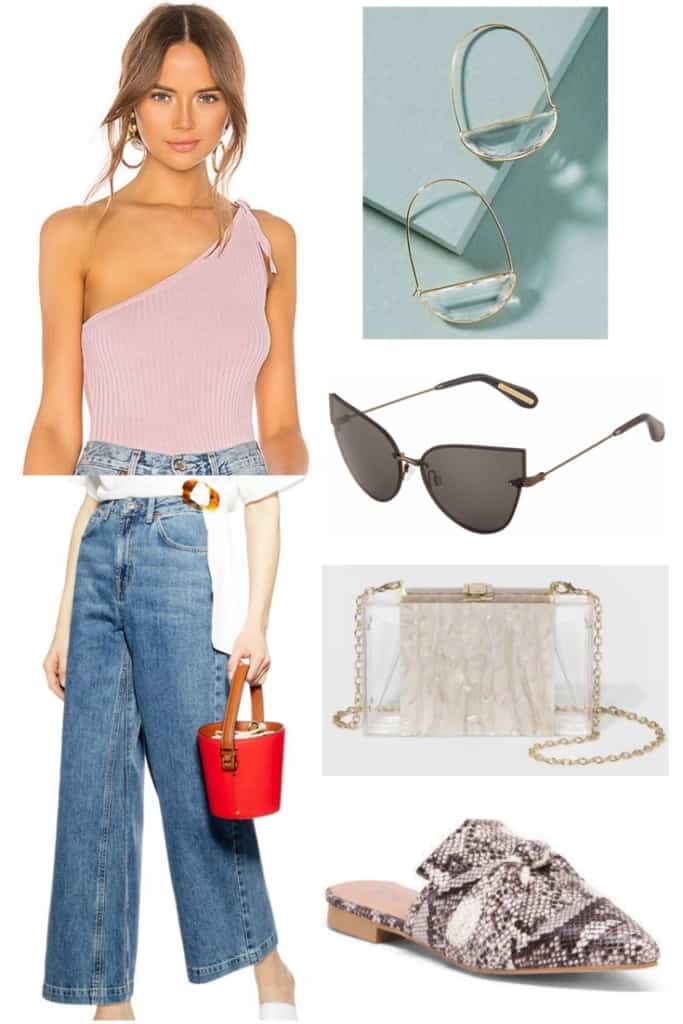 First up is this every day kind of look. I love the color of this mauve top. The texture of the ribbing plus the one shoulder detailing makes this top anything but ordinary. It is the perfect fit to go with these Mom style wide leg jeans from Topshop. Mom jeans have been a thing for quite some time now and I haven't really been on board with them. But I love these ones paired with this fitted top.
For accessories I thought it would be fun to add some snakeskin in with these mules. I thought those earrings from Anthropologie were completely gorgeous and really unique so they were a must for this look.
I have been eyeballing these clear handbags I keep seeing. I actually recently picked one up that has this gorgeous white pouch inside with flowers embroidered on it. Stay tuned to my Instagram to see how I've been wearing it!
This one from Target has that really pretty marble in the center and I love the gold chain. To finish off the look I thought these cool cat eye sunnies were perfect.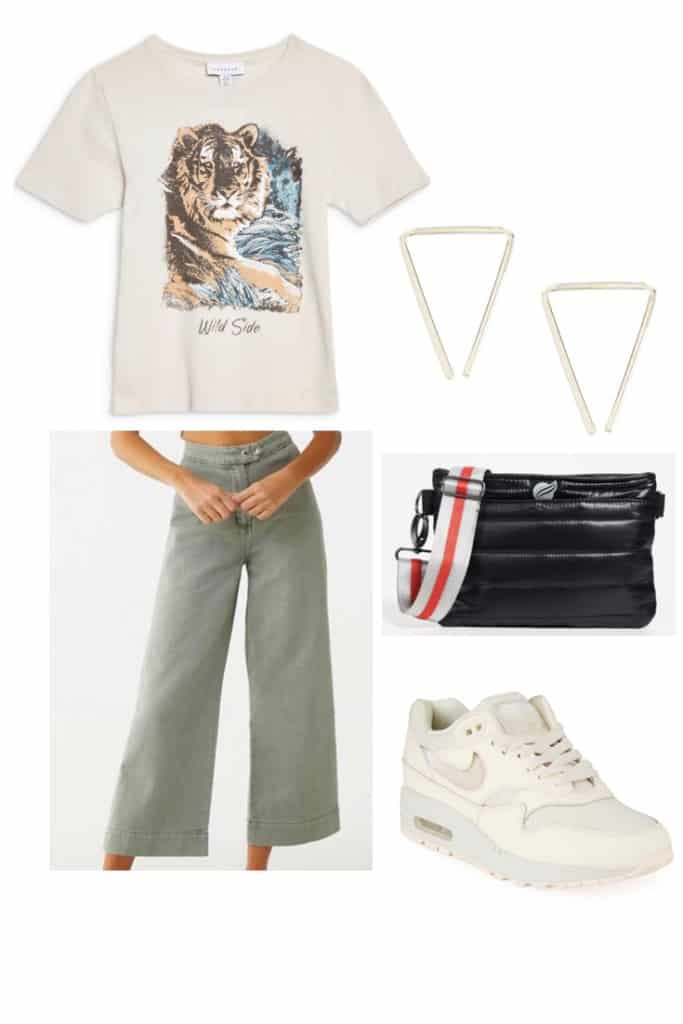 This next look is definitely on the more sporty side of casual wear. I think this tiger tee from Topshop would look cute tied in a front knot when paired with these cropped wide leg pants from Forever 21 which are my favorite shade of olive green. These are a different take on this pant trend and I really dig them!
For accessories I absolutely had to pair this look with some Dad sneakers. Another big trend currently. I know, kind of funny to have these parental inspired trends going on but that's fashion for you. So I found these cool Nike sneaks that pair perfectly.
For the bag I wanted something really sporty and different. I found this cool crossbody bag that almost looks like a puffer jacket. It has a few different ways it can be worn too such as across your back diagonally or even as a waist bag (also in right now!) This is perfect for this outfit.
Then I found these really sweet triangle hoops that you just loop through your piercing hole. (That sounds weird no matter how I try to say it.) I thought they were really cool.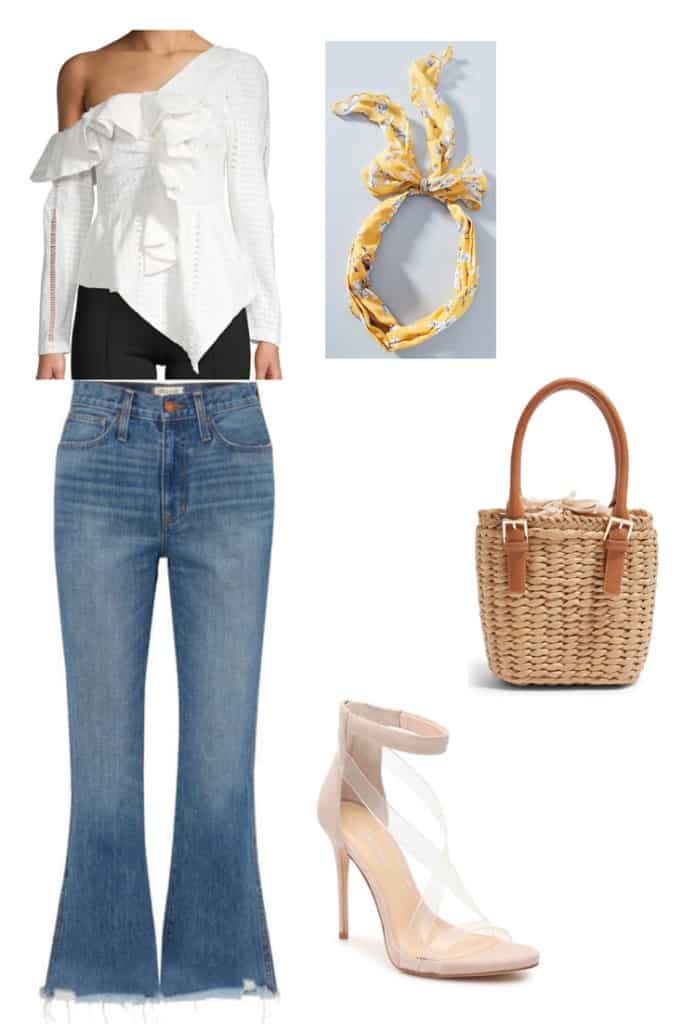 This next outfit is for my feminine gals out there. This white top is gorgeous and very girly with the ruffles and little eyelet detailing. I liked it for this style of jeans from Madewell which are more fitted through the thigh and then super flared after the knee. They are mid rise which is great and I really like the raw hem on these!
For accessories, I loved the idea of a hair scarf with this look so I found this really pretty yellow floral one from Anthropologie. Straw bags are another huge trend right now so I knew I wanted to find one for this look. I love how this one from Topshop has a little pouch inside, it almost reminds me of like a little basket or something. To finish off this look I found these beautiful nude-y pink and clear sky high heels.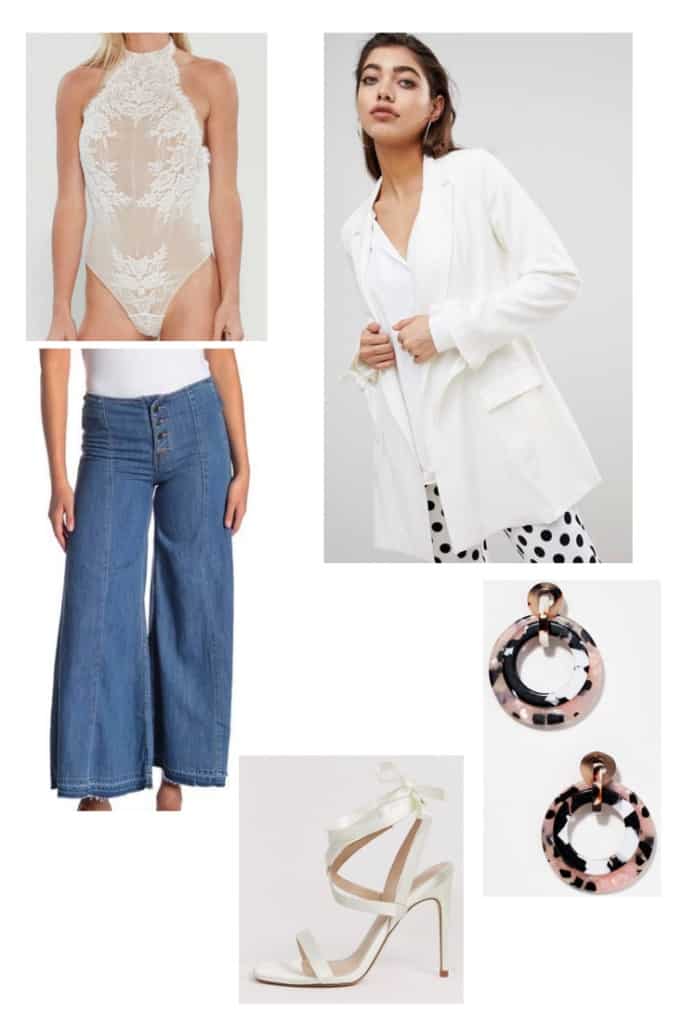 My last look is a little more on the sexy side and would be great for a night out. I'm obsessed with this cream lace bodysuit from Free People which is actually on sale right now. It pairs so well with these button front cropped wide leg jeans which are also Free People. Pop this white blazer from ASOS on top in case it's a little chilly. Look how cute the ties are on the sleeves, I love little details like that.
For accessories I went with these cool earrings which are kind of a take on tortoise shell. Love the soft pink color of these. Then to finish off the look I found these gorgeous satin strappy heels that tie in the back which are also from ASOS.
And there you go! You now have 4 different ways to wear wide leg jeans. So pick yourself up a pair and be sure to tag me in your pics so I can see how you rock them! See you next time. ☺