Hearth & Hand Line At Target | Check Out My Must Haves
Have you had a chance to check out the Hearth & Hand With Magnolia line at Target. Created by only my favorite fixer upper couple of all time, Chip and Joanna Gains! I personally love everything. Not even exaggerating. All the things. I was particularly excited to see some Christmas décor was included.
I love the mix of metals and ceramics with fun but simple prints like the little x print and some plaid. It definitely gives off a strong farmhouse vibe. For my home, I like to mix farmhouse décor with a touch of glam like mercury glass or fur. I think many of these pieces would fit in perfectly.
I went ahead and rounded up a list of my favorite pieces, which was not easy let me tell ya. I had about 25 things that were my favorites but managed to whittle it down to 10. Don't ask me how, I have no idea. But I somehow managed. If you're ready to see my favorite finds scroll on down!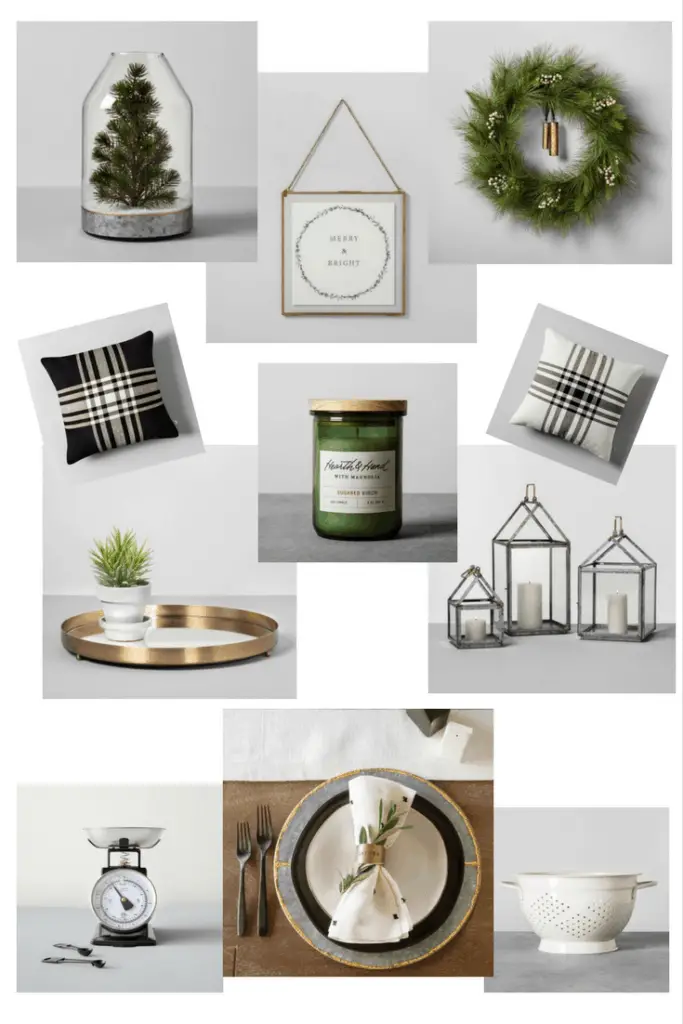 So let's just talk Christmas décor first because I'm a die hard Christmas décor fan. It is my favorite season to decorate for, hands down. So that adorable mini Christmas tree in the glass vase caught my eye immediately. I'm also a sucker for wreaths, so no surprise I found one here. I love the simplicity of this one. How about that Merry and Bright wall hanging?! What an awesome way to add some holiday cheer to your walls.
I don't know about you but cold weather makes me want cozy spaces. So those plaid pillows seem like the perfect accompaniment to a cozy blanket. They also have a bunch of cozy sounding candle scents. Sugared Birch was my favorite. I love the glass jars they come in, too. Set it on that beautiful mirrored tray with some other winter décor and there you go. Instant coffee table décor.
I thought the lanterns made of galvanized steel were pretty amazing too. Definitely helps add some warmth to your mantle with candles burning inside.
The amount of kitchen items was unreal. That was part of what made whittling down my favorites so hard. There are so many awesome pieces for the kitchen! So I cheated a little by including an entire place setting in my favorites list.
The place setting is gorgeous and that x print napkin was my favorite part of it all. So that is what I'm including in my list of 10 favorites. They had several other things in this print as well. But I simply adored all the ceramic wear that they have as well as the black utensils they showed in the place setting so I figured it was fair to mention them right?!
They also had many adorable farmhouse kitchen items like that colander and food scale. Little touches like that can really definite your kitchen's style.
So there you have my roundup of my 10 absolute favorite pieces from the Hearth & Hand collection at Target. If you haven't yet, be sure to go check it out for yourself. You won't be disappointed. And you'll most likely end up with a purchase or two because it is that fantastic. Be sure to let me know in the comments below which items are your favorite and don't forget to share with any farmhouse loving pals. If you're not already and you'd like to be, follow me on my social media down below. See you next time! ☺
This is not a sponsored post. Links are affiliate links. To learn more visit my About section.