DIY Home Renovations On A Budget | Big Changes You Can Do Yourself
Looking to make some big changes to your home's appearance but working with a smaller budget? These DIY home renovations on a budget are the perfect way to upgrade your home without breaking the bank. 
Home remodeling can feel like a daunting (and expensive!) task, but at the same time something you long to do. There are plenty of ways you can update your home with a little elbow grease and maybe some YouTube tutorials. And best of all, by doing the work yourself, you will save a ton of money. 
Today I'm sharing 6 different home renovations you can do yourself that will leave you with end results you will love to show off. Because let's be honest, it feels good to get a compliment on something to which you can say "I did that."
So Let's Check Out These Home Renovations On A Budget!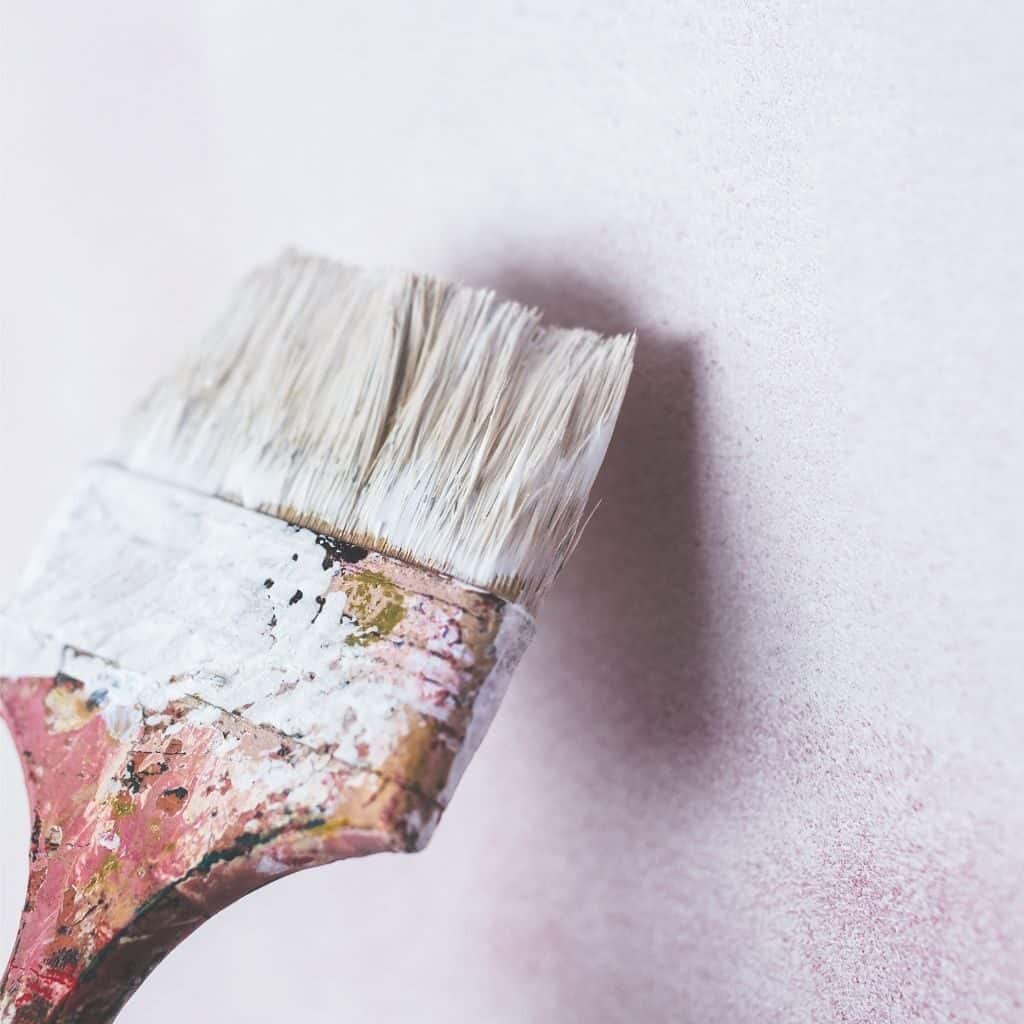 This post contains affiliate links for which I earn a small commission at no extra cost to you, should you purchase through them. Learn More.
This one is probably the most obvious (and perhaps easiest) projects. Paint can make a HUGE difference to a space. You can paint the entire room a new color or pick one wall to make an accent wall.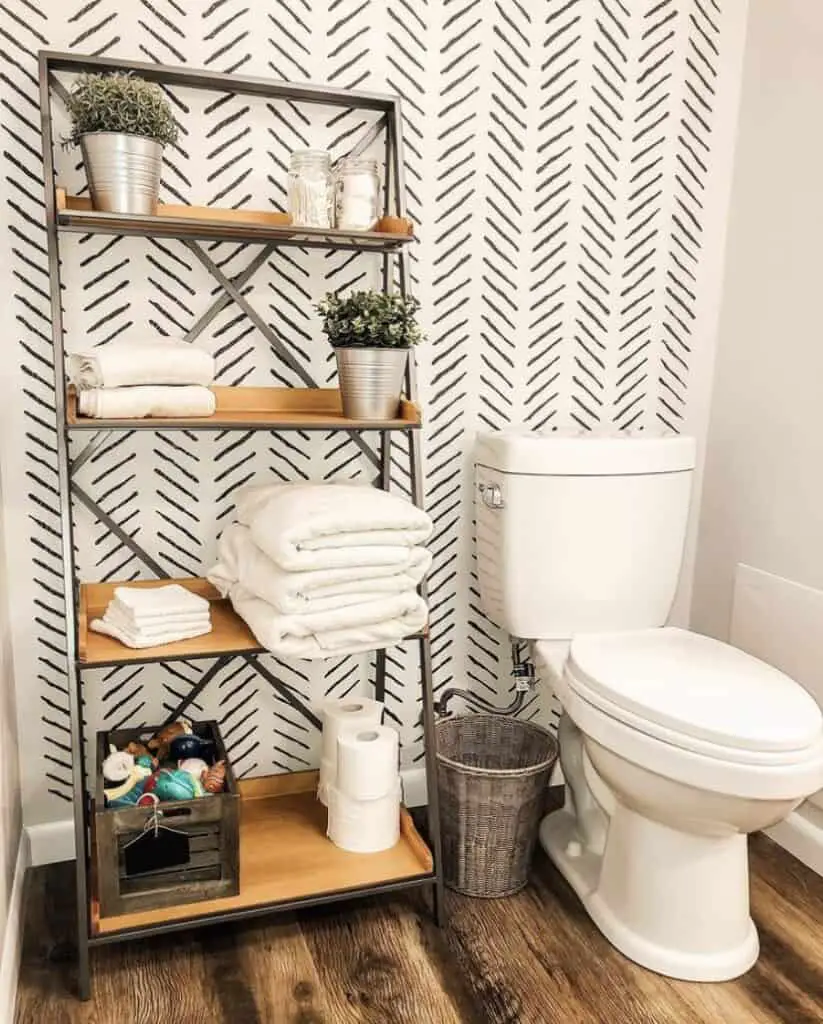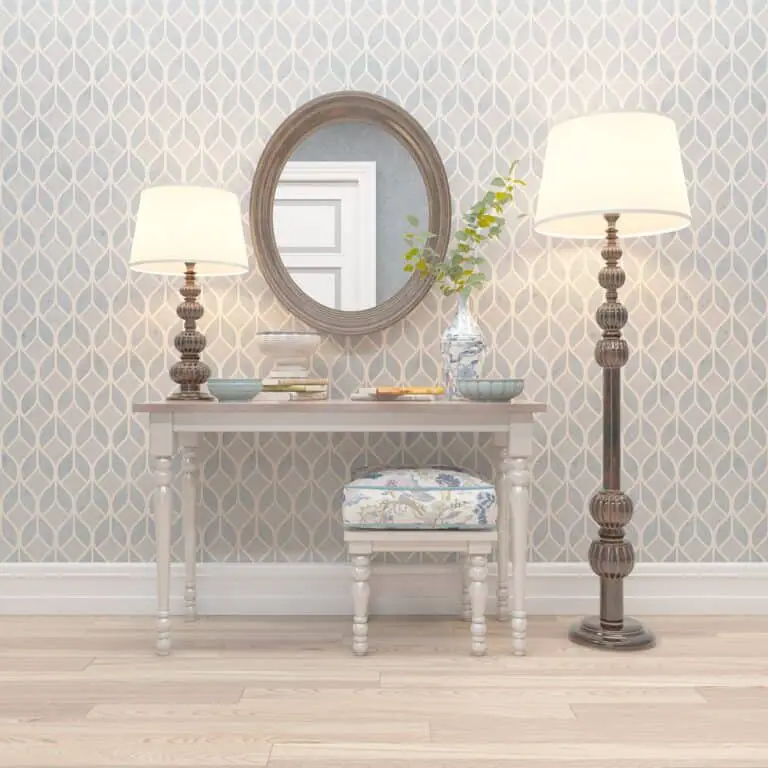 For something a little more fun, you can try painting a stencil wall like Sheli from @houseonwilshire did in her bathroom. I absolutely love how this turned out. 
You can follow a tutorial to make your own stencil (there are tons of tutorials on YouTube and blogs) or buy one like this one from Etsy. 
2. Make A Wood Feature Wall
It sounds a little scary, but I assure you, watch some videos on YouTube and you will absolutely be able to make your own feature wall. If you don't have your own power tools, I would first suggest you either ask someone you know if they mind helping you make some cuts or if you (or your significant other) are comfortable using power tools then maybe just see if you can borrow them.
The other option is that you can most often ask for them to trim down your wood at Home Depot. You will just need to do all your math ahead of time so you know what sizes (and how many) you need. Usually they will do a certain amount for free and then charge a small fee for additional cuts.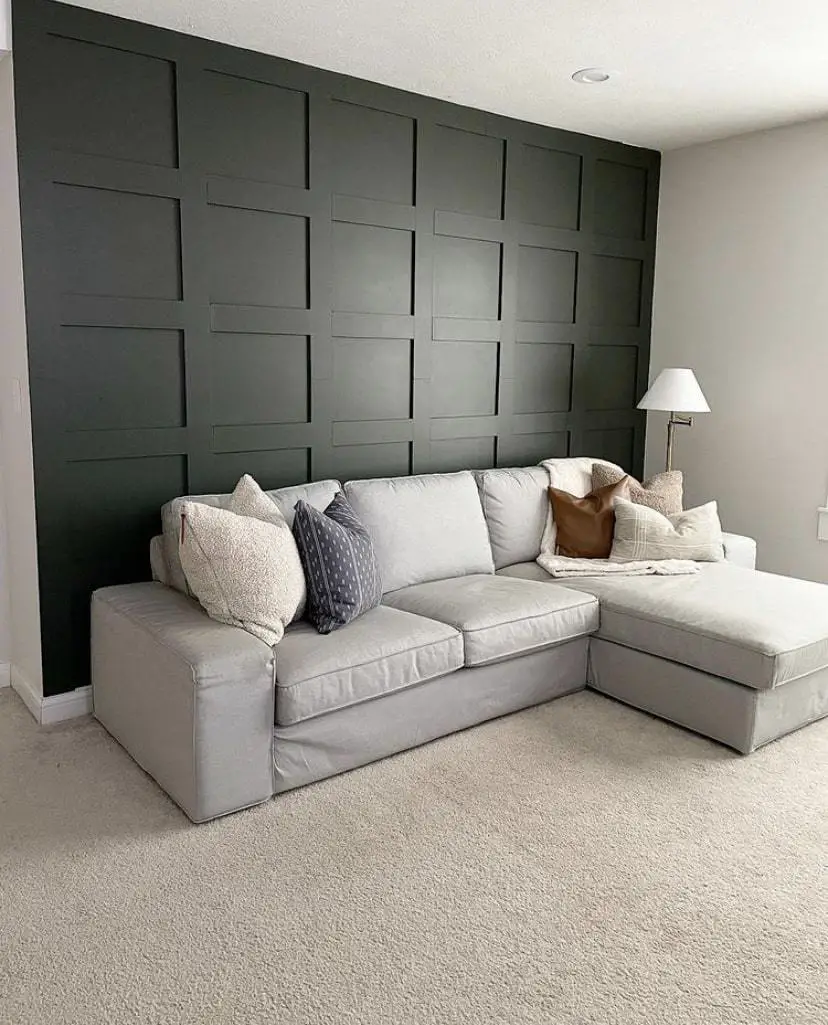 You can try doing something like this square panel feature wall that Courtney from @cocostivers did and then painted this rich dark color to really stand out.
If you are a shiplap lover then something like this dining room wall that Michelle from @modernfarmfam did would be perfect for you! I, personally, am a big fan of shiplap.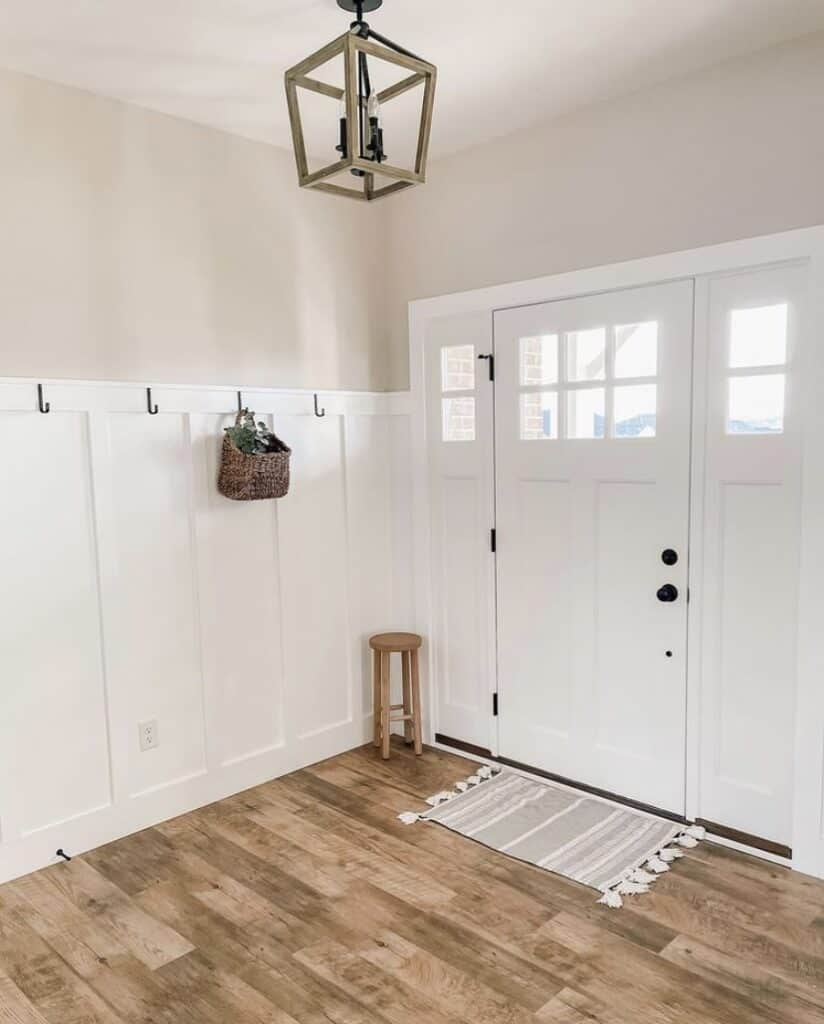 My other favorite is a board and batten wall, especially in an entryway like this which Courtney from @lifeonstbrendan did to totally transform her entryway. It's beautiful!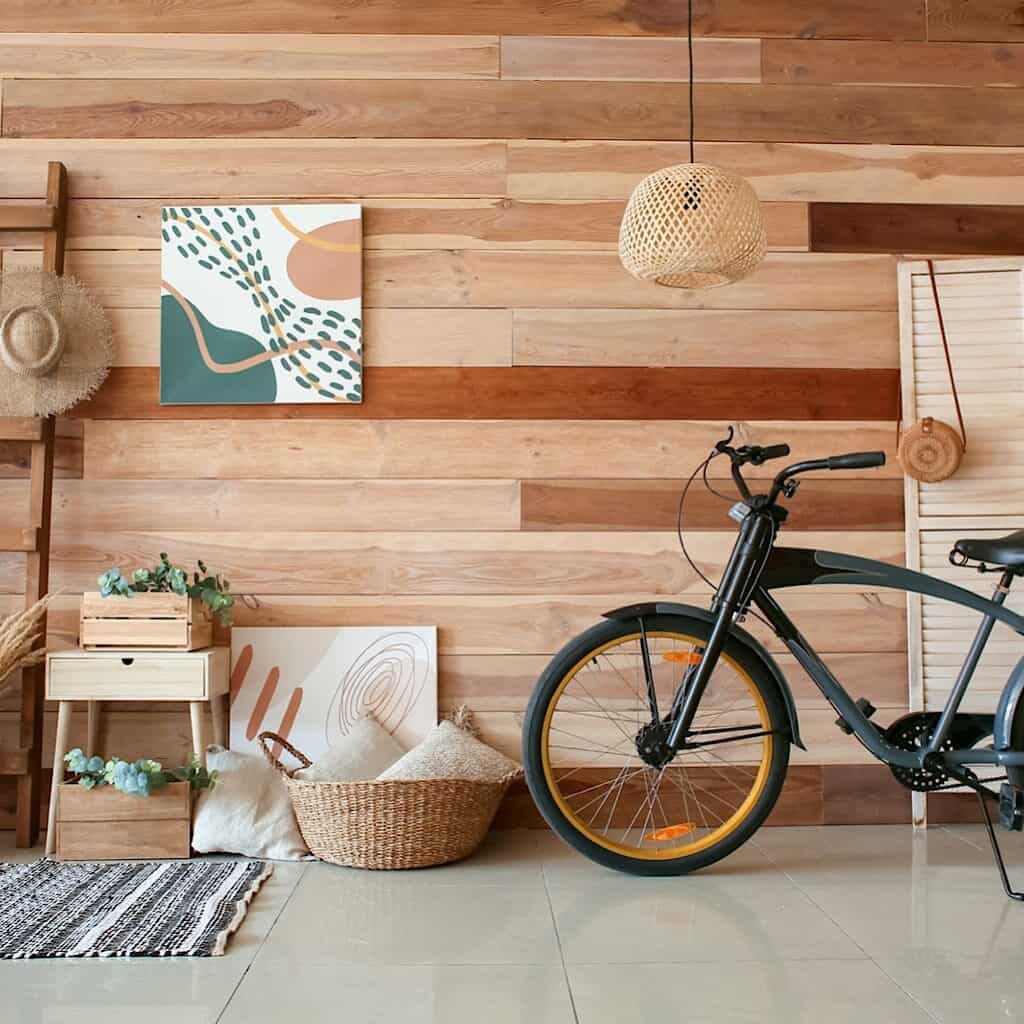 Another feature wall you can do that looks really cool and doesn't necessarily require painting, is a reclaimed wood feature wall. The wood is so pretty on its own that you can totally leave it its natural color if you'd like!
3. Try Peel And Stick Wallpaper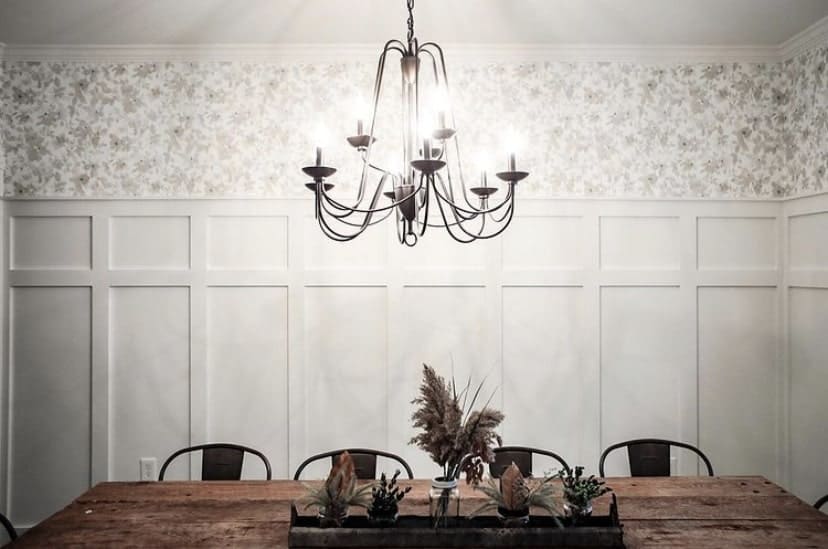 If you aren't sure about taking on wood, then maybe peel and stick wallpaper is more your speed. It's nice because it's easily removable so if you ever decide to get rid of it, it will be an easy process. 
There are literally thousands of styles if you do a simple Google search. You can do something floral, geometric, simple, or bold. You could do an entire room, or just an accent wall. 
I particularly love this pop of wall paper above the board and batten in this dining room that Crystal from @thegraceinfused_life did. It's such a delicate floral and I like how it's in a neutral tone. 
4. Add or Change Your Kitchen Backsplash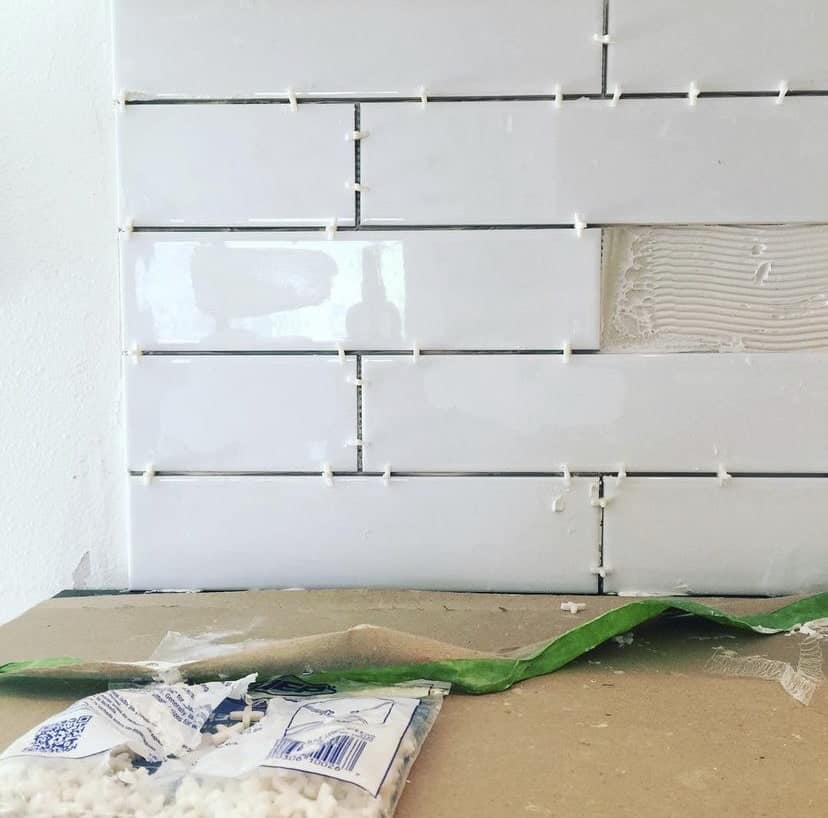 To state the obvious, this will be a lot more work if you have a backsplash currently and want to change it. But don't let that stop you! Again, there are some really, really good YouTube videos that will teach you how to do your own backsplash.
Even if you've never done it before, if you can learn from someone else's instructions and by watching their videos, you can do this! Check out how Kisha from @kishagiannidesigns did her own subway tile backsplash. Well done girl!
If you are very uncomfortable trying to actually tile your own backsplash, there are also peel and stick options. Some of them look really legit too! We actually had planned to use these in our kitchen during quarantine last year but had too many other projects that needed to get done first and we ran out of time. 
But it is definitely still on my list of things to do. As well as paint the kitchen. 
But anyways, check out a few of these peel and stick tiles that have great reviews and look amazing.
This white hexagon mosaic tile is really cool, these subway tiles are actual glass peel and stick tiles so they look like the real thing for sure and they're hand painted which looks so pretty but you may want to opt to grout these ones to really look like a finished product, and last are these gorgeous patterned tiles that are actually made of a stone composite so they look incredible.  
They are a great way to add some color to your kitchen. I love the idea of doing these patterned tiles in one area such as behind the stove area and then a more subtle tile throughout the rest of the kitchen.
5. Paint Your Tile Or Linoleum Floors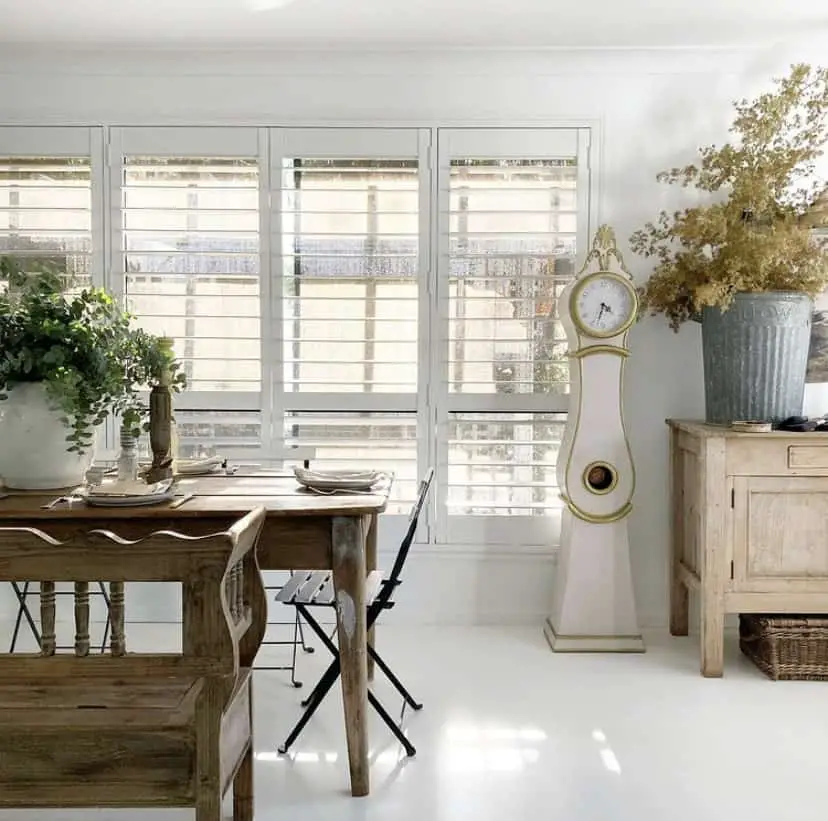 If redoing your floors is just not in the budget, try painting them! You could go for a solid color like how Sandy from @paintmewhite painted her concrete floors white. Look how pretty it looks!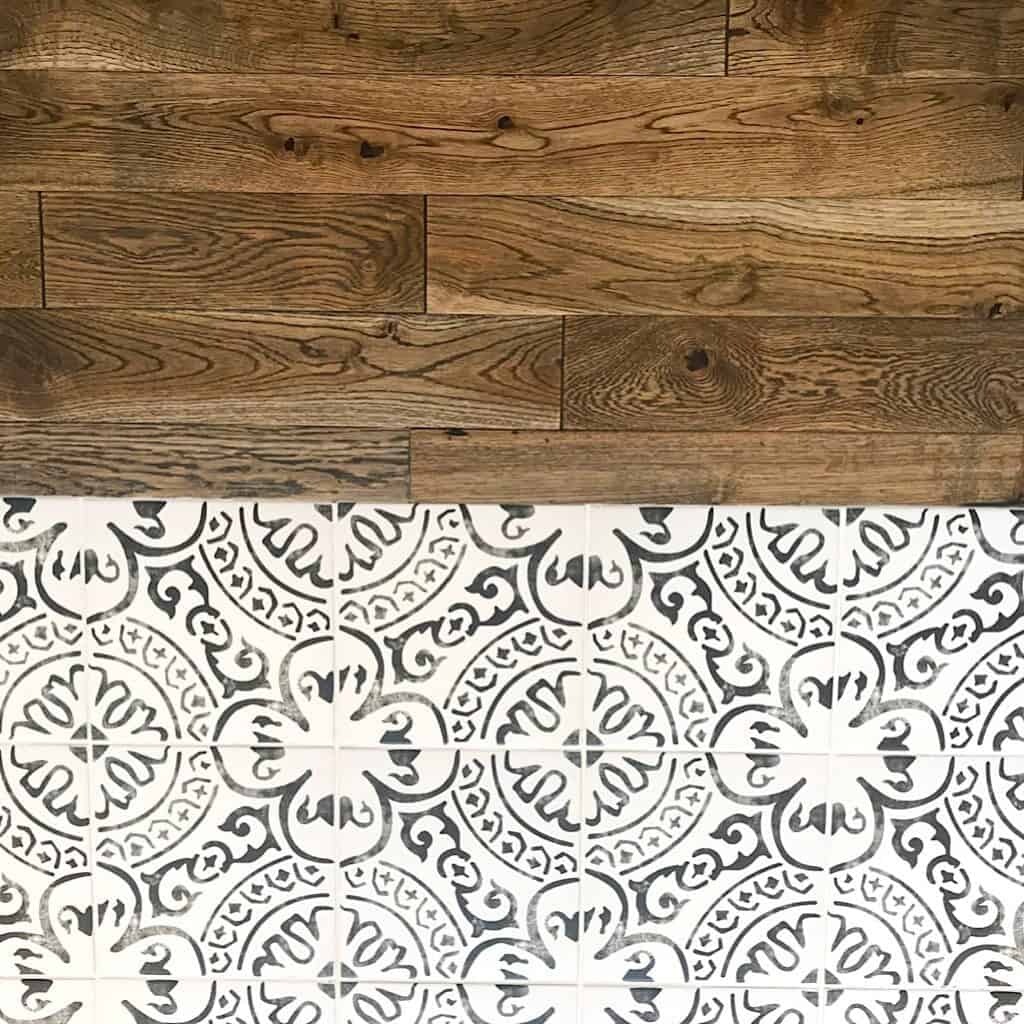 Or you could get a tile stencil and paint your tiles so they look like expensive hand painted tiles like these black and white tiles. Which I'm kind of obsessed with.
It's best to use a paint specifically for flooring such as this Rustoleum interior floor base coating and then use this Rustoleum interior floor topcoat in whichever finish you prefer. 
If you are using a stencil and are not keeping the original color of your tile, then you will want to get a second color of the base coating as well. Stencils are available from many places online, including Amazon so browse through and figure out which pattern you like best.
6. Paint Or Stain Your Cabinets
Painting is easier than restaining unless you are going darker. Then you could use a gel stain which doesn't require any stripping or sanding. But if you want to go lighter or just a different tone than what you have, you will need to strip and then stain the new color. Again, there are plenty of tutorials on how to do this if you never have before.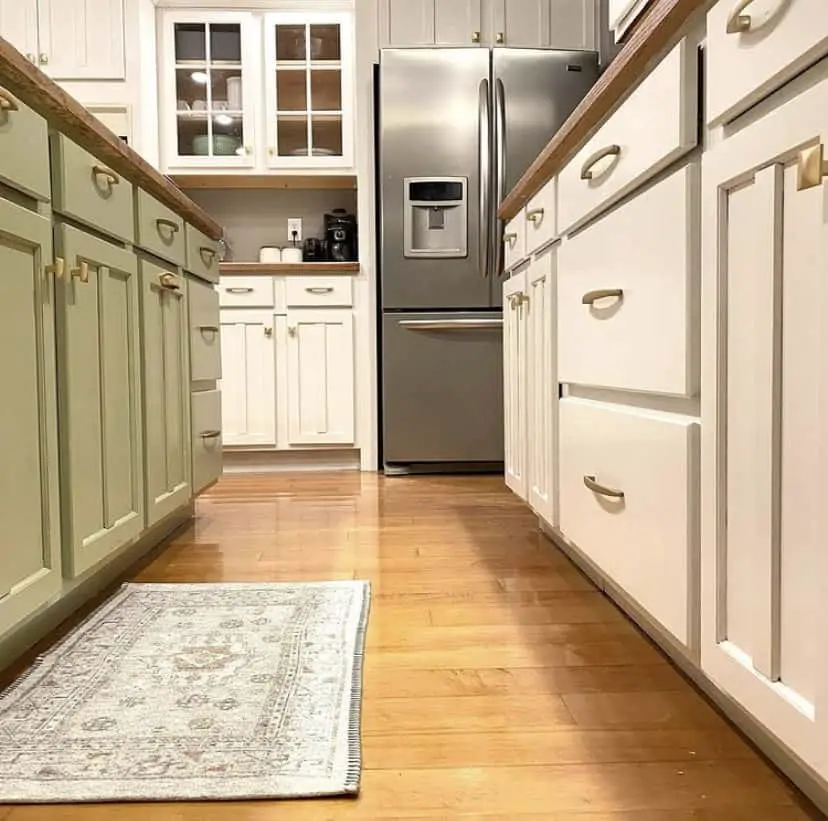 Paint is a great way to easily transform your kitchen. You could do a neutral color on the cabinets and a pop of color on your island like Megan from @the.bentley.home did, if you'd like a little color but don't want to commit to a full kitchen of color.
Bathroom cabinets might be a fun spot to experiment with a little color. Maybe a sage green or navy blue with some gold hardware? 
Adding new hardware can also make a difference in the overall look and feel of your kitchen or bathroom. Especially if you change the color. If your kitchen has (or is going to have) white cabinets, try black hardware which will really pop.
Which One Are You Ready To Take On?
These DIY home renovations on a budget will instantly transform and update your home. You can save a bunch of money by learning and doing it yourself plus think of how proud you'll be when it's all done and you can show it off.
Be sure to let me know down in the comments which one of these you think you would like to do in your home and I will see you next time.