It's almost Halloween! This is one of the best times to use your creativity and head to the thrift store to make some cute costumes without spending a lot of money. I have gotten so many things for costumes from thrift stores over the years and probably spent less than what one full new costume costs.
I am including the costumes my husband and I made last year because they were almost entirely from the thrift store and I think they turned out so cool. Unfortunately, I don't have a tutorial on how to make it step by step but I can walk you through what I did!
The other costumes I came up with are pretty easy to find at thrift stores and I also chose to do some costume makeup to really sell the look. If you are not up for making up your entire face feel free to purchase a mask if needed or just do your normal face makeup and the costume will do the work! To get more details on what I did to achieve these Halloween costume DIY's, keep reading!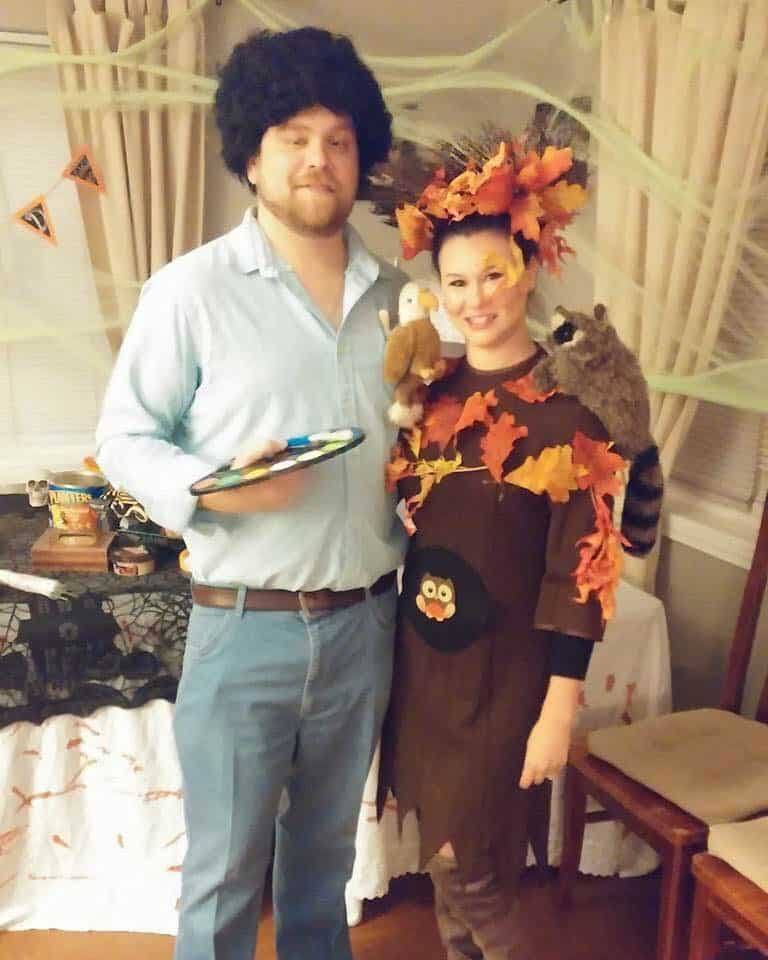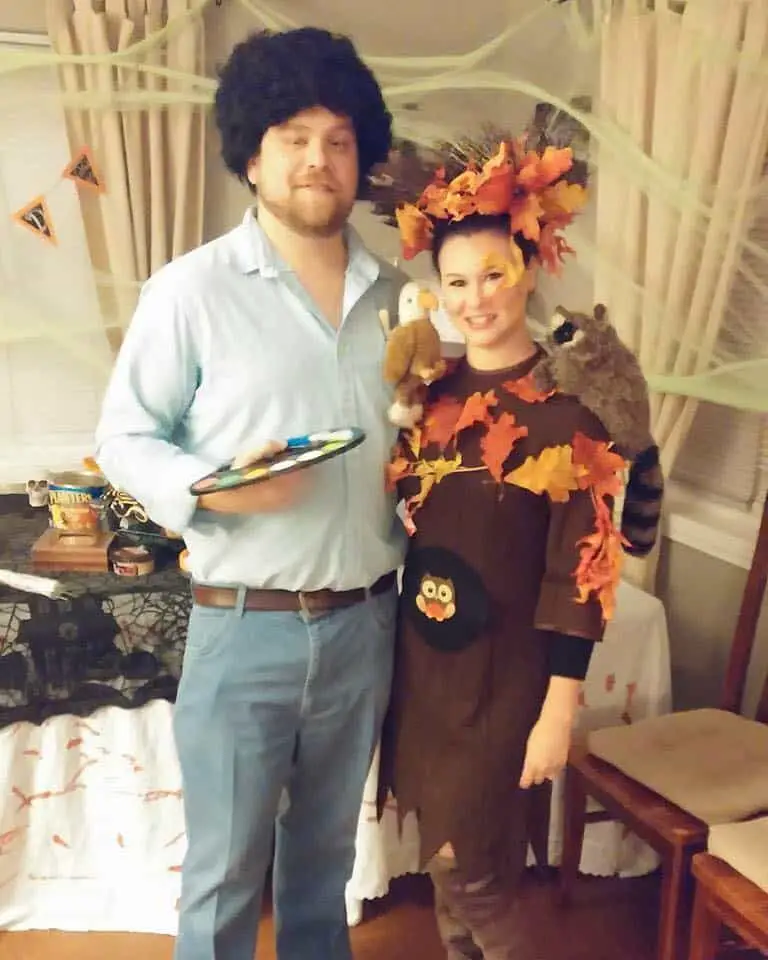 Here are our costumes from last year, Dave was Bob Ross and I was his happy little tree. If you don't know who Bob Ross was, he was a painter who had a show on PBS that teaches you how to paint. It was super addicting and so cool to watch! He was a very gentle soul and he would always say that there were no mistakes just happy accidents. He usually had some sort of furry friend with him so that's what is in Dave's pocket. He did almost exclusively landscape paintings and everything was happy; happy trees, happy mountains you name it and it was happy.

So Dave's costume was almost entirely from the thrift store with the exception of his painting supplies which we picked up at Walmart. His is pretty self explanatory.

For my costume I found everything except the black felt and little owl in the center of my dress at the thrift store. Those two were also from Walmart. Starting with the dress, I simply cut a zig zag pattern into the bottom to sort of simulate roots and used fabric glue to attach the leaves, owl, felt, and raccoon. For my head piece, I found a wreath made up of sticks that I glued more leaves to so it looked like I had tree branches on top of my head. I wore over the knee boots to try and cover as much skin as I could.

This is one of my favorite costumes we have done!
Moving on to some ideas that are pretty easy and still very cute! This leopard costume is easy to find a the thrift store and you can add more to the look by doing some pretty simple makeup techniques. The shirt I actually did get thrifting and let me tell you, leopard shirts are super easy to find as well as black jeans. You really could wear anything you want on bottom, I just chose black jeans. The ears I got at Target in the dollar spot so that was a great find. The tail I also got a few years ago from Target but I don't think it is a necessity to make the costume.
For my makeup, I just exaggerated my eyes and gave them more of a cat shape. I used this black gel eyeliner. For the spots I used this felt tip liner to create different black spots. Then I used this gold liquid liner in the centers to add some sparkle. I added eyelashes to help lift the outer corner of my eyes to accentuate the cat eye but that is not a necessary step!
For this costume I did a take on a skeleton. I wanted to show how easy you can make a pretty cool costume with pieces you probably already own. This is the costume I had on mind that you could buy a mask for because the makeup is a bit involved. I simply wore all black so the emphasis would be on my face but I think this would also be very cute with a skeleton shirt like this.
For the make up I used this white eye crayon in the shade milk and the same black gel liner from before. I started with priming my face to help keep my makeup from moving around and I used this. I love this primer because it makes you skin look and feel so soft and it is much easier to apply your makeup. It is a little pricey but in my opinion it is well worth the money. After applying the primer, I took the white and drew a rough outline of all the white space and filled it in using a makeup sponge like this one.

For the black I started with the eyes since they were the easiest and just drew circles following my natural eye socket and then filled it in. Then for the nose I drew the outline of how I wanted it to look and filled it in as well. For the mouth, I roughly outlined how wide I wanted the mouth space to be and then starting from the middle of my lips I began drawing in the teeth. I purposely made them a bit uneven because I thought it made it a little more creepy. I then filled in the rest of the negative space with the black. Now I wanted this whole look to be messy and imperfect so using my damp makeup sponge I blended out the edges around my mouth and then added some lines and contouring to my forehead and cheeks to give more dimension. I also chose to take the makeup down onto where my trachea is and onto my collar bones. That completes this look!
For this last costume I went with a scarecrow because I thought it was a little bit different and again, many of the pieces you may own or would be very easy to find at the thrift store. I did get my plaid shirt thrifting but the jeans I already had and the hat I actually bought on my honeymoon! I like the patches on these jeans because I think it totally looks like something you would find on a scarecrow but you could also use some distressed jeans to get a similar look. You could also stuff your shirt with paper shreds to look like straw which would be very cute!
For the makeup I just did my normal face of makeup and then used a dark brown eye shadow to contour my face and eyes. Then I used a black shadow on top of the brown to add more depth. For my nose and mouth I used the same felt tip liner from before. I simply drew out the shape I wanted for my nose patch and filled it in adding little stitch marks to the edges. The mouth I just drew stitch marks along my lips and stretched it out onto my cheeks just a little. I think this is a fairly easy makeup look but you could always just do the nose and mouth to make it a little more simple!
If you decide to try any of these out please tag me on your social media, I'd love to see your take on it! Leave me a comment on what you are doing for your costume this year!