Thrifting Spring Trends 2020 | What I'm On The Hunt For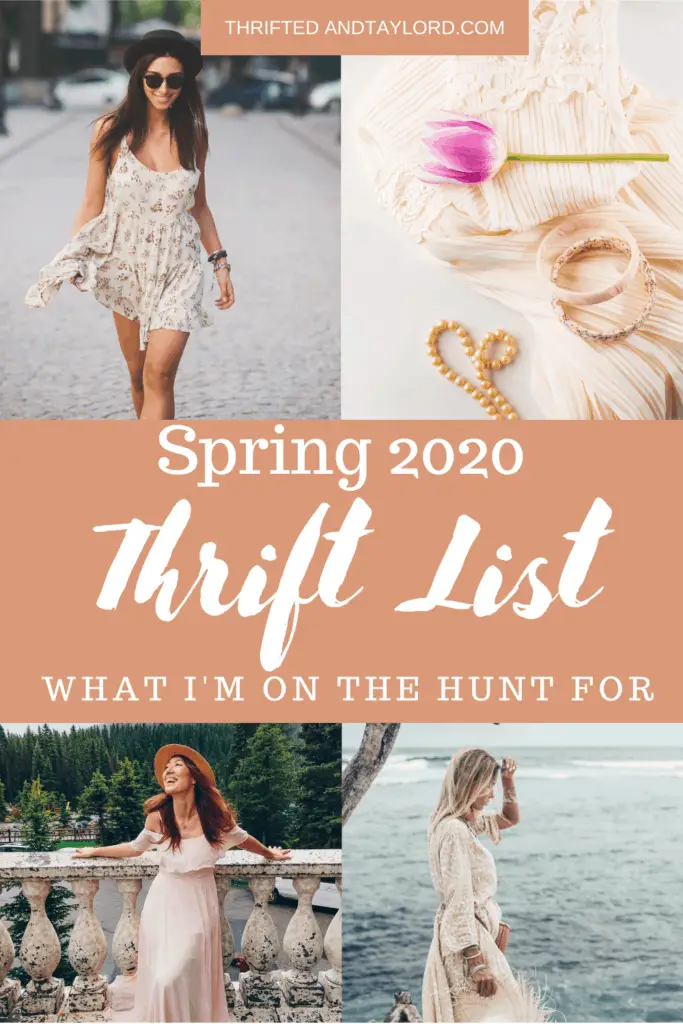 Hey Guys!
I have begun to put together my list for thrifting spring trends and other pieces I am on the hunt for this season. I did this back in the fall and you seemed to really enjoy it and it made my thrifting trips a lot easier having a specific list to stick to. So that is what I am planning to do this season as well.
To be honest, I'm not super into a lot of the trends this season. And as part of my effort to live and shop more sustainably, I don't want to buy things just for the sake of a trend that I'm not even that into. They will just sit unworn in my closet and I'm trying to be more intentional with my purchases to cut down on unnecessary consuming.
I did find a few that intrigue me and fit well into my style which I am excited to try to find at the thrift stores. I also have some denim trends that I really want to try this season, so I have included those as well.
Denim is one of those things that is great to find at thrift stores because these styles tend to cycle through being "in" and "out" so I can usually find what I'm looking for since people purge them out of their closets when they are no longer trendy. Plus you have a good chance of finding high quality brands and can hold on to them for years to get plenty of wear out of them as they cycle in and out of style.
In addition to thrifting spring trends, I will also be looking for a few staples I am lacking in my wardrobe which I will touch on at the end. Let's check out my thrift list!
Thrifting Spring Trends | Neon and Pastel Neon Colors
The following are affiliate links for which I earn a small commission when you purchase through them, at no extra cost to you. Learn More.
If you've been around a while, or know me personally, you know I'm a neutrals kinda gal. I dabble in some color here and there but it's usually like a mauve or olive green. AKA… muted.
These colors were really popping out at me as I was looking at different runways so I want to try to find like a feminine blouse or maybe some delicate shorts or a skirt in a neon or pastel neon color.
Thrifting Spring Trends | Tiered Skirts and Dresses
I am here for all things tiered. They can be feminine, they can be edgy, they can be boho, they can be classic and chic. There are so many ways to wear this trend.
I personally tend to go for more of the feminine or boho vibe. Bonus points if it mixes the 2!
I love delicate lace, florals, satin, or even just a simple cotton tiered skirt or dress. I like to pair my skirts with a t-shirt, solid or graphic, and tie up or tuck in the t-shirt. It also looks super cute to belt! And you can totally wear a t-shirt over (or under too!) your dress in he same way.
You can toss a denim jacket or leather jacket over top for a little extra warmth until those warmer spring days start to arrive.
Thrifting Spring Trends | Hot Pants
Ok, so this one is kind of out there for me. I'm not really looking for true hot pants, cheekies nearly falling out style shorts. But something high rise and just short enough to show some leg without displaying all my goods is more along the lines of what I'd like to try.
I also want to find some jeans to cut into shorter shorts since denim shorts are totally my wardrobe staple in the warmer months.
All of my current shorts are more of a mid-length short. Not like Bermuda style by any means, but certainly not short either. So I feel like I want something just a touch shorter, again nothing my 20 year old self would proudly rock, but like a classy short short. If that were a thing.
Thrifting Spring Trends | Feminine Blouses and Big Sleeves
Give me all the pretty, flowy, ruffled tops with amazing sleeves. These fun sleeves have been a trend for a little while and this season there were more of almost 80's style puffy sleeves than anything, but I am really drawn to these super feminine, gorgeous styles. So these are what I will be looking for.
There were a lot of nods to romanticism and Victorian era necklines and silhouettes so I feel like the femininity I am after is not too far off and runs more true to my style. That's the great thing about fashion; you can interpret trends however you want and make them work for you.
Thrifting Spring Trends | Denim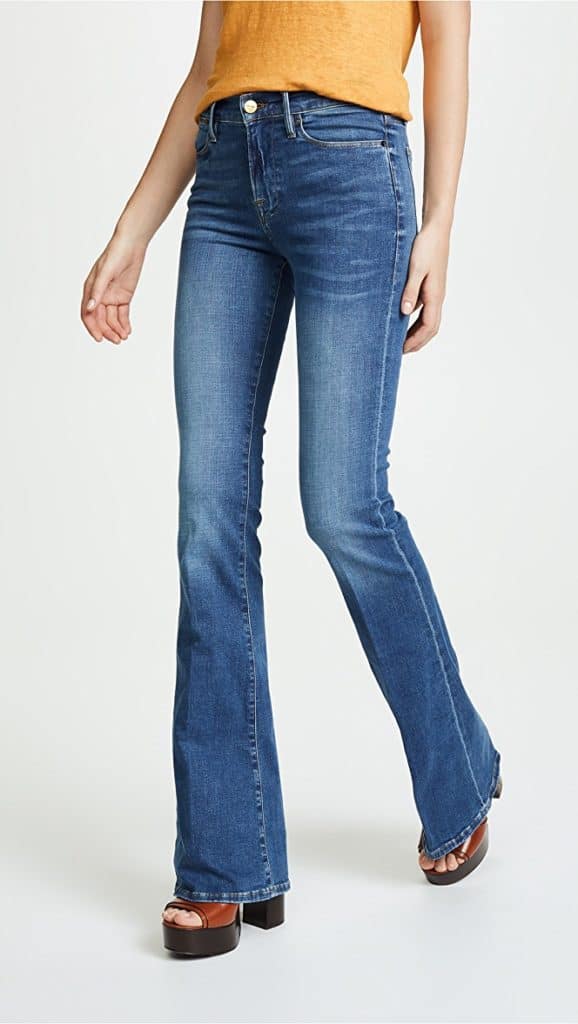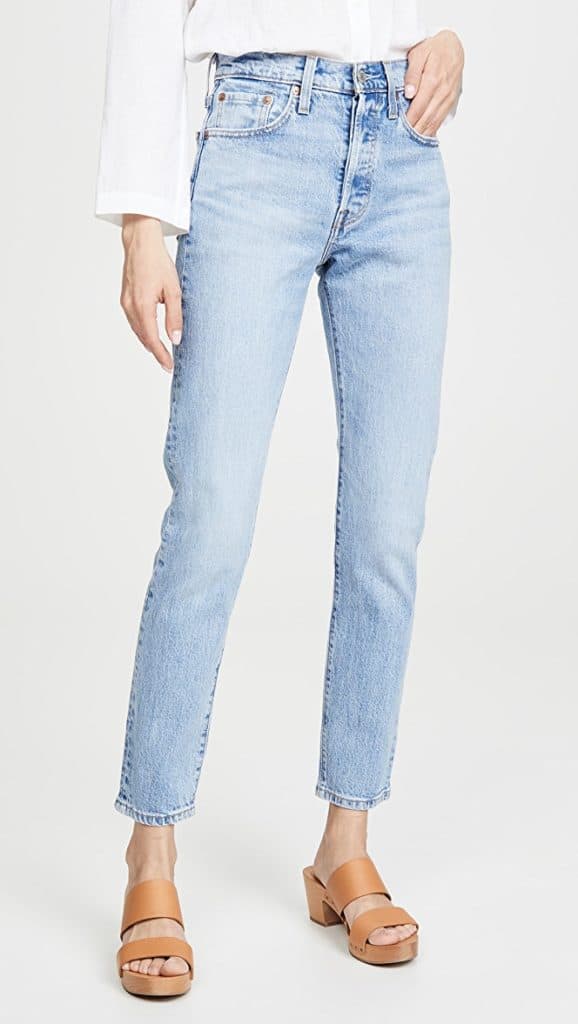 My usual go to jeans are skinny or distressed but I want to branch out a little. Wide leg or flare leg jeans are in and I am ready to give these a try. I might even crop them a little. I've seen that a lot and really love how it looks. Especially because I'm not super tall so wide leg jeans are often mega long on me to begin with.
I might try to find one pair to keep longer and one to crop so I have some variety in my jeans since I do wear them nearly every day.
I would also love to find some bootcut or really more of a straight leg jean like these light wash Levi's. I just like how they're more relaxed. I have some distressed pairs of jeans that are more this style and I love them, so I would like to find some without distressing to add to my wardrobe. 
Thrifting Wardrobe Staples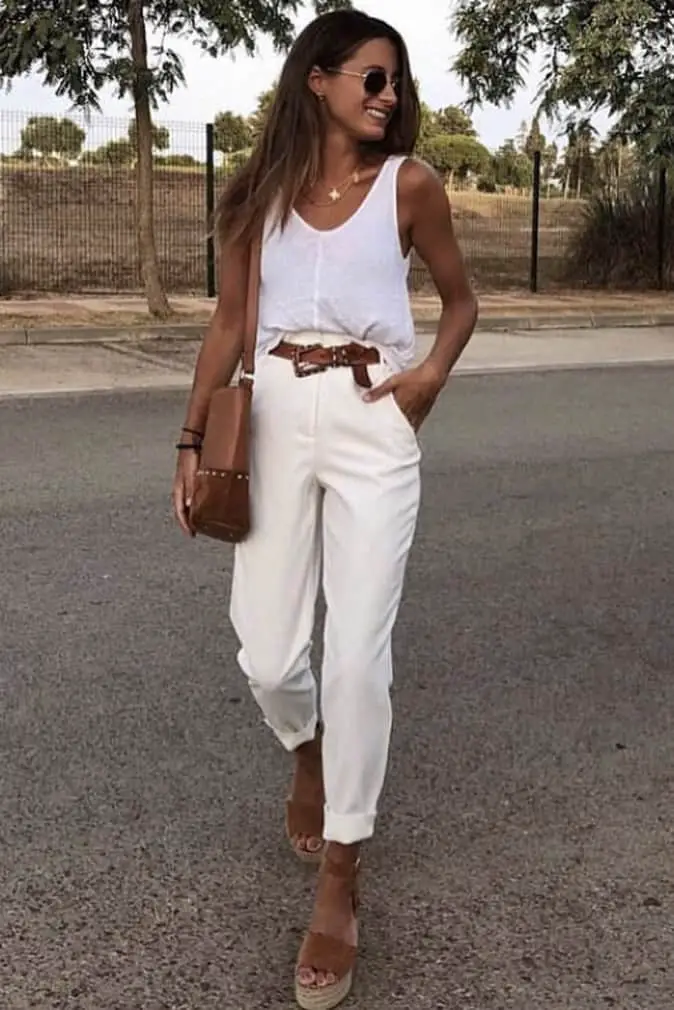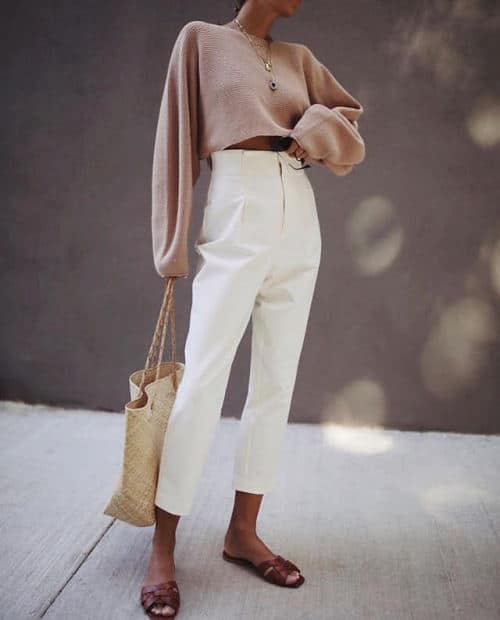 While thrifting spring trends I mentioned I have some wardrobe staples that I will be looking for. One of those things is a pair of white trousers which I can wear more casually. As I said earlier, jeans are something I wear almost daily and I want to switch that up while still being able to dress more casually since that is my every day type of style.
A few other pieces I would like to find are some cool graphic t-shirts, a vintage oversized brown leather (or faux) jacket, and a couple larger sweatshirts which I can crop a little. I have been really into layering and styling sweatshirts so having some cropped ones will add in some variety. Plus sweatshirts are something I wear all the time.
If you made it this far then thank you so much for reading! Do you plan on thrifting spring trends? Which ones are you into? Let me know down below and I will see you next time. 😊
Follow Me!

Facebook


Twitter


Instagram


Pinterest