Thrifting Fall Fashion|2019 Trends I'm On The Hunt For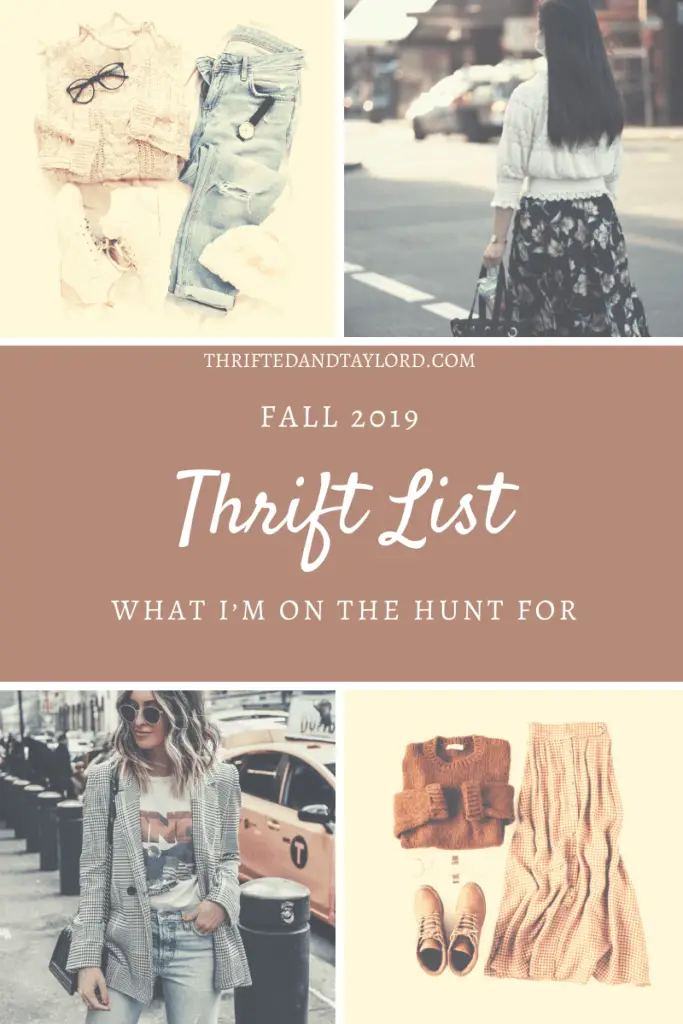 As sad as I am to say this, it is the reality. Summer is almost over. Fall is just around the corner. But with this season change comes all the goodness that is fall fashion. There are some great trends happening this season and I am feeling adventurous. I want to try out a few of these even if it means rocking it to the grocery store. Because well, that is sometimes as exciting as my day gets. Which is totally fine by me. 
The best way to try out trends without spending a fortune, especially if you rarely have places to wear these things to, is to thrift for them! I went through and found a ton of inspiration pictures for things I am on the hunt for. I will definitely do another post to show you everything I find and how easy thrifting fall fashion can be. 
I have already added a ton of outfit inspiration pictures to my Pinterest too, so be sure to check those out if you're on the hunt for some outfit ideas. I will, of course, also be posting outfits on my Instagram and Facebook, so be sure to follow me on there for even more ideas! 
Ok, enough with the shameless plugs. Let's get into the good stuff!
Thrifting Fall Fashion: Statement Sleeves
 This post contains some affiliate links for which I may earn a small commission at no extra cost to you! Learn More.
Statement sleeves are a big one. (Ha, no pun intended.) Big puffy sleeves that channel the 80's are all the rage. These types of tops are always at the thrift store. I personally, will be looking for a more subdued version than some of the true crazy 80's style shirts you will most definitely find.
I love them on a sweater, or on a delicate lace top. Romantic lace also happens to be another trend for fall so that is something I will be looking for when thrifting fall fashion.
I feel like I could also probably find some boho style tops with puffy sleeves which would be right up my alley. Blouses will also be another area I will shop to find these statement sleeves.
Straight leg jeans aren't going anywhere either so I will definitely be hunting for a pair of those at the thrift store as well. You will see a lot of them in these outfit inspiration pictures. I live in jeans.
Thrifting Fall Fashion: Plaid Blazers
Plaid is always in for fall. This season the plaid blazer is sticking around. Blazers in general are big for fall, see more on that later. I am all for pairing one with a cool graphic tee and, yep you guessed it, some jeans! Distressed or straight leg, maybe a combo of both?
For a totally opposite and more feminine kind of look, it would look cool to pair one with a floral midi skirt. And midi skirts are yet another huge trend which I am so feeling. You will also see lots more inspiration for those to come.
You can check out this post for even more ideas on styling plaid blazers.
Thrifting Fall Fashion: Dark Florals and Suede Jackets
Speaking of florals, dark florals are another one of those always popular in fall kind of trends. I love the idea of a maxi with a leather jacket and heeled boots. Timeless and trendy at the same time.
I am super drawn to golden yellows this season like you see on this dress with the suede jacket. I love those boots with this outfit to toughen it up. Combat boots with skirts and dresses are big for fall. Kind of like how sneakers were for spring and summer. I am definitely down to try this trend.
And speaking of suede, it is another great material for fall. This year green is one of the many big colors of the season. Pistachio green in particular, in addition to the jewel tone greens which are typical fall staples. A green suede jacket would be a great way to add a pop of color to your outfit!
If I happen to get lucky, I might be able to score an amazing suede jacket while thrifting. It might not be green though. That's asking a lot.
Florals in general are pretty easy to find while thrifting, but you need to keep an eye out for quality because there are a lot of fast fashion rejects you will come across too.
Thrifting Fall Fashion: Belted Blazers
Belted blazers are probably one of the biggest trends this season. I love the idea of it. I also love the blazer paired with a midi skirt trend that is happening for fall. That would be such a cute outfit to wear to the office.
I am kind of obsessed with the belted blazer and leather pants idea. Definitely will be trying my own version of that.
Blazers are probably one of the easiest things to find while thrifting fall fashion items. There are tons of them. One tip is to also check the men's section, especially for oversize or plaid blazers!
Thrifting Fall Fashion: Animal Print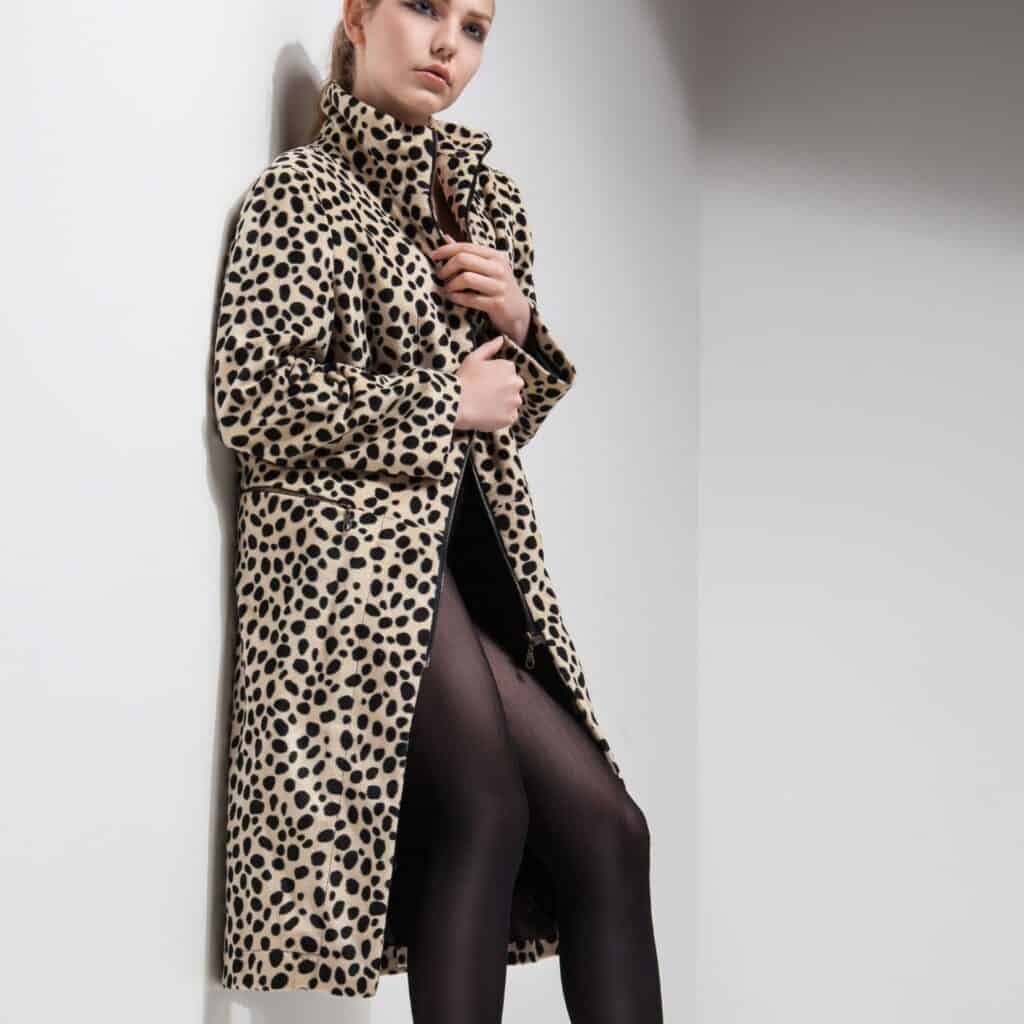 Animal Print. Again one of those never goes out of style kind of things. But this season there are some extra wild prints on trend such as zebra and cow. I personally, am more into the snakeskin (which has been popular all year) and the more "traditional" leopard prints. I just don't think I am cool enough to rock some cow.
I think a sweater, blazer, leopard skirt combo would be a cool fall outfit. You could even mix some prints by wearing a snakeskin boot for a really cool look.
For another option, pair an oversize blazer and some trousers with a snakeskin blouse. This would be cool to wear to work if you happen to work in a more lax work environment.
Animal prints are always abundant at the thrift store. I am hunting for satin anything, midi skirts, maxi dresses, blouses, or tops that have something special about them. Oh and boots, definitely some sweet snake skin boots.
So that is my list for thrifting fall fashion. Kind of looks like a lot but really, you just need a few of these items which you can mix with other items your already have in your closet!
Let's be honest here, I am not looking to be that trendy it girl every single day. I will grab several different tops within these categories, maybe 1 or 2 pairs of jeans, a skirt or 2, a dress or 2, maybe a cool jacket if I can find one, a blazer (I already have a plaid one I love), and some boots.
If I happen to find any really cool or unique pieces that work great for fall, then I will most likely pick them up as well. Then I will pair them with things I already own. Keep your eyes peeled for what I end up finding and let me know what trends you're excited to try for fall! See you next time.