15 Fall 2018 Accessories To Try
An outfit isn't complete until you've accessorized. Plus accessories can take an otherwise plain Jane look and make it a dang check her out look. Accessories are also a great and usually cheaper way to try out the seasons biggest trends. Especially if you don't want to make a huge statement but want to try out something right on trend. So I rounded up 15 awesome accessories that are perfect for this upcoming fall season. Let's check them out!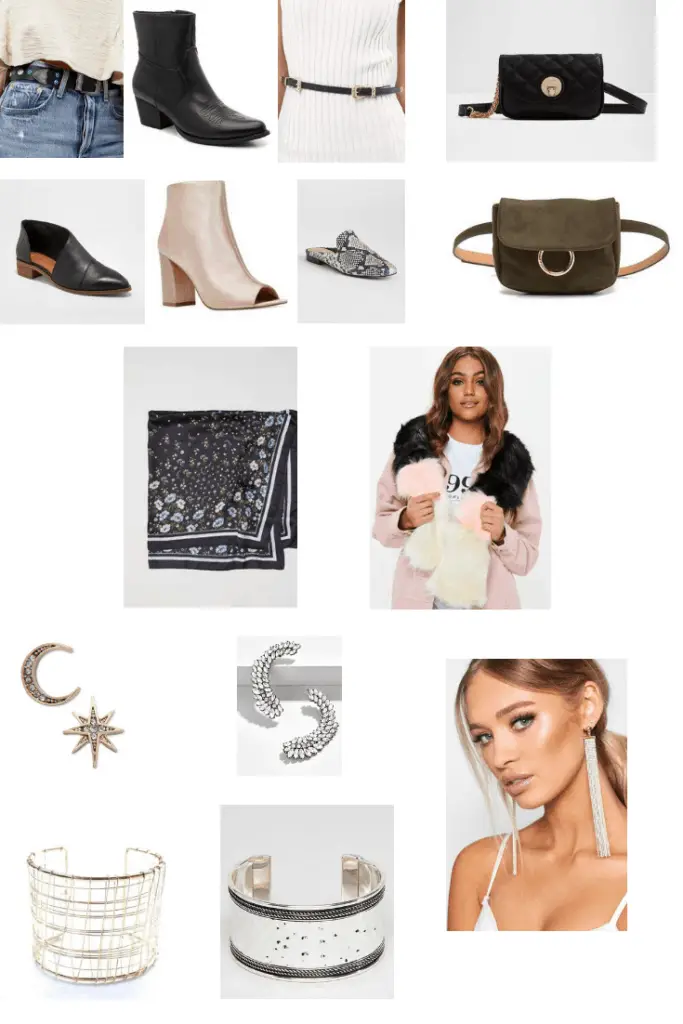 Western wear is a big trend for the fall 2018 season. You can give this a try with some cute cowboy boots or a western style belt. I found this thin one which would be super cute over a dress and I loved the turquoise detailing on this other one.
Another shoe trend that would be fun and easy to try are animal print shoes. I love these snake skin mules, they're to die for! I also love these satin booties I found. They're gorgeous. And you can't go wrong with some flat black boots. I love the cutout design of these.
As for bags, a big trend is neck and waist bags. Kind of interesting. I'm not sure I'd rock a neck bag to be honest but these waist bags are kind of cool. Like a fancy fanny pack. This black one is girly and I love the quilted detailing. I love how luxe this olive suede bag is. The gold ring hardware is awesome.
Scarves are a must have fall accessory. Statement scarves are the ones to try this season. Anything with a really cool pattern like this satin scarf would be perfect. Or you can try something a little more bold like this tricolored faux fur scarf.  
As for jewelry we are talking statement earrings and chunky cuff bracelets. Those jeweled ear crawlers are so freaking cool, I'm obsessed. You could also try something super long like these beaded fringe-y ones.
Mismatched earrings are also a trend to try. This could be as simple as wearing two different earrings you already own, or you can buy a pair like these super cute star and moon ones. I love the boho vibes that hammered cuff bracelet is giving off. And I thought that gold caged cuff was seriously so cool.
I'm excited to try some of these accessory trends myself. Which ones are you trying this fall? Let me know down below, and I'll see you next time. ☺